Eco Tan Hempitan - Body Tan Water 125ml
4 instalments of $9.99
Or 4 instalments of $9.99 with
LEARN MORE
4 instalments of $9.99
Or 4 instalments of $9.99 with
LEARN MORE
Official Stockist
Is this for you?
Eco Tan Hempitan is an super dark tanning water made with all natural, organic ingredients. In a quick and convenient spray on formula, this self tanner moisturises and nourishes the skin while leaving behind a super dark, long-lasting tan.
Cruelty Free
Vegan
Australian Made
Certified Organic
Frequently bought with
Please wait while we find a match
Questions & Answers
(1 Question)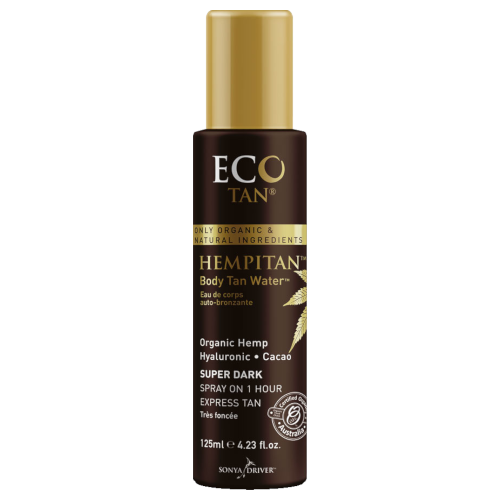 Eco Tan Hempitan - Body Tan Water
Get an expert to answer your question about this product!
Eco Tan Hempitan - Body Tan Water Reviews
71% recommend this product
Most Helpful Positive
love
love the shade and it's super lasting
Most Helpful Criticism
Good but still stick to my usual
I am always keen to try new tanning products - this one was good but not great. It doesn't have a strong smell and it feels really lightweight which is great, but the colour isn't quite as dark as I generally like and it might take a while to get used to the water-like consistency.
Great shade but not for noobies!

I bought this as my first try of self tanner as it looked so easy, but as it was my first time I missed some spots! It doesn't have a bronzer in it so you can't see where you've applied so you have to be super careful!

Great natural colour

Love the colour and easy to use, but just cant get a dark enough colour in the one application. Works well as a more gradual tan.
Blends well and forgiving to the common problem arteas.

love

love the shade and it's super lasting

MY FAVOURITE TAN!

I've used Bondi Sands, fake spray tans and others. This tan is by far my favourite because you can barely feel it after use. I can wear shorts and a shirt to bed and there are no tan marks on my sheets in the morning. I usually tan before bed and sleep in it. Putting 2 layers on.
Make sure you wash your hands thoroughly after use and moisturise your elbows, knees and feet before use. Love E...

Read More

BEST TAN EVER - if you have super dry skin this is for you

I have super dry skin and hate fake tanning because it goes patchy because of my eczema, can I just say wow I'm so happy that this product works for me because not many fake tans do!
I do recommend exfoliating beforehand, gives a nice natural looking tan, no smell, and dries fast.

great

Applies easily and I like using it in conjunction with the face tan water. Colour develops nicely. Love that it is natural although its not as good as Bondi sands in my opinion

Best Tanning water I have ever used

I've tried a few tanning waters but out of all of them, this has given me the best results! Such a nice colour and pleasant smell!

Great tan!

Very happy with this product! Easy application with just a spray and rub, no traditional fake tan smell and didn't stain my sheets. Only thing is the tan does continue to develop for days after application so I ended up using a little too much being darker than I originally wanted to be. Once I get the hang of it I will be a lot happier. Very natural colour as well, would recommend!

Itchy, patchy and orange.

I'm a regular bondi sands dark user. I Love the eco tan face water so I had high expectations for the hempitan. Found it okay to apply using the double sided mitt and it dried pretty well, losing it's stickyness after about 10 min.

Like most other users notice, you need more than you think you do, and being such a hefty price tag compared to more effective tans this was a negative st...

Read More

Good but still stick to my usual

I am always keen to try new tanning products - this one was good but not great. It doesn't have a strong smell and it feels really lightweight which is great, but the colour isn't quite as dark as I generally like and it might take a while to get used to the water-like consistency.

Too watery

Found this tan water hard to apply, as it's quite watery. Prefer the mousse. However, this one is darker compared to the mousse, so depends how dark you want your tan to be

Hands down favourite tan

Great tan. You don't even notice it's on. No stickiness or awful smell. Will definitely purchase again

New favourite!

When I ordered this I wasnt sure what to expect due to mixed reviews. I have been wanting a more natural fake tan, since I lather my body in it every single week and want something better for my skin!
It's super fast drying which is great cause I use it in the morning then let my tan develop in the day. It's great under clothes, can hardly tell you have it on! And cause it's clear it doesn't...

Read More

Eco Tan Hempitan - Body Tan Water

Easily in my top 3 best products I have ever used in my life. It gives a beautiful natural glow and lasts forever.

Eco Tan Hempitan - Body Tan Water

Another wonderful product. I use this three to four times a week and it works wonders. Give some me a healthy glow. Doesn't cause break outs or dry/oily skin. I wear less make up because of this product.

Maybe the best tan I've used

I was gifted this in the spray bottle form (some people say it's changed to a flip-top lid). I could only leave it on for about 45 minutes before washing it off in the shower as I was in a rush to be somewhere,, and thought it probably wouldn't even work. I was wrong and ended up with a beautiful glow that looks oh-so-natural. It does not smell at all and it just looks like I've browned a bit w...

Read More

not sure

really not sure about this, i prefer their moose. This is okay but kind of messy

Great

I really like this tan water. I was a little nervous at first because there's no guide colour however I haven't had any major mishaps with this product. I recommend applying with the smooth side of the eco tan application mitt. The colour once it develops is lovely and natural and very easy to apply another coat for those times you want it a little deeper. I'm really happy with this purchase.

Natural

Nice colour, I'm just terrible at applying it even. Hit and miss with streaks

Not amazing but ok

I prefer the mousse over this! I first bought it when it was newly released and it's nice to use but not amazing

nice tan

This gives a nice tan and leaves my skin feeling hydrated.

Very unsure

I'm very unsure about this product. I've used the whole bottle which gave me many applications, however it is extremely difficult to apply and had many issues. It also faded very fast in the ocean. Very unsure with this one sorry :(

Lightweight

Much lighter on the skin that a foam tan and gives a natural glow

Really good for a natural product

Great colour (best after a day or two) really impressive for a natural tan. I liked how quickly it dried and you could wash it off. I did two coats with the eco tan mitt and washed off after an hour with water. I got a great, dark result. Don't expect this to be like every other fake tan. Applying it is different, you have to be careful to ensure you get it everywhere, and also spray and rub in qu...

Read More

So natural and pretty

I'm really impressed by this product! It's really working for me and I'm super excited for it to work to my advantage this summer!

Great!

Love this tanning water, not only is it easy to apply, it produces a beautiful glow but the best thing I found about this product is that my skin has never felt this soft before, I absolutely love it, highly recommend it

No mess!

I loved the product. It applied quickly and easy. I poured some on the soft part of the mit from the same brand and it applied perfectly even.

Great long lasting colour with no mess

I normally use a tanning foam with guide colour so this was a change as it is a spray liquid with no guide colour, but it actually goes on easily with a tan mitt and gives a really natural, streak-free colour that lasted for almost a week (I moisturised daily after showering). Doesn't have that strong tan odour or leave mess on your sheets or PJs when you sleep in it and faded naturally without lo...

Read More

Best!

I use this daily instead of face tan water best!

MIxed feelings

The tan is a beautiful golden colour, and dries so good it's almost like you're not wearing one. I'd strongly suggest to not follow directions and apply with your hands and wash afterwards because even though I did wash my palms are the darkest part of me with some patchiness on the top of my hand, I fixed it with the alpha h body wipe and all was good. Hard to tell where you've applied it because...

Read More

Nice light glow

Lovely product, easy to apply even for a newbie like myself. I wouldn't call it a dark tan though. The first time I applied a thin layer and saw no difference..the next time I went quite heavy with the product and did get a nice result but I wouldn't call it a dark tan. If you're after a dark tan this isn't for you..if you're after a medium natural tan this is the one! Fades really well..no weird ...

Read More

Nice Colour but Streaky Coverage

I loved the smell and the colour of this profuct however the coverage was quite patchy. I love the idea of this product and think with a few minor adjustments it could work really well. Having a flip top was very messy and made the application very difficult.

Great

I love it how light it is having the water consistency, it is non-greasy and so easy to apply! Lots of applications do give you such a rich colour, and love that it is hemp too! love love

Nice colour but goes on a little streaky

I love the eco tan face water and bought this thinking it would be amazing. I am a little disappointed. The colour is beautiful and looks really natural but I have found it really hard to get this tan not to be patchy/streaky. The water soaks into the skin so quickly that there isn't really enough time to buff it in, leaving it patchy. I uses the eco tan glove and still had this issue. Perhaps wou...

Read More

Almost as good as a spray tan

I love this products it develops amazing and quick and has barely any smell , I wear it to bed and it's pretty dark but natural still ! Only negative is the spray pump isn't very good which makes application a bit of a pain but it goes on easy and blends and isn't at all patchy ! I love it

Not easy to apply

This apparently used to come with a spray but it kept getting clogged so it's now just a flip open lid. This makes it super hard to apply evenly resulting in a very patchy and streaky tan. The 'water' dribbled everywhere, slid off the application mitt and ended up on the floor and down the sides of the bottle. Definitely will not be reusing and the rest of the bottle will be going in the bin.

Love this- just like the face Tan Water.

I love this product as it's so easy and makes my skin SO soft. I find it a bit easier to mess up than the Invisible Tan but the trick is to apply more than you think you'd need as it dries so fast. APPLY A LOT AND APPLY FAST and you'll be good to go! I really LOVE IT!!

Very easy to apply

I loved the product. It applied quickly and easy. I poured some on the soft part of the mit from the same brand and it applied perfectly even.
I am very fair and I don't like dark fake tan. This is light natural looking colour which it is what I was looking for. Thanks Eco by Sonya.

Shocking application and product

This tan was really a fail unfortunately and they are hiding their bad reviews so I'm going to say the truth on here and hope to help someone to avoid purchasing a terrible product. They have changed the bottle from a spray top to a push top and that was the biggest mistake todo with a water. I tried to pour it on myself and it went everywhere and I tried to use their glove with the gold side that...

Read More