Dr. Bronner 4-in-1 Sugar Lavender Organic Pump Soap 355ml
Frequently bought with
Please wait while we find a match
Questions & Answers
(No Questions Yet)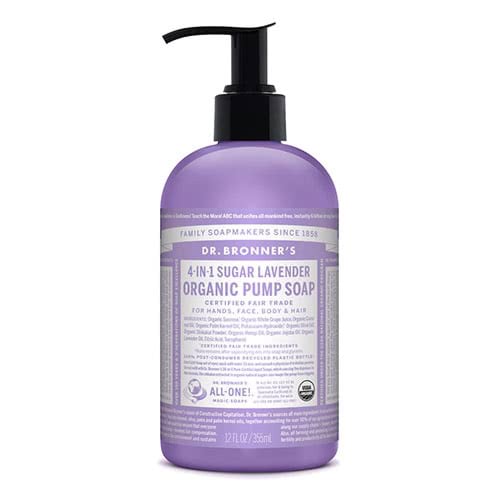 Dr. Bronner 4-in-1 Sugar Lavender Organic Pump Soap
Get an expert to answer your question about this product!
Ask a Question
88% recommend this product
Most Helpful Positive
amazing
This might be my new favourite brand, and I love the soothing scent of this
Most Helpful Criticism
Nice in the bathroom
I think this formulation is far too stripping for skin and hair, but it does work well as a hand wash. Smells great.
this is the best

I love using this during winter as it stops my skin from appearing flaky! Another important factor is the amazing smell, I look so forward to using it everyday!

nice natural soap

This is a nice, natural product with organic and ethical fair trade ingredients.

I like to use a lavender body wash when I shower at night so I gave this a try. I know it doesn't foam much (because the ingredients that can foam up are usually bad - SLS and SLES etc) and obviously this product doesn't have any nasties, but I would prefer to find a creamy lathery wash that I can spread all over my body.

Still, this is a good soap (and it claims you can use for your face and hair too so would be a good all rounder if that's what you're after) but I'll only give it 4 stars and continue my hunt for a dreamy bedtime wash.

It comes in other fragrances and sizes, so I might buy another type to use as my bathroom handwash. It's probably a bit pricey for a simple handwash, but it's nice to have natural products from ethical brands.

Whole family loves

We recently used up another Dr Bronner's hand soap (peppermint) and are currently trying this scent out, I think the lavender is our favourite so far, lovely for the bathroom, is cleansing but gentle and smells so soothing.

amazing

This might be my new favourite brand, and I love the soothing scent of this

Best natural hand soap

For what it is - a natural hand soap - it's fab. Smells great, not too abrasive on the hands, but really cleans well. Just be aware before you buy - it's a natural soap so DOESN'T have the chemicals in it that make a hand soap what we are used to (white or pearly, thick). It's quite thin and runny, and a weird brown colour. BUT - it's better for you, and once you get used to it, you'll love it.

Good

Great soap with a lovely scent just not my favourite. Has similar effects in terms of cleaning the skin and looks cute in the bathroom. Packaging is nice and the pump is sturdy and good though floral scents are not my favourite I do like this very much. I would recommend trying.

Lavender therapy

Great all round soap, cleanses the skin without leaving it feeling dry. It's such a smooth soap! The fragrance is calming and de-stressing so a perfect way to end the day by adding it to your bathtub or showering after a long day.

Nice in the bathroom

I think this formulation is far too stripping for skin and hair, but it does work well as a hand wash. Smells great.

Not as Expected

I bought this because I originally wanted a lavender scented hand wash. It wasn't overly lavender, and had a bit of a weird after smell. It left my hands feeling dry, and that it almost over cleansed. Won't be repurchasing

Lovely Lavender!

This is one of my favourite handwashes! It has a calming lavender smell and leaves my sensitive hands clean without drying them out. A little goes a long way so this pump size lasts a long time!

Smells beautiful

This hand soap is amazing! It smells beautiful and has a nice strong scent. It is really convenient to use in a pump bottle. Great sized bottle.

Great hand/body wash

This liquid soap cleans the skin well without overdrying and has a lovely calming lavender scent.

Favourite hand wash

I love all of Dr Bronner's liquid soap. I use the tea tree one for shower and lavender for hands. They aren't drying, have a great scent (I hate the artificial smell of other cheap hand soaps) and don't have any nasties. Price is also good. I will forever continue buying these... (I normally buy the large version to top up)

Clean hands

I get nice clean but not uncomfortably dry hands when I use this. Love the lavender scent


good hand wash

Good hand wash that doesn't make you feel too dry. The lavender smell is pretty strong.

Nice lavender scent

This soap has such a nice lavender scent. The bottle is a generous size as well.

Love the pump bottle!

The lavender soap is my absolute favourite scent amongst all the Dr Bronner soaps. Love how this comes in pump form. Perfect for washing hands

Lovely

Super soft and nourishing with a beautiful scent to match. Big fan of this brand.

Great non drying handwash

I bought this as a treat handwash that I kept just for me as my hands were super dry from having to wash them so much this stuff is great love it.

Smells lovely, you only need a little bit and it's a natural natural natural which I love.

Just wish it was a bit cheaper so I could buy it all the time and not feel like it's a luxury.

nice

Great soap! The ingredients are good, and it's cruelty-free. I use it mainly as a body wash/shaving soap on a shower puff. It also can work for shampoo, in a pinch. I've used it in household cleaners as well. Pleasant lavender smell. Price isn't bad. However, it can slightly drying in the winter months

Best hand wash!

I have never been one to take much notice in the hand wash i use but since recently using this one i could never go back to using a basic hand wash. I love how my hands don't dry out and instantly feel soft every time i use it. My hands constantly smell like a day spa which i love and feel like i have just moisturized them because of how soft they are, I am a huge fan of this product!