Dermalogica has developed a vast range of high-performance professional skincare products. One of the best ways to try them out is by trialling a Dermalogica kit. There are kits available for every skin type and every skincare concern. Dermalogica skincare sets contain everything you need to completely switch up your skincare routine, from moisturisers and cleansers to serums and toners.
The brand's skincare kits are perfect for testing the waters. But the convenient trial-size packaging make these the perfect travel kits for on-the-go use. So whether you are new to Dermalogica skin systems or want to take all your favourites away with you, Dermalogica skincare sets are ideal for the job. Housed in a durable pouch, these skincare kits are your ultimate travel essentials.
What are the benefits of using a skin kit?
Using a skin kit is the easiest and most affordable way to find out if a new skincare regimen is going to work for you. The facial kits from Dermalogica come in trial-size packaging. You get enough tries to determine whether the products are working, without investing in full-sized packaging from the start.
The convenient packaging also makes these items perfect for travel. You can enjoy all your favourite products without the bulk of full-sized packaging.
What are the best Dermalogica skin kits for oily skin?
For oily complexions, the Dermalogica Normal/Oily Skin Kit and the Oily Skin Kit are both recommended. The Normal/Oily Skin Kit helps control excess oils whilst hydrating skin to rebalance the complexion. This kit contains Special Cleansing Gel, Skin Prep Scrub, Multi-Active Toner, Active Moist, and Total Eye Care with SPF 15.
The Oily Skin Kit is perfect for those with very oily skin. These products help reduce shine and clear congestion whilst leaving skin with a matte finish. The kit contains Dermal Clay Cleanser, Skin Prep Scrub, Multi-Active Toner, Oil Control Lotion, and Total Eye Care with SPF 15.
What are the best Dermalogica skin kits for dry skin?
The Normal/Dry Skin Kit and Dry Skin Kit are beneficial for those with varying levels of dry skin. The Normal/Dry Skin Kit helps relieve areas of dryness and replenish hydration levels. This product regimen includes Special Cleansing Gel, Gentle Cream Exfoliant, Multi-Active Toner, Skin Smoothing Cream, and Intensive Eye Repair.
The Dry Skin Kit tackles dehydration lines and flaky skin head-on with intensely nourishing products. This kit contains Essential Cleansing Solution, Gentle Cream Exfoliant, Multi-Active Toner, Intensive Moisture Balance, and Intensive Eye Repair.
What are the best Dermalogica skin kits for ageing skin?
If you are looking for a mature skin kit, the AGE Smart Starter Kit from Dermalogica is the perfect choice. This anti-ageing kit uses advanced technology and potent actives to help block the triggers that lead to wrinkles and loss of elasticity whilst firming and hydrating skin. This kit contains Skin Resurfacing Cleanser, Antioxidant Hydramist, MultiVitamin Power Recovery Masque, MultiVitamin Power Firm, Renewal Lip Complex, and Dynamic Skin Recovery SPF 30.
The Dermalogica Powerbright TRX Treatment Kit is a hyperpigmentation kit that can brighten and even out the skin tone of prematurely ageing skin. This kit contains C-12 Pure Bright Serum, Pure Light SPF 50, and Pure Night.
What are the best Dermalogica skin kits for men?
All Dermalogica skin kits are designed for both men and women. However, the Dermalogica Shave Kit is the ideal men's travel kit for a clean and precise shave on the go. This set contains Daily Clean Scrub, Pre-Shave Guard, Soothing Shave Cream, and Post-Shave Balm.
Recent reviews on Skin Kits products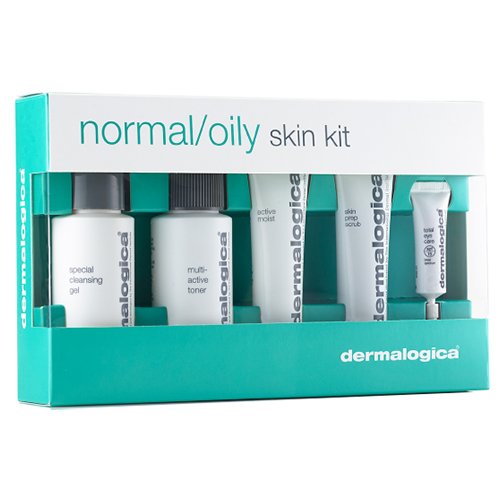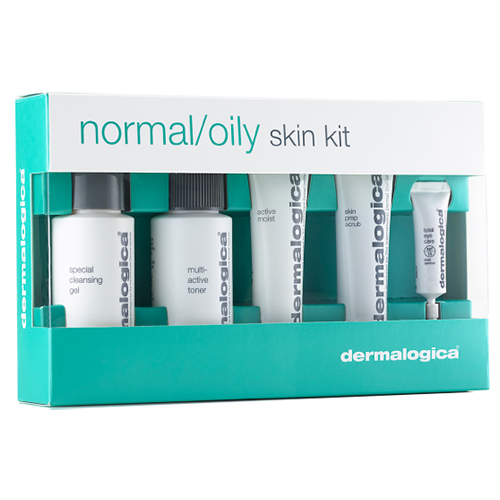 Dermalogica
Dermalogica Skin Kit - Normal/Oily
$59.00
$51.92
Great intro to the brand
This kit is a great intro to the Dermalogica brand if you haven't tried it before and don't know where to start. It is a lot more cost effective than buying the full size bottles and then realising you don't like them. I absolutely love the eye cream and cleanser, the scrub and moisturiser are as expected and for my skin the toner is just not strong enough for my personal preference.
What people are looking for the most