Dermalogica Oil Free Matte SPF 30 50ml
4 instalments of $17.82
Or 4 instalments of $17.82 with
LEARN MORE
4 instalments of $17.82
Or 4 instalments of $17.82 with
LEARN MORE
Official Stockist
Is this for you?
The new Dermalogica Oil Free Matte SPF 30 is an oil-free, broad spectrum sunscreen containing oil-absorbers to help prevent shine and provide an all-day matte finish.
Frequently bought with
Please wait while we find a match
Questions & Answers
(1 Question)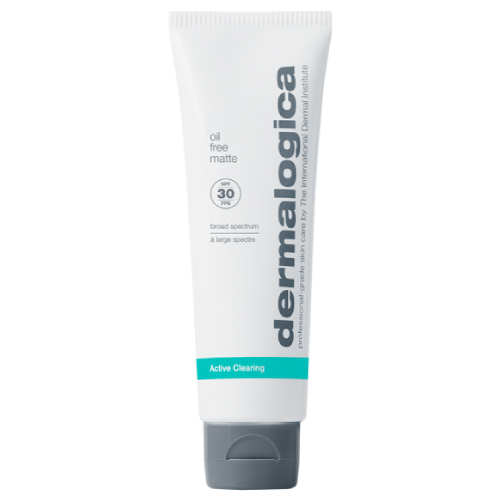 Dermalogica Oil Free Matte SPF 30
Get an expert to answer your question about this product!
85% recommend this product
Most Helpful Positive
Great for oily skin
I use this everyday under my makeup and it doesnt make me oily like most sunscreens.
Most Helpful Criticism
Unfortunately not for me
I am a big fan of Dermalogica but unfortunately my skin has never been oilier :( I purchased during an abnormally humid period of time so persisted for a while but I have not had any improvement. The product feels lovely and smells amazing, just wasn't right for my skin!
Unfortunately not for me

I am a big fan of Dermalogica but unfortunately my skin has never been oilier :( I purchased during an abnormally humid period of time so persisted for a while but I have not had any improvement. The product feels lovely and smells amazing, just wasn't right for my skin!

Good for sensitive skin

This sunscreen works really well for my sensitive skin. I have tried so many sunscreens before and this is the only one causing no issue so far.

Great for oily skin

I use this everyday under my makeup and it doesnt make me oily like most sunscreens.

Perfect for people with oily skin!

This is a perfect sunscreen if you have oily skin! Most sunscreens will make my skin super oily but this doesn't and works well under makeup!

Perfect for oily skin

I was originally using the Dermalogica 50 SPF Sunscreen but found it quite oily on my skin. I suffer from bad pigmentation so needed something I could wear everyday! Love the product. Goes on so light!

Mattifying for oily faces

I have oily skin, acne prone - and this is lightweight, and provides great coverage

lightweight

Great non greasy moisturiser that protects from the suns ray!

Dermalogica never disappoints

This product glides onto your skin beautifully. The matte finish works really well under my foundation and it is a SPF 30+ moisturiser which is a big bonus! Dermalogica products are by far the best!

Pretty good

This is is a nice thick spf and you only need the smallest amount to cover the entire face and neck area. Didn't find it all that mattifying but it feels good on the skim without clogging pores.

YES MUST HAVE

for people do not like greasy moisture this is a must have plus has spf 30!!
feels so great on your skin

A nice, light-weight sunscreen

A nice, light-weight sunscreen. I like to use this on my face daily.

Perfect SPF30 for me

I chose this product specifically because it is a SPF30. The skin on my face is too sensitive for SPF50 every day.

It's hard to find a good SPF30 so when I stumbled across this one I was pretty excited. The price nearly threw me off, but I was pretty desperate for something that worked for me so I added to my basket.

I nearly freaked out when I squeezed the product out, i...

Read More

Good sun protection for oily skin

I have oily skin so am fussy when it comes to buying moiturisers and sunscreen because alot of products feel heavy on my face. This is nice and lightweight and has a pleasant smell. I also like how it is a moisturiser with spf so I only need to apply this product insted of a moisturizer and sunscreen

Oily skin friendly

Very expensive for what it is. However, it does what it says and keeps oils at bay while providing sun protection. Can be worn with makeup without clumping up

I'm obsessed

This is a great product! I have very oily skin and really struggled to find the right SPF. I love this everyday cream, it feels great, smells great too. I think its worth the price, for a acne friendly, oil free day cream. It is the best I've ever used

A bit overpriced...

This sunscreen is one of the most comfortable one's I've tried on my oily, acne prone skin. It's light and doesn't cause any redness or flare ups with my acne which is a huge benefit. However, I don't find that it layers well over the top of my moisturiser since it seems to pill up around the edges of my face (jaw, near my ears, along hairline). Like most matte sunscreens, it leaves a slight resid...

Read More

For oily skin types only!

Great spf protection and also good under makeup.
Definitely for oily skins only though!

Doesn't cause breakouts

This is the only product that does not cause breakouts, will never use anything but this from now on!

Dermalogica just get SPF

This sunscreen is amazing! I have the most sensitive/ oily/acne prone skin and this is the only sunscreen I have found that doesn't break me out or make my skin overly oily. I'm so glad I found this and I'll continue to repurchase.


Moisturiser with SPF

This is good but I need to apply often to avoid getting burnt, doesn't seem like a 30? But it's a great lightweight moisturiser with SPF.

Love this product

A product that isn't greasy and leaves the skin matte all day. I love it

great daily moisturiser

I have used this product daily and found it a really good base under my foundation. it isn't too oily, and find my skin stays hydrated through the day.

can be used as a primer

i got it as a sample but i am already thinking of purchasing the item because it is so lightweight and a little bit matifying too, i can use it as a primer as well. it is so gentle and would just melt into your skin. i have dry and sensitive skin but it layered very nicely under my makeup

okay

makes my face look red after applying.

Used to love this! Not anymore!

I used to love this product - I found that it really protected my skin and I never got burnt when out and about in the sun.
However, maybe the formulation has changed, but this summer it has not been effective at all, leaving my skin burnt (even after reapplying when outdoors or at the beach).
Am going to try out a different brand instead. Disappointing for what was once a great prod...

Read More

Yes please

Skin type: Dry/combination

I was using dermalogica's other sunscreen products until l found this one, I love that its matte and a little less spf, its reduced breakouts and doesn't leave me oily.

Great sunscreen with lots of protection

I have a sensitive skin whch has an oily t zone and is prone to breakouts. This dermalogica sunscreen is fantastic for the face, it is easily applied, and I wear this under a light foundation for extra protection SPF. Would highly recommend - as with other dermalogica products.

I use this daily

I was recommended this product by dermalogica 5 years ago as a moisturiser. I have never steered from it. I have very good skin for my age (31) and it has a lot to do with having every day protection from the sun. I have combination skin at times a little dry and break outs occur from oily products. I find I don't notice this on my skin, it's very matte. I unfortunately have found that adore beaut...

Read More

Best sunscreen

I'm on my second bottle now. I used to break out so much for trying to protect my skin from the sun, but this sunscreen is amazing! Never turning back

Amazing sunscreen and keeps skin matte!

Love this sunscreen works a dream in my oily acne skin! Keeps it matte and protects from the sun, I wear it under makeup fine or just after my skincare on no makeup days too!

Reaction

I really wanted to love this product but unfortunately I had an allergic reaction and ended up with a red rash on my face. Luckily I love most other dermalogica products. Disappointed in this one.

Hmm

OK, this is a great product and I wish all Dermalogica products agreed with my skin like this does. But why is it labelled "oil free" when it has the dratted, unavoidable grapefruit peel oil in it? Why does every Dermalogica product have to have a citrus oil in it, for the love of all that is holy? It's bizarre! Citrus oil... in a sunscreen. Why??

About to order my 4 bottle

With oily thursty skin difficult to find a sunscreen that doesn't make me overly shiny.
This is perfect soaks in quickly and makeup sits well

It works great!

I have sensitive, combination, dehydrated skin. Whenever I try products on my face that has spf, my face always breaks out. I bought this product because my skin normally is happy with dermalogica and I really needed to find a good product with spf for my face. I tried it out and my skin did not break out! I am so happy with this product that I already bought my 2nd bottle. This product is pretty ...

Read More

oil free!

this is the perfect spf for those who suffer from oily skin but want to wear an spf everyday. i've tried many and my skin looks like a greaseball half an hour in, however i didn't want to go without it. after reading the reviews i bit the bullet, purchased it and have been using it everyday! even just as a moisturiser - a little bit goes a long way. i've also used it under makeup and i can safely ...

Read More

Best SPF moisturiser!!!

Anyone who suffers from oily skin needs this! I have tried soooo many SPF moisturisers and all have been either to greasy or to heavy for my skin. After using the Oil Free Matte SPF I was lost for words! It's extremely light weight and very hydrating. Although it doesn't completely get rid of the shine it definitely does reduce it. Highly recommend!

Best SPF I've used!

Oily skin is unfortunately my worst nightmare and finding an daily SPF that doesn't make me a grease ball by 1pm has been so hard. But after using the Dermalogica calm water gel at night I decided to give this a try for day time. And wow! it definitely does as it says. I find that it doesn't have a strong SPF smell like most others (which is great) and it doesn't feel heavy on the skin. By the tim...

Read More

Best SPF for oily/combination skin

I have been using this product for a couple of years now as I have oily/combination skin and couldn't find sunscreen that didn't make my skin shiny and greasy. This product goes nicely under my makeup and doesn't make me shiny throughout the day, if anything it keeps my face matte for longer. Would definitely recommend if you have oily skin!

Great Sunscreen, Not Sure if Matte

This product is really good, but I don't think you can call it truly matte. I have normal/combination skin with hormonal acne and this product is really good for sunscreen, although the spread rate is not great if you were to apply to your decolletage.

I believe that this product doesn't prevent shine, if you're prone to it and it isn't truly matte. But it does protect against the su...

Read More

The best sunscreen for oily/acne prone skin

This sunscreen is amazing! I have the most sensitive/ oily/acne prone skin and this is the only sunscreen I have found that doesn't break me out or make my skin overly oily. I'm so glad I found this and I'll continue to repurchase.

Feels & smells great!

Since using this moisturiser, my skin has stopped being excessively oily, but hasn't dried out too much. It feels great and very gentle on my skin.

It smells lovely and not too sunscreen-y.

My one little note is that it makes my skin a bit tingly when I put certain foundations or setting sprays over it, so I'm slowly figuring out which ones are okay to use without irritat...

Read More

Coming Back to purchase more!

I have tried dozens of facial sunscreens, including ASAP, Alpha H, Clinique, Estee Lauder and lastly this one. I love it! I have combination/normal skin in the winter, but by summer I am shiny! This moisturiser is the best I've come across for protection against the sun while not leaving me oily; I definitely prefer it over Alpha H and ASAP. I also wear it throughout winter. It has a light scent w...

Read More

Value for money

I have a very sensitive skin. And this is The best sun protector ive ever used. Value for money.

Great product

Smells good. Sinks in with lovely matte finish. Goes on easy. All that you want in a product like this.

Love this sunscreen

I generally don't like using sunscreens as they are shiny or greasy. This one is fantastic. It's matte and can be worn all day without getting greasy on your skin. It goes on beautifully on the skin too, not dry or wet.

Pricy but performs

I really like this sunscreen as many sunscreens don't work well with my sensitive, oily skin type.
It does not have a strong smell which is why I prefer it to other sunscreens.
It looks matte on the skin and the packaging is easy to use a small amount.
I also recommend it for travelling as the packaging design means that it is less likely to leak than other sunscreens I have use...

Read More