Dermalogica MultiVitamin Power Recovery Masque 75
4 instalments of $19.36
Or 4 instalments of $19.36 with
LEARN MORE
4 instalments of $19.36
Or 4 instalments of $19.36 with
LEARN MORE
Official Stockist
Is this for you?
A powerful calming masque of concentrated vitamins andbotanicals to calm stressed skin, helping to reduce redness andrestore suppleness.
Frequently bought with
Please wait while we find a match
Questions & Answers
(1 Question)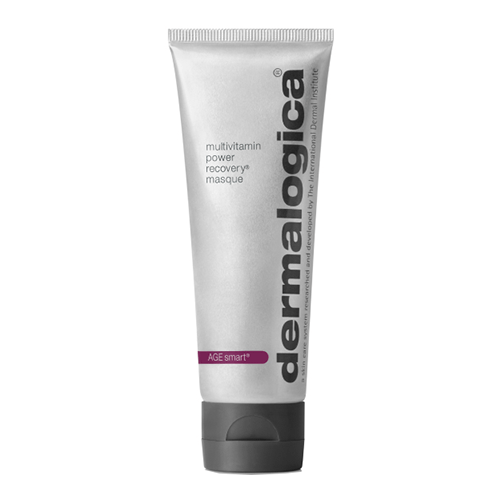 Dermalogica MultiVitamin Power Recovery Masque
Get an expert to answer your question about this product!
Dermalogica MultiVitamin Power Recovery Masque Reviews
91% recommend this product
Most Helpful Positive
amazing
Amazing mask to calm irritated and sensitive skin
Most Helpful Criticism
Ok
The mask applies lightweight, it is not thick as I expected it would be and I didn't notice a scent. The mask goes on a slightly orange/ pink colour. The mask was somewhat hydrating however to be honest I expected more from the mask in terms of making my skin look brighter and feel softer.
amazing

Amazing mask to calm irritated and sensitive skin

want to share with you

I bought two , one for my own use and one for my friend. Both of us found it pretty nice.Especially after using it at night, the next day we looked good.

Not immediate but do recovery job well

it's yellow cream, not smelly, and also not irritate my skin, i am sensitive and dry, dont expect it will change your skin in one night, it's like vitamin for skin, so i will put it on once a week or any time i feel my face dull,

recommend

I have only used this a couple of times but it is so good! love it - My skin is glowing and nourished after

Great Feeling

I loved used this recovery masque, I can feel it working once it is on. Skins feels refreshed.

Great

I love this mask. It is so hydrating. It can be left on for extra results. I either leave it on overnight or during the day. Will definitely get again! One of my favs

Love this vitamin mask!

Great orange colour face mask. Love the small and texture. Next morning my skin is toned up and so brighter!

Very useful

It worths the money. Apply a thick layer of it on the face and massage a little before washing then my skin looks brighter after using it!

It's okay

Given the price I am not sure if this product is worth it.
Skin was a little bit softer and nice afterwards but I did not notice a dramatic difference before and after. Good nutrition for the skin. Not sure exactly how those beads exfoliate they are not very textured. Smells very earthy and nice.

It's okay

Given the price I am not sure if this product is worth it.
Skin was a little bit softer and nice afterwards but I did not notice a dramatic difference before and after. Good nutrition for the skin. Not sure exactly how those beads exfoliate they are not very textured. Smells very earthy and nice.

hydrating and refreshing

my ski feels soft and hydrated whenever i use this mask, the mask does apply on orange ish in colour, dont worry it wont stain your skin or anything. not sure about the anti aging claims but it does make my skin feels good after

Good product

I known this product from one of my freinds and can't wait to buy it. It worths the money, my skin looks brighter after using it!

A good Mask

Dermalogica's mask is very suitable for people who stay up late. I often stay up late and my skin condition will be better after using this mask. However, this mask has no moisturizing effect. I recommend using Dermalogica's mask before using other moisturizing masks for better results. In general, I still choose to repurchase it.

good

The yellowing effect is very good, easy to carry, easy to use, but it is not easy to clean, you need to rub your face hard. The effect is still very good

Longtime user

Been using this product for years as recommended by my facialist. Use after the thermofoliant before applying make up and skin just glows. I also sometimes use a thinner layer and wear overnight for a more intense treatment. Skin is so smooth and moisturized when you wake up!

Exactly what I needed

I love masks but I was getting over clay based masks and wanted something to do more than my soothing/sensitive masks and this fits perfectly in the middle. It smells very faint and is calming enough to use if I have any irritations but overall it just makes my skin super soft and noticeably brighter. I have slept in this mask before but I prefer to use it for 30 mins before going out for a pick m...

Read More

Always come crawling back!

I always return to this product after I stray to others.
I sleep in it 3 times a week and wake up to beautiful skin!

sticky

a very sticky texture, barely any smell, a bit difficult to wash off, recommend for dryer skin; noted breakouts with oily skin types.

Amazing!!!

You can use this mask with the hydrating mask together, and you will feel amazing!!
Mixed the two mask together in your and, and then put it on your face, after 15 minutes, wash your face. Your skin will become soft and bright! Once a week!!

Effective product within a night

My skin is a combination type. My biggest concern is the darkness. This product definitely has vitamin C and other nutritional materials. It can help me look bright right away after I use it before sleep. And the smell is fresh, kind like some fruit. Love this product. Will buy another one after.

I use this weekly

Use this mask all the time

Pick me up

I've used this mask on & off for many years. It's great to use after flying for dehydration, for a pick me up & a moisture surge. Its a Vit c based mask & my skin responds well to it, I love that I can walk around the house with it on with some eye pad masks & it won't slip off.

Got it for mum recently and she loves it

Got it as a gift for mum recently and she reports great things about it. Large recommend.

Skeptical but still a dermalogica fan!

Trust all my products from dermalogica and I have been using this sparingly during iso and it truly hydrates and plumps the skin. Not sure if it's not for my age group or maybe not meshing with prior or after used products, but I don't really see the massive hype based on the reviews? Obviously still going to use this until it's empty, I hope i grow to love it and jump on the hype bandwagon asap!

Ok

The mask applies lightweight, it is not thick as I expected it would be and I didn't notice a scent. The mask goes on a slightly orange/ pink colour. The mask was somewhat hydrating however to be honest I expected more from the mask in terms of making my skin look brighter and feel softer.

beautiful

incredible masque that leaves your skin feeling fresh and hydrated

Weekly treat

A big fan of this masque. Smells divine and applies super smoothly. You turn a pretty funky yellow/orange whilst wearing it too!! Skin looks fresh and glowy after removal and although the effect is short lived, it feels nice as a little pamper.

Love

I love this masque. It works really well for very dry skin. I pop it on and leave it on most of the day when my skin needs a deep moisturise

Hydrating

I use as overnight mask. It makes the skill soft and glowing in the morning.

Love love love

I have loved this mask since working as a beauty therapist! Softening...plumping...hydrating. It is luxe it is soothing and I love it

Average

From reading the reviews I thought it would be a life changer product, however it just is okay and makes my fave have a better texture and feel kore hydrating.

Not for sensitive skin

Whoa this mask smells potent, but most Dermalogica products do smell quite clinical. Unfortunately it left my sensitive skin a bit red and irritated.

Incredibly calming

Loved this mask- calmed my skin down and lasted me ages!

LOVE, use it overnight

Love this product, mine has lasted me over 18 months so great value for money. I love a thick layer on for half an hour or so before an event. Really love it as an overnight mask over a HA serum. Not much I don't like about it, gives me a plump glow. Not sure if I can live without it!

so good!

this is awesome! I wish it didnt turn orange while it was on but beside that its the perfect mask

the ultimate mask!

cannot express my love for this mask it is simply amazing. !!!!!

Sooo good!

Love this masque - skin feels so fresh and looks amazing afterwards! Definitely gives you an instant boost, skin looks brighter, fine lines are hydrated and feels revitalised and hydrated straight after use and for 24 hours after too. I sometimes leave it on longer for even more freshening up.

Feels amazing

completely transformed my skin! Love love love.

A must have

This is nothing short of amazing! It honestly has made such an improvement to my skin and I've only used it a few times. Im so happy i have added this to my skin regime

Want to buy!

I received this in a sample and have been wanting to purchase ever since! I saw instant positive effects in my skin - brighter, smaller pores, acne control. Need to purchase this baby ASAP!

Simple to use

I got a small size of the Dermalogica MultiVitamin Power Recovery Masque in a kit and am trying it today for the 1st time. Easy enough to put on after cleansing my face and has a thick, but not too gooey consistency to it. The smell is not pleasant, but not unpleasant either ... as I'll be sitting around smelling it for the next 15min, the smell might be distracting!

wonderful!

this has noticeably helped my hair. this mask is so luxurious and i can see the change in how soft shiny and silky my hair is.

Ver thick

I found this very thick and unpleasant I really didn't enjoy using this and I didn't notice any improvement in my skin

Amazing

This has improved the appearance of my skin and has made it look amazing

Not bad

My friend recommended it to me. I tried it,but not impressive.

Use if weekly

This mask is abit more luxurious than my sheet masks but this is so lovely. I leave it on overnight and my skin is soo hydrated the next morning.


amazing

a must have product, if my skin feels like it needs a proper revamp this is the mask I use and it works wonders

A great anti aging mask

A beautiful anti ageing mask that works on all areas to do with anti ageing, from roughness, lines, wrinkles, dullness and open pores.

Love this Mask

I love this mask and have been using it for years. Leaves my skin feeling refreshed and soothed. Will purchase again and again.

Worth the Expense!

Nourishing and soft on my delicate skin. Leaves my face feeling refreshed, brightened and moisturised. Love it!

Love this,mask

This mask I have been using for a couple of years, I love the way it makes my skin feel, helps with fine lines, gives me a beautiful glow to my skin, firms and plumps. I find if you apply a good amount and leave it on for at least half hour or overnight works real well.

Nice

Nice as a treat not sure if it does much but worth a try

best face mask ive used.

this is amazing. I can't believe the difference this makes in my skin, helps tired, dehydrated skin look plump and healthy, I leave this on for an hour or two

Not a fan

I'm not a fan of this brand not this mask cuz any product contains little scrubs hurts my sensitive skin.

Lovely

I have used this masque for about 10 years on and off since my late 20s and I keep coming back to it. It is very nourishing and I like to leave it on overnight. Always leaves my skin feeling smooth and never irritates. Great value for money.

I love this mask

I honestly love this mask. I had it used on me during a facial and it left my skin feeling amazing

best masque!

Fav dermalogica masque! I use this at least three to four times a week. But i only use a small amount and mix it with my night moisturizer and leave it on till morning!

This mask is best for older skin.

I wasn't a massive fan of this mask. I am 34 and think that it should be targeted at older skin types. It didn't leave my skin moisturised but slightly irritated and red afterwards. I am a massive dermalogica fan but this product just isn't for me. I prefer the charcoal mask from the dermalogica range.

Awesome quick lift

I use this when I feel my skin is looking a bit dull or is seeming a bit inflamed/reactive- I get pink flushed skin sometime that I used to only be able to somewhat cover with green concealer and full coverage foundation. My skin care routine now consists of the ordinary and dermalogica, using sheet face masks weekly. This is an awesome add in, really calms and brightens my skin. I use it sparingl...

Read More

Hands down - this is one of the best

I absolutely love this mask. This is the ultimate for dull, tired skin. It perks up my complexion every time.

Having seen reviews that say this isn't hydrating enough, I've gotta be clear - that's not why you would have this mask in your arsenal. This is for freshening yourself after a long day or a long flight. Apply, wash off and then put your best hydration serums to work.

So powerful and effective

This was first used on me as part of a Dermalogica Facial at my local Endota. I left with fantastic glowy skin so decided to go and grab some for my at home treatments. First off its way more powerful than you realise, I honestly didn't realise how active this is and left it on my face a bit to long and had a bit of redness but that disappeared quickly.

Once I started using it like ...

Read More

Soothing

Super nourishing and soft on my delicate skin. Leaves my face feeling refreshed, brightened and moisturised. Love it

Calming and brightening

This is my favourite masque when I feel like treating myself to an at home facial. I actually like the scent, it smells therapeutic but the colour is a bit annoying as it can stain face washers. I use every other week when my dull skin needs a pick me up.

Calming mask

I love this mask for its hydrating and calming results. My face always feels a lot more plump and rejuvenated. I have combination and sensitive skin, and this didn't irritate it at all

Super soft

I like this product
Having purchased few times before (not from adore)
And Adore sampling
It leaves the skin super hydrated and soft
I'd like to used it at least once a week.


Too intense for sensitive skin

I reacted to this mask, I think it was just way too intense for my sensitive skin. I advice patch testing when trying it out.

Not my favourite mask

I started using this mask since beginning of winter, consistently twice a week with very generous amount each use. Honestly speaking I really can't see this mask de stress my tired skin or hydrating it. This mask probably suit younger skin, but not so much for me, I'm in my late 40s, combination to dry skin in winter.

Perfect for long flights

I use this mask whenever I travel. It's a great way to stay hydrated throughout a long flight. I generally wash it off and reapply during a layover and also use it when I reach my destination. It instantly brings back deeply hydrated skin that the altitude and cabin pressure has attempted to dry out but obviously failed to do so because of this mask. I have noticed that sometimes my face can have ...

Read More

Unique and effective mask!

I like one of the other reviews here, purchased this after reading that Victoria Beckham has sworn by it for years and calls it Ambulance In A Tube!
It's quite an odd product in that it seems quite creamy/moisturising when first applied, but it dries to a frankly quite yuck orange colour, and when removed your skin feels so toned and refreshed and de-puffed and pores look clean and less not...

Read More

good to use

It is good for refreshing. I usually use it in the morning. Someone said it could lighten your facial skin, but I didn't feel it that obviously.

Luxury mask

I love Dermalogica but find
their products a bit pricey. However this mask is worth the splurge as a bit of product goes a long way. I use this mask after any harsh exfoliating products as a skin soother and vitamin pick me up. Apply a thin layer and let it dry. My skin felt smooth and vitamin enriched after use.

lovely

I first bought this back in 2007 because I read that Posh Spice loves it (she called it her "little ambulance in a tube")

It's an indulgent masque to use when your skin needs a boost. It smells fruity and you know it's full of vitamins. It brightens and plumps your skin - perfect for these cold winter months.



Classic

I love this mask and keep going back to it - it really stands the test of time! I find It plumps up my skin but also reduces inflammation and the look of tiredness or shallowness. Love!

Definitely brightened my skin

I have used this mask each weekend for the past three weeks. It has a tendency to dry my skin out, which is not what I want at age 40, however, it definitely brightened my skin tone. I will continue to use it then treat my skin with a huge dose of moisturizer afterward but I don't think I will repurchase.

one of the best masks

one of my favourite masks, I just wish it didn't change colour and go orange while wearing it. besides from that the results are incredible, smooth skin, less blemishes and it really does feel like a multivitamin for your skin,

Multi use product!

This product works great as a mask but i am quite time poor so i found using a more thin coverage as a night time moisturiser a couple of nights a week gave my skin a great pick up with brightness and hydration!

You will rebuy!

I am a beauty therapist and a skin care junkie. I try it all and it takes a lot for me to want to repurchase something - especially when it's not exactly cheap. But this. This is amazing.
This is my second tube and I actually forgot how much i love this. It works for every skin. It's hard to describe what it does other than it's like a vitamin injection. It cleanses and cleanses, moisturise...

Read More

Skin refreshed

i used to have dull skin before i started using this product. it refreshed my skin and it feels so smooth now. i use this masque every weekend and it feels like i have had a facial done. i have aged and oily skin and it works great for me

Lovely mask

This makes my skin feel really hydrated and plump, i have used it many times and each time my skin feels smoother than before and so far no irritation

Amazing mask

I adore this mask! My skin feels like I've just visited a day spa! Skin is glowing!! Love it

Finally a mask made for sensitive skin!

I have very sensitive skin and this masque is a great one to come home to after a long day at work! After I wash it off my face my skin feels instantly clean and fresh, without feeling stripped or agitated


Great splurge mask

As soon as I put the mask on (you can use the tiniest bit since it's very strong) I feel my skin tingling & I can feel it working. It's a very concentrated mask so I wouldn't recommend to use it too often or too long either (I use it for 30 mins max). Great splurge mask for the price! Indulge yourself :)

Very nourishing!

This feels incredible to sit with on your face, you can really feel it nourishing your skin. Great if your skin is looking quite dull and dry.

Anti-aging/wrinkles wise I can't say I noticed a huge difference in the appearance but it definitely feels great and hydrates.

In saying that I wouldn't purchase again based on cost.

Add to your weekly routine

This mask has been used on me a few times when I have been to the day spa as they use dermalogica. I always enjoy how it brightens my skin and gives intense moisture. I decided to pick it up in an Adore order to try it out at home. It's great and is part of my regular masking routine. Word of advice, don't leave it on longer than it says! I got distracted and left it on an extra 15 minutes and it...

Read More

Great

received samples of this product and was slightly skeptical initially as I have dry, sensitive skin and been getting hormonal breakouts around chin area. Used it as emergency (last resort) measure before my BFF's wedding and it helped calm my breakout areas like a saint. Just got a full sized tube ;)

my go to mask

A-M-A-Z-I-N-G! this is my to go mask when my skin gets dry, or iv been wearing a lot of make up. its so good for moisturising the skin and honestly iv bought so many tubes of this stuff! it looks good on the shelf, it feels good on your skin, and it does exactly what you want it to do! love it!

Favourite Dermalogica mask

This is my favourite mask in the Dermalogica range and regardless of how many times I use it I always feel so pleased with the results and how my skin feels.
I find if you skin is dry or looking dull I use this mask and it instantly gives your skin a boost so your skin looks more radiant, hydrated and even.
This mask has a beautiful smell, I wish the mask was clear instead of yellow so...

Read More

Nice masque

It's a nice mask which leaves my skin fresh, hydrated and clean. However, I wouldn't say it's too different to other products of similar price range out there. I've received this as a sample, but haven't purchased a full size product as I still have my other masques. I would still consider this one in the future though.

Winner for sensitive skin

I react to do many products. I'm always cautious when I receive samples however I love this mask. I'll be adding it into my routine and using it with the ultracalming range. My girlfriend who has more mature, dry and scarred skin loved it so much she wore it as a moisturiser! I use it before makeup to calm and smooth my skin as well as eliminate dry or flaky skin.

Great

Received a sample of it and I'm not sure I like it that much. Thought it was a little too oily but after I wash it off, my skin is slightly softer. Just feels like a normal oily cream and I prefer the Dermalogica Age Smart Power Rich to this if I want to use a more oily cream.

Immediate effects

Such a wonderful product. I use it with the ultracalming range once a week and can see a clear difference. My skin is supple, hydrated and makes me appear like I've had far more sleep than the mother of a toddler normally does!

Great for Hydration!

An amazing treatment to use on your face for instant softness and for skin that glows! It makes my skin look and feel soft and plump. It really boosts my skins hydration! I love to use this masque as a weekly treat.

Left skin super smooth

I have very sensitive skin, so after applying it my skin burned and went very red, but after washing off and applying my moisturiser my skin calmed down. My skin did feel very smooth and clean, but I'm not too sure if I'd use it again with my sensitive skin. Would probably be great if you didn't have sensitive skin

not bad

not the best mask but does reduce the texture on my skin and feels luxurious

I like it

Skin type: Dry/combination

I received this as a sample so I couldn't try it more than a few times but it had a nice texture, and soaked in really well for a mask, I will be purchasing a full size.

Not the best

Not the best dermalogica masque out there. I didn't notice any spectacular results for the price. But it does feel nice on the skin if you want to do a bit of pampering.

not suitable for me

I received this product free in a gift pack so I had no expectations about it. I didn't really like it as it felt unpleasant on my skin and left it feeling red and dry afterwards. I feel that it doesn't really suit my combination skin type so I probably won't use it again

A regular purchase

I have very sensitive skin and this masque is a great pick me up after a day in the hot sun! After I wash it off my face my skin feels instantly clean and fresh.

Great Product

this mask makes my skin feel soooo smooth and so plump i dont think i should stop using this. Definitely a treat for my dry and dull skin.

Good

Face feel replenished and smooth after use. Now a staple in my skincare.