Dermalogica Clear Start Kit
4 instalments of $9.90
Or 4 instalments of $9.90 with
LEARN MORE
4 instalments of $9.90
Or 4 instalments of $9.90 with
LEARN MORE
Official Stockist
Is this for you?
Fight breakouts and blackheads with the Dermalogica Clear Start Kit. Ideal for removing impurities, reducing pimples, clearing skin of excess oil and replenishing moisture, this skincare kit will work to promote clear, healthy skin.
Skin Concern:
Acne, breakouts and blackheads
Frequently bought with
Please wait while we find a match
Questions & Answers
(2 Questions)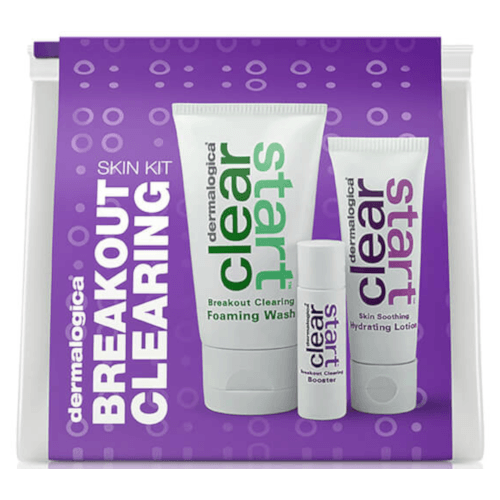 Dermalogica Clear Start Kit
Get an expert to answer your question about this product!
Dermalogica Clear Start Kit Reviews
95% recommend this product
Most Helpful Positive
Good starter
A good starter kit that has all of the essentials in it
Most Helpful Criticism
average
I love the booster but the cleanser and the lotion just don't do it for me. It would be great for a young teenager whos just getting into skincare but as a 19 yearold I feel I need a bit more oomph from my skincare.
Great present

This is a great present for someone younger staring out with skincare that have acne prone skin!

Good starter

A good starter kit that has all of the essentials in it

Try Before You Buy!

Initially purchased this to try out the clear start range, good value for money and lets you try some of their best products. If you are having doubts, just TRY it, the products are amazing for breakout prone skin.

Love this

Perfect kit for starters. Simple to use and easy to read. Feels great on the skin too

Breakout clearing kit

I got this kit for my teens and it's been a great starter kit in showing them a daily face routin

Great product for all ages!

I bought this got my 12 year old daughter to try and it really has helped with her breakouts. I tried the cleanser and liked it that much I'm now using it too!

Bye bye breakouts

Absolutely love these three together. The spot clearing stick is a magical stick worth it's weight in gold.

Bye bye breakouts

Absolutely love these three together. The spot clearing stick is a magical stick worth it's weight in gold.

Great little starter pack

This is a great little started pack for teens with acne prone skin. Great value for money. Helps reduce signs of acne and improves hydration. Smells great and won't strip skin of natural oils. Would highly recommend.

Great little starter pak

This is a great little started pack for teens with acne prone skin. Great value for money. Helps reduce signs of acne and improves hydration. Smells great and won't strip skin of natural oils. Would highly recommend.

Great product!

Great for acne prone skin!

amazing to clear skin

Great for teen acne, clears blackheads and upcoming pimples just as claimed, doesn't dry skin and good on heavy acned skin. great price to test out the different products


Bought it as a gift!

I gifted this to someone and they LOVED it. I really saw a big visible difference in her skin after a short period of time. The lotion and spot treatment are both really amazing!

Good combo

This starter pack was good value for money. The products were gentle. My favourite product that met it's description was the mini spot treatment. It dried out new breakouts immediately.

Good

great value very effective

Does the job well!

The Booster is a lifesaver, without a doubt my favourite out of the whole kit. Using it as a kit has shown me results with acne quite well over not a super long period of time. However, it does leave my skin feeling dry, leaving me have to use my own seperate moisturiser a lot as well. So it might not suit super sensitive skin but for me, it has!

Breakout Clearing Booster

I have used the breakout clearing booster from this kit and the face wash (separately). The booster is effective, non-irritating and an ideal travel companion.

I am unable to comment on the lotion but the wash and the booster have become crucial in my acne arsenal. I am 30 and have recently been prone to acne.

A bit harsh

These products were nice and cleansed thoroughly, however I found they also dried out my skin. Would recommend to someone with super oily skin or maybe teens just starting to use skin care. Not suitable for sensitive skin.

amazing to clear skin

great for teen skin, helps my oily acne prone skin clear the congestion and unclog pores without stipping my skin, great priced bundle to test this range

great starter kit

Great starter pack! perfect for young teens and getting them into a good skin routine

Early 20's but still love

Highly recommend this pack for teens and those in early 20's that are starting to get pimples. Great kit to get you started all amazing products.


Great for young skin

I purchased this for my teen son who is just beginning to experience breakouts. I did not want him to use a harsh brand of skin care and I use and trust deemalogica so decided to try it for him. I'm happy to say that the minor blemishes have cleared up quite a bit and he has not experienced redness or drying, even with sensitive eczema prone skin.

Amazing for breakouts

Amazing kit if you are struggling with breakouts. I find that the dermalogica clear start range works best with my combination skin.

Great for teenage boys

I finally found an acne treatment for my 15 year old son that he was happy to use.
Prior to finding this pack we tried Proactive and many many other acne products. I spent so much money on products that either didn't work or he flat out refused to use.
When I first started with skin care products I started out with Dermalogica so thought perhaps my son could too. This pack is a perfec...

Read More

Mild

The booster works well on mild teenage acne. The facial wash is non drying and doesn't strip the skin of moisture. The hydrator is a basic moisturiser, non irritating and works well under makeup

average

I love the booster but the cleanser and the lotion just don't do it for me. It would be great for a young teenager whos just getting into skincare but as a 19 yearold I feel I need a bit more oomph from my skincare.

Dermalogica

Good for my younger sister's oily acne-prone skin. non intimidating steps and easily laid out for her to use. Spot treatment works well without drying out her skin

It has all you need!

Highly recommend this pack for teens that are starting to get pimples. It's important to moisturise after you cleanse to put the moisture back into the skin and it's great that this kit includes that.

Spot treatment!

Love the spot treatment in here, very effective at calming hormonal acne around my chin. The other products are light and non-irritating, and don't clog my pores up or cause more acne.

Great purchase

Such great value for such great products. Very good for teen acne, my kids love it and it's not too harsh for their skin

Fast acting acne treatment

I have recently purchased this product in the past week and a half. Started using on a Friday and by Monday noticed a considerable difference in my skin, pimples had cleared up and less redness, my skin hasn't dried out either, I recently come off the pill and have an imbalance in hormones has caused my skin to break out really badly, very impressed with how my skin is looking nearly been a week o...

Read More

Mind blowing

I bought this for my brother who is fussed about his acne and this kit has cleared up his skin in 2 weeks! There is still some acne present, but it has definitely minimised the appearance and flaring up of his acne and he feels so much better about himself. Will definitely purchase the full sizes once the mini's run out

Ehhh

I have dry, acne prone skin and this didn't really do it for me. I was given it as gift and I'm not really sure it made a difference (although didn't make my skin worse). I find it super drying, but possibly okay for oily skin.

Clear skin

I purchased the clear start kit before purchasing full size products to try the Dermalogica clear start range and it's cleared up my skin!
Definitely recommend


Foaming Face Wash

I bought this for teenage daughter and she loves it. So much so I've just ordered two more of the foaming was It has really helped clear her acne and her skin in general. Definitely recommend

Acne prone/ oily skin.

I have acne prone skin and have tried so many different creams/treatments! I finally tried this and absolutely love it! It has cleared up my skin and keeps it maintained I've just ordered more!

Tween Product

Bought this kit to start with, as wasn't sure if it was suitable and didn't want to lay out a lot of money on products. Can't recommend highly enough. Have a 12 year old son who was starting to have regular breakouts. Great product and easy to use (even for boys). Made a difference to his skin.

Teenage skin saviour

Ordered this for my 13 year old nephew who is starting to get acne. The generous sizes gave him the chance to try this out and he loved the improvement in his skin.

Amazing

I love all these three products together. Helps combat my acne and all my changing hormones. Helped clear my acne within a couple of weeks will continue to use

Perfect for teenage skin!

I bought this pack for my daughter for her to try their products, and now we have gone and bought the lot! These have worked so well for her teenage hormonal skin and definitely works to clear her breakouts. So much gentler than other products we have tried!!

Great to try out products

I went on to order the cleanser and moisturiser after trying them in this kit. These products are targeted at teens but I've found them great for my acne prone skin despite being in my late 20s.

Amazing for teen acne

Gift

Great gift for teens struggling with acne. The face wash is great for oil control and the gel is handy for spot treatments.

Great product for pre teens!

Purchased this for my 12 year old son who was getting a few pimples and oily skin, it has worked wonders! Within 2 weeks of using his face is clear, will be purchasing full size.

Clear skin

This is amazing for.clearing my skin during troubled times

Good, quick results

I bought two of these for my younger brother and sister who have been dealing with acne breakouts for the last year. They had really quick results within a week of using these products and it's helped to clear up the active acne and speed up the process of healing. I'll be getting them the full sized products once they get through this set!

Love it

The perfect starter kit for those with acne

Great for teen breakouts

My daughter trialled this Range with the starter kit and saw result in a week. Her skin is less angry, reduced redness. Less pimples. Now purchasing the full sized products.

Great

Got this as a present and haven't gone back since. The cleanser is amazing and clears your skin in a matter of days. The breakout booster soothes pimples over night.

Lovely gentle products

I really liked this kit. I still felt like my skin needed a good scrub once a week so often swapped out a day or 2 for a scrub but I absolutely loved the spot treatment gel & the moisturiser. I really felt the spot treatment gel helped a lot. If a pimple popped up I'd put it on before bed and it had reduced significantly by morning. If they could add a gentle scrub to the kit like the Skinstitut o...

Read More

very practical kit

it is a very practical kit to fight pimples and breakouts seen results after just using once at night. highly recommended. i have dry and sensitive skin

Good wash

I bought two of these kits for my teenage sons, however one kit arrive with the spot treatment lid off, so lost half of the product and made a mess in the wash bag. The other kit was fine. Very happy with the way the kits are working for my boy's so far, although being boys the only hassle I have is reminding them to use the wash on a daily basis.

Breakout Saviour

I started using this kit two weeks ago after a severe breakout and saw the results in 24 hours! I now have purchased the full sized products as I know the products really work well with my oily skin!

Clear Skin

After trying multiple high end skin care brands - this is literally the only product that has cleared up what I thought was "hormonal acne" around my chin and jaw within a few weeks. Highly recommend!

easy and quick

This is a quick and easy facial and it actually works great. After only a week i have noticed a huge difference and loving it, defiantly my go to facial. Plus the bottles are a great size can take any where

Great starter pack

I actually bought this for my sister and she loved it. Has teenage acne and this definitely helped control and slightly clear up her breakouts. We ended up getting the bigger bottles for her to continue using. Definitely worth the price as well for what you get

Works straight away!

I have combination oily and dry skin and have recently started getting break outs as an adult. I have heard friends talk about dermologica for years and decided to finally try it and I'm so happy I did because I could see my skin clearing after the first/second use! It's amazing, I would recommend

Perfect for breakouts!!

I had a really stubborn breakout that my usual acne treatment was not getting rid of and within a week of using dermalogica it was gone! I had been trying for 4 weeks to get rid of it and this stuff was amazing!! Highly recommend!

Excellent at clearing acne

Skin type is oily and prone to breakouts on the forehead and temple area. This product is great at clearing acne and leaving the skin feeling clean without feeling tight and stinging.

I'm happy with this product and would recommend to anyone wanting to clear their skin without drying it out or causing redness.

Great for my teens acne skin and my adult acne

Loving the facial wash as it is none drying

Acne go bye bye

I have had this kit for just over a week and already see a difference to my skin. My face is smooth and less red and gentle on sensitive skin. The cleanser also smells nice for a change.

Best teenager skin care

Purchased this pack for each of my teenagers as an Xmas stocking filler.
Clearer skin and reduction in acne in just 3 daily face washes.
Will definitely buy these products again.

Great kit

love this kit was worth buying they smell amazing they work all my pimples are gone and so happy with it I went and bought big size and even my son uses it and his face is nice and clear with no pimples

Perfect

Skin type: Dry/combination

This is the perfect starer kit or travel/gym bag kit! and its super affordable compared to other Dermalogica products.

Good value

Great little starter kit. Ideal if you're travelling with the smaller size or just to get a feel for the product. I found it's made such a huge difference with my oily skin, but without drying me out too much.

Great kit

I would recommend this Dermalogica Clear Start Kit for anyone suffering from breakouts. It works amazingly at clearing up the skin. I saw a visible difference within a week of use. This is a great starter kit if you aren't sure what you want out of the range.

Perfect for travel

Dermalogica Clear Start Range is perfect for those who suffer with acne. Thank god Dermalogica has released this kit. The products within are perfect for traveling and free up much needed space that the full sized products can take up. Such a little amount of product goes a long way so you never have to worry about there not being enough product. Definite must for those who find themselves traveli...

Read More