Dermalogica Age Smart Skin Resurfacing Cleanser 150ml
Is this for you?
A dual-action exfoliating cleanser containing Lactic Acid that smoothes, retexturizes and delivers ultra-clean skin.
Frequently bought with
Please wait while we find a match
Questions & Answers
(1 Question)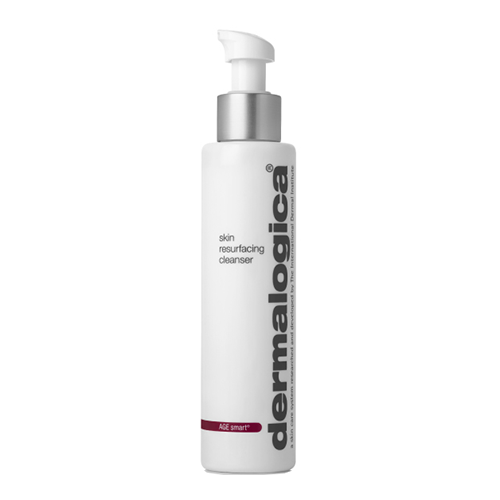 Dermalogica Age Smart Skin Resurfacing Cleanser
Get an expert to answer your question about this product!
98% recommend this product
Most Helpful Positive
Really good cleanser
Keeps skin soft, and removes makeup well.
Most Helpful Criticism
Perfect before bed cleanser
This cleanser is especially great when paired with the Superfoliant. It leaves the skin super smooth and ready for serums and moisturisers.
Really good cleanser

Keeps skin soft, and removes makeup well.

Improves skin condition

I decided to try this as I had been using the special cleansing gel for a long time my skin needed a change. I have dry skin and was concerned this might dry my skin out but I was wrong! I have been using this morning and night. My skin condition has definitely improved, with my face now feeling plump, soft and blemish free.
It is an extremely strong cleanser but I did not experience any redness or dryness myself. Very happy with this purchase and will be continuing to use.

Gives a deep clean without stripping the skin

I was looking for a new cleanser after using the same one for years and have been really happy with this one from Dermalogica. It smells lovely, gives a really good deep clean without feeling like it is harsh on the skin. My skin definitely feels softer. I have dry sensitive skin and this product has been pretty good for both of those concerns.

love this

I would recommend this to anyone! Very well priced for such an effective product, will be repurchasing!

Love this but can be too drying

I use this cleanser every second or third day, in conjunction with special cleansing gel. I can't use it every day as it has a high concentration of lactic acid and it starts to irritate my skin, but skipping a day in between does the trick. This is a cream cleanser, it doesn't foam or lather. I like to apply and leave on whilst I do body wash, and give my skin a mini peel. It smells great, like the hydramist and after I have washed it off it feels like I have exfoliated my skin.

Best Cleanser Ever

OMG! I have tried so many cleansers, this is the best!!! It removes all my makeup and actually leaves my skin soft and CLEAN! The only cleanser I will ever buy again!

Perfect before bed cleanser

This cleanser is especially great when paired with the Superfoliant. It leaves the skin super smooth and ready for serums and moisturisers.

Best cleanser I've ever used

This cleanser finally cleared up my adult acne. My skin is sensitive and I've had no problems with it, been using for years. I love it!!

beautiful cleanser

Love this cleanser from dermalogica. It is rich, thick and doesn't foam or make my face squeaky. I bought another as a backup!

LOVE IT

This is such a good face wash!!! it makes my skin feel so clean and soft, it definitely gets all the dirt out and even helps clear my acne I love this so much

A bit drying

I found this cleanser a bit drying for my skin but it certainly felt smoother after using

The smell :S

I'm not sure if I got myself a bad batch but the smell is horrendous! The best way I can describe it is botanicals that has gone off, as soon as I put the stuff on I have to wash it off and use another cleanser because it was that bad. For that reason I can't really comment much as I didn't leave it on longer enough to lather and cleanse my skin which is a shame because I do really like the rest of the dermalogica range.



Great

I have spent years finding the perfect face cleanser and now long behold I have been using the Dermalogica Skin Resurfacing Cleanser for just over 6 months. My skin has never been so clear. If you are like me and wear a full face of make up on the daily this product helps maintain your skin to look smooth with no bumps.

amazzziinnngg!

I have used several products from dermalogica and this is by far my favorite cleanser! I have extremely dry skin which worsens in the winter and was pleasantly surprised that I can use this daily without it drying out my skin. I follow this with their toner most and intensive moisture balance moisturizer. I highly recommend this cleanser!

Great for me but maybe not for everyone

I love this exfoliant, but I don't think it would be for all skin types. You put some product in your hand and spread it a little then put it on your face and start massaging it around your skin. You will feel it warm up right away, but the heat dissipates. It has tiny little granules in it that you can feel as you are exfoliating. My skin always feels super smooth and looks so bright and fresh after using this exfoliant!

Too drying

I had ran out of my normal cleanser so brought this as I liked the other products within the age smart range.
I really like the results of this cleanser and instantly found visible results with using this but I also found it too drying for my skin and found with using it everyday my skin was peeling.
I transitioned to using it 2 x a week instead of nightly which has helped but after I use my bottle I'm not sure if I will use it again.
I think this might be better for someone with an oily skin type but wouldn't recommend for dry/ sensitive skin.

Evens skin tone

The first couple of weeks my skin peeled a little whilst using this. Especially the red around my nose. But then it started to clear and my skin tone was more even and it hasn't peeled since. This product is awesome if you really want to make a long term difference. It made my dry skin feel so much smoother and even.

Nice feel

I got this in a sample from Adore. I use it in travel case. It's nice when I travel because it smells great and makes my skin feel smooth so much better than what you get in most hotels so it makes the trip a bit more special.

Leaves skin feeling soft

I have normal skin, this cleanser leaves my skin feeling soft and smooth, even hubby is loving it.

Great

I really like the results of this cleanser, but I cannot use it too often, as it's really dried out my skin. I was using it daily, and it was way too much. I'm now trying to get the moisture back into my skin, and have reduced the use to only once a week, and will see how it goes then.

Great product

My skin type is 'normal' so a fantastic light cleanser for everyday use and for the 30+ people.

Was okay

I liked this product and felt like i got a nice clean and fresh feeling but it dried my skin out a little bit. I think this product is good but it would be suited to someone with more oily skin or build of debris on there skin.

Pricey but worth it

More than I normally spend on a cleanser, but wow is it worth it. Exfoliates gently. I find I don't have to use it more than every second or third day either which makes it last longer. Skin is noticeably smoother and more clear when using this, to the point my husband started pinching it.

Good results

Skin type: Dry/combination

This is a good everyday cleanser, calming, no irritation and it removes all of my makeup easily.

Good but slightly drying

I really like the results of this cleanser, but I cannot use it too often, as it's really dried out my skin. I was using it daily, and it was way too much. I'm now trying to get the moisture back into my skin, and have reduced the use to only once a week, and will see how it goes then.

I love this product

This is my daily routine product. Light, smooth & even the skin so amazingly.
I've been using this for years and in so far I'm not able to find a better product that provides tone, sun protection and works as a great base.

Excellent cleanser

This is the perfect product. Protect the skin and provides this lovely soft glowing skin.

I love this product.

My favourite!

It's taken me years to get my skin to behave. I thought once I turn 20 pimples would automatically disappear but no. Now in my mid 30's they'll make the odd appearance unless I'm keeping up with this cleanser. It works hard, smells beautiful and leaves my skin feeling actually clean but not like that squeaky harsh soap clean feeling. It's lush.

Smooth skin miracle

I use it every morning, rubbing it into my face and neck for 30 seconds. It makes my skin incredibly smooth and bright. Do not rub it in for more than 39 seconds. Use with caution in combination with skin care products containing acids or retinol- it can result in skin irritation. But used as recommended, it has been life changing for me.

Love this!

I was looking for a facial cleanser that would cleanse my face without leaving make up residue behind. I love the pre cleanse and the skin resurfacing cleanser. The pre cleanse melts my make up off and allows the skin resurfacing cleanser to clean and moisturize my face. They are great products!

LOVE it

I am onto my second bottle of this and absolutely love it. I am 35 and have slightly oily skin and use this at night only. It's a cream consistency and I find it goes on much better if I remove excess water off my face with a damp facewasher! Since I have been using this my face is generally clear and I don't need to exfoliate as often...I don't think I'll ever stop using this!

it is ok

I think the dermalogica special cleansing gel is a bit better and lighter

Amazing

I have dry and congested skin so find it hard to get a cleanser that isn't too drying. Been using for a week so a bit early too tell if it's going to clear up my skin but using it with the daily microfoliant and intense moisturiser. My skin feels so clean and fresh without any drying, a first for me. I do think my skin looks brighter and fresher already though. Beautiful to feel and look forward to using the product.

Effective

My skin is quite unpredictable. always quite clear from blemishes but occasionally dry in some spots, oily in others. i don't mess around with too many products as it's hard to find a balance. but this product has been amazing, will continue to use it and would for sure recommend it!
Only reason I didn't give it 5 stars is because i don't like the smell! but small price to pay for a fantastic product.

miracle product

I have older, sensitive skin that tends to whiteheads in some places. This gently removes dead cells to release the blockages, without stripping or drying my skin. I use it every second day, after Pre-Cleanse (which is for EVERY day). It has made a noticeable difference to the bumpy bits.

Freshness in a bottle

My skin feels clean after using morning & night. Perfect for the middle aged woman not wanting to have dry skin. Compliments my Age Smart beauty routine.

Very nice cleanser

This is a very nice cleanser, cleanses, exfoliates, all without leaving skin dry or tight. I'm going to keep repurchasing this one.

Fabulous cleanser

I love dermalogica products and have been using them for many years, and recently decided I wanted a different cleanser given that my skin is moving into the more mature age category... after reading several of the reviews about this product I recently purchased it and think it's fantastic! I have sensitive skin so I was concerned about the active Lactic Acid irritating my skin but it hasn't and my skin feels amazing. I also use it to remove my make up and it works a treat. Definitely recommend this product

Holy Grail Cleanser

This is my favourite cleanser ever, it's a lactic acid exfoliant and I find it more effective than normal AHA cleansers. I have dry skin, age 38 with mild rosacea and this is one of my fav anti-aging tools.
Gentle enough that it doesn't make my skin react with redness and strong enough that you feel the difference after just one use. I like to use 3-4 times a week, I massage it in to my skin really thoroughly after removing makeup with micellar water, and at least once a week I will actually let the cleanser sit on my skin for 5-10 minutes before I massage it in some more and its like having a mini peel at home, perfect to use before your serums at night so they can work at full capacity.


The best cleanser I have used.

I received a 30ml size bottle of this amazing cleanser in one of Adore Beauty promotions and I am so glad I did. I didn't know much about it, but I do use other Dermalogica products, and when I applied to my skin as a cleanser I was delightfully surprised as it made my skin feel really clean like no other cleanser I have used in the past, and I have tried quite a few in the past. It has a lovely texture too. One of the best products I have ever purchased! I Highly recommend this cleanser!

Surprisingly amazing

I got a sample of this not long ago along and have to say I would love to purchase a full size soon as your skin feels amazing after use! So smooth!

Great exfoliating cream cleaner

I use this cleanser once a week, more as a mini mask/exfoliating treatment rather than a cleanser. Has a nice creamy consistency and milky smell (I guess from the lactic acid). I leave this on for a few minutes whilst brushing my teeth (to let the lactic acid work its magic) before washing it off and leaves my skin silky smooth. If I use it too often, will dry up and irritate my sensitive skin though. One of my fave Dermalogica products.

Best Cleanser Ever!

If like me, you wear make up every day this cleanser is a must! I do a double cleanse every night and it leave your skin stripped of any dirt getting into your pores. Flawless results and will clear your skin up in under a week!

Such a nice cleanser

This cleanser is beautiful. It doesn't irritate your skin and it gives a great glow. I don't know whether it's really improved my skin but I do feel like the texture is smoother. I'm on to my second bottle!

fantastic

I have been using this for a few years now. My skin loves it. I'm almost 38 and not many people guess that.
This is not a make-up remover - so don't expect it to work its wonders unless you have already taken your makeup off.
You also have to remember that everytime you change your face cleanser, particularly to a resurfacing cleanser you are going to get a reaction on your skin. This will settle after a week or so - regardless of what brand of cleanser you use.
You will also not see full results for at least a month.
Overall this cleanser is not overly perfumed, has a lovely creamy feel - and if you leave it on for a couple minutes and massage it into your skin properly you will feel a tingly sensation which feels awesome.
Use it properly and it does wonders.

I love it

I loved this cleanser. It is a bit pricey for a small bottle of cleanser but it isn't designed to be used every day. I loved the tingling sensation I got - that means it's working!! I would apply and leave it on my skin for my full shower to get the most of the lactic acid. I had no issues of it removing my makeup and my skin felt good afterwards.

A really effective cleanser

I have been dealing with adult acne for 2 years & commenced using this via a recommendation from my beauty therapist.
I am using other products (Pre-Cleanse before & a HydroPeptide Toner after) however I do believe this cleanser is a key reason my skin has cleared up.
Like other reviewers, I experienced some sensitivity in the first week. However I think this was more to do with the glycolic peel I'd just had at the beautician rather than this product. I just dropped usage to once a day & by week 2 I was back to twice a day.
I wouldn't recommend this cleanser on its own to remove make-up, however if used with the Pre-Cleanse you will feel this product working on your clean skin.
I only use a generous pea-size amount twice a day for this product, so I expect you would get a good 6 months from a bottle.

love this product

Love this product!! Instantly Clears skin and reduces pores ...love

smooth skin aensation

I purchased this cleanser & it initially sensitized my skin. I reduced use to 3x per week as instructed on the packaging. I have been using it for a few weeks & my skin definitely feels smoother & looks brighter.

Best cleanser I've ever used

This is the best cleanser I have ever used. Yes it requires a double cleanse if you're wearing make-up (a lot of cleansers do). My face has never been so smooth after a cleanse as it is after using this product. However I only use it once a day as I found it drying to use with every cleanse. It also has a fantastic refreshing scent. Highly recommended, especially followed by Dermalogica's UltraCalming Mist.

This is too expensive for a below average cleanser that doesn't remove heavy makeup and I doubt the lactic acid is on your skin long enough to really do anything.

I wanted to give this product a chance, and reap the full benefit of this cleanser, as I was only using this about every third day. I'm not so happy at the moment as using this for two days in a row and just last night on a make-up free face. I woke up this morning with pimples and my complexion bright red and quite irritated, and some very dry patches that were peeling. I have not used anything different, nor have worn any cosmetics for four days straight. Not happy with this result, and warn anyone with sensitive skin not to use this on a regular basis. I'd Probably recommend this for older woman that have "tougher" skin and want some sort of result. I think this will be going back in the cupboard for some time, unless I can palm it of to someone that doesn't react so badly. Disappointing in the least, as I expect something fabulous from Dermalogica. So be warned all those sensitive skins out there!

A nice cross between a foaming and milky cleanser. This product doesn't lather too much but you can see and feel the difference to your skins surface after using it for a few weeks. I find using the pre cleanse gives a more effective clean especially if I'm wearing more makeup or something like the invisible zinc tinted moisturiser which really sticks to your skin. Otherwise, nice and refreshing in the morning. Non offensive fragrance. I find it doesn't leave my skin feeling tight and dry especially in winter. Typical dermalogica packaging. Like most dermalogica products, a little goes a long way.

Not too sure on this cleanser. Yes it cleanses, Yes it does take the days make-up and grime off. It didn't irritate my sensitive skin type. The smell is a little off putting, if you can get past this I'm sure it's a good cleanser. Did I see an improvement in my complexion? No...maybe it might change when I've used the whole bottle?