The AGE Smart collection by Dermalogica is the ultimate addition to your anti-ageing skincare arsenal. This high-performance range of products has been developed to protect against skin-ageing catalysts and help repair damage already done by environmental aggressors. AGE Smart contains everything you need for a healthier and more youthful complexion. Explore the super-concentrated anti-wrinkle serums, nourishing anti-ageing night creams, and much-needed sun protection products.
What are the key benefits of the Dermalogica AGE Smart range?
The Dermalogica AGE Smart range utilises high-potency cocktails of scientifically advanced ingredients to help fight against ageing biochemical reactions before they even take place. The range not only protects against ageing but helps to restore vitality and repair damage to skin that has already been subject to premature ageing.
What are the key ingredients in the Dermalogica AGE Smart range?
Dermalogica has reached for some of the most powerful anti-ageing ingredients when creating the AGE Smart range. Retinol is a key ingredient for AGE Smart products and is known as one of the only ingredients to actually reverse the existing signs of ageing. Collagen Peptides are also included to help boost collagen production for firmer and plumper skin. To help protect against one of the biggest environmental aggressors, SPF is included frequently throughout the AGE Smart range.
All of the Dermalogica AGE Smart range has been formulated without artificial colours and fragrances and is paraben- and cruelty-free.
Who should use the Dermalogica AGE Smart range?
The Dermalogica AGE Smart range has been developed for those who are concerned about ageing skin. This product line can be used as a preventative measure to fight against early causes of premature ageing. AGE Smart products can also be used further along the process to help improve the look of ageing skin.
Is the Dermalogica AGE Smart range good for sensitive skin?
Sensitive skin may react to the high concentrations of active ingredients, especially in the products that contain Retinol. However, the range can be beneficial for those who suffer from hyperpigmentation, so it is best to access the individual products for skin tolerance.
Will the Dermalogica AGE Smart range target wrinkles?
The Dermalogica AGE Smart range has been developed to target all signs of ageing, including wrinkles. Super Rich Repair is a powerful anti-wrinkle cream that delivers an instant moisture surge to minimise dehydration lines. Multivitamin Power Serum helps to target fine lines, age spots, wrinkles, and pigmentation with its strong cocktail of Vitamins, Peptides, and Minerals.
Showing 18 products of 18.
---
Recent reviews on AGE Smart products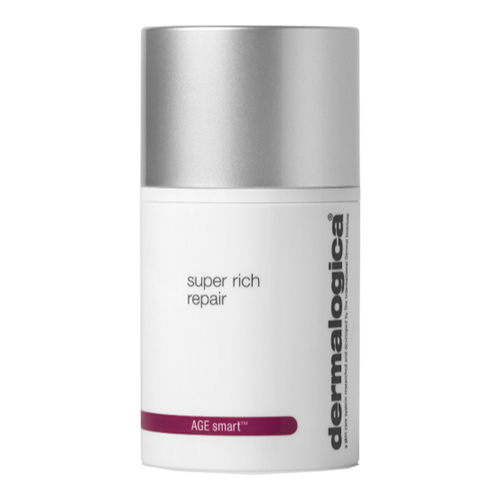 Dermalogica
Dermalogica Age Smart Super Rich Repair 50g
$134.50
$118.36
An over-priced product
While this felt nice on the skin, I do not really recommend as the long list of ingredients that are not natural or organic are concerning. Paying a lot of money for something that has ingredients that may not be any good for you. So a thumbs down from me - organic is the way to go with natural high quality products - treat your skin like your diet...
What people are looking for the most