Is this for you?
The Cloud Nine Wide Iron has all the fantastic technology of the Cloud Nine Iron but with wider plates. Ideal for very long, thick, or curly hair, the width of the irons allows you to style more hair, faster.
Hair Concern:
Dull, lacking shine

Frizzy hair
Frequently bought with
Please wait while we find a match
Questions & Answers
(11 Questions)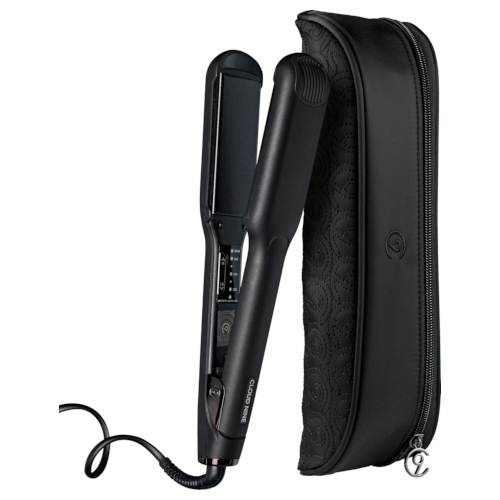 Cloud Nine C9 Wide Iron
Get an expert to answer your question about this product!
100% recommend this product
Most Helpful Positive
Amazing
Most Helpful Criticism
Electrical fault after 16 months of use :(
My first cloud nine wide iron was my ride and die! It lasted me a good 3 years before the plates stopped heating. I also had really long and thick hair back then and used it daily! Purchased my second pair in Dec 2016 and the plates no longer heat up. There are bright sparks happening behind one of the plates every time I turn it on and the safety beep starts to indicate a fault. Very disappointed! thought I would get at least 2 years from this pair. I did notice with this pair that the quality wasn't as good as before, the cord was unravelling and exposing internal wires, even though I was careful not to wrap it around the iron. Some of the led lights stopped working, the plate covering the temperature gauge came off. Very poorly put together. Its outside of warranty, which is 12 months in Australia but 2 years in the U.K. Contacted Cloud Nine Australia to organise repairs, I sent in some photos and a video of what happens when I turn it on and they just told me to buy a new pair and not to bother sending in for repairs because the cost would not justify it. The customer service consultant told me with daily use that these irons are only expected to last 18-24 months tops and in my case less because she assumed I was too rough with my iron. I love how these irons straighten my hair but not sure if I should fork out that much money again for my third pair or look at something else.
Amazing

The Best

The best one you'll buy. If you have tight curls though, go for the original iron not the wide.

Expensive, but worth it!

I have long thick hair, and I purchased this to replace my very old GHD. I love that you can control the temperature, and it straightens my hair super quick. I haven't quite got the hang of curling with it yet, hopefully I'll nail it with a bit more practise!

for thick hair

I find with this, I don't have to section my hair into tiny strands because it's wider, it holds more hair, so I have straightened hair within minutes! For reference, I've got thick, medium long hair

So good for thick and curly hair!

After my Halo finally died I've decided to purchase the Cloud Nine. It does wonders for my hair, it straightens it so well. You are still able to curl with the wide plate, the curls just drop quicker in my experience and they turn into waves. The straighter is able to curl without your hair getting stuck, which is good to! Such a good investment.

Finally upgraded

I had a GHD for about 10 years and it was still working fine, but just didn't slide through the hair super smoothly, which I feel like could potentially do more damage over time.
I went to the hairdresser recently, and she used this on my hair, and I bought one maybe a week later. Just glides through the hair. I think the wide blades makes it a little quicker. Though it can be a bit harder to get close to the hairline. Also you have to hold it pretty tightly to keep it closed, which can make your hand a bit tired. But they're small gripes. Over all, a fantastic product.

Amazing for curly frizzy hair

Great straightener for curly frizzy hair. Makes it super sleek and in a half time of a normal size. I've traded in the GHD for this and love it. Can still do great waves with it too.

Can't go past a cloud nine!

My hair is pretty curly and the cloud nine is one of the best straighteners I have used keeping my hair straight all day long!

Thick hair, curly girl problems SOLVED!

I have thicker than thick, curly hair so straightening my hair was a huge issue for me as it would take forever, hurt my back and not last very long with my GHD.
THIS STRAIGHTENER HAS FIXED ALL OF THESE PROBLEMS FOR ME!!!
I cannot stress enough how fantastic this straightener is. My Mum and my Brother both have thick hair like mine but theirs is much longer and they can STILL straighten their hair in under 40 minutes....which might sound like an excessively long time, but for us, straightening our hair can take up to 2 long hours.

My Mum had one, my brother had one,my hairdresser uses one on me (and a GHD on regular haired clients) and so I figured it was time to give in and upgrade.... And I'm so glad that I did!

PS- no frizz too!

Game changer

My silver GHD just wasn't straightening my hair anymore and knowing my hairdresser uses cloud nine and all the feedback - I bit the bullet and got the wide iron as I have a lot of hair.

Quick to heat up and VERY smooth. Leaves hair silky and shiny. Worth every penny

Best straightener on the market!

Finally decided to upgrade my straightener after having my previous one for 6 years and all I can say is WOW. I have naturally pretty straight hair but I love running the cloud 9 over my locks once I've blow dried them just to smooth it out a little and get rid of those annoying fly aways. The variable heat settings are great too as it gives you full control over what you're doing. The wide iron is also prefect for my thick hair. Perfection!

Great

Cloud Nine stylers are amazing. I have long hair and it only takes me about 10 minutes to straighten my whole head! Would highly recommend if you are on the market for a good straightener.

Amazing Product

This has to be one of the best irons on the market. Easy and quick to use. Leaves hair silky and smooth.

Love

I am absolutely in love with this hair straightener, I had a GHD before and now upgraded. Heats quickly and straightens so well !! I love everything about this hair straightener would highly recommend

Wow!

Such an amazing flat iron!! Way better than ghd. it truly makes my hair look and feel like silk. I don't know what it is but the plates make your hair very smooth and shiny and don't damage your strands too much. Hair also stays straighter for much longer. Love it!! Excellent investment for fab hair

Sleekness

Finally found a straightener that makes my hair sleek and gives me hair that looks like I just walked straight out of a salon!

Cloud Nine C9 Wide Iron

So pleased i finely purchased this product
Works like a dream even on my fine hair
Highly recommend it!!

On Cloud Nine Thanks to Cloud 9

Finally found a straightening that makes my hair sleek. de-frizzed and a lasting straightened finish - absolutely love mine! Great for soft bouncy curls too

Simply the best

I bought this iron to replace my GHD since I wanted a wider iron. I have fine hair but have always found straightening a chore. This iron cuts down my straightening time in half! I use the second highest heat setting and have found that compared to my GHD, there is no "smoke" that comes off my hair upon contact, which makes me think that it could be less damaging. Also the ceramic plates are so smooth that they glide through the hair so easily without tugging.


Best hair straightener

I have had my cloud nine wide straightening iron for over 2 years now and it is still like brand new. The heat settings are extremely helpful if you have damaged hair like mine. I mainly use my for creating soft waves and it is super easy and the waves hold really well. Overall a fantastic purchase that I cannot fault!

So Great

My hairdresser uses this straightening iron and recommended me to get it as I was looking for one. Must I say, this does an amazing job and leaves flawless results, also love it for loose waves.


Amazing! Better than GHD

You really can't go past this straightener. It's simple to use and effortlessly straightens, curls, crimps, you name it. Heats quickly and glides through my hair.



Fantastic Product

I have used this straightener for a few years now and it's great. Smooth and you can even use it to curl. It has great options for altering heat (5 levels) depending on your hair type and it turns itself off if you go out and accidentally leave it on. It also comes with a cover so that you can pack it in your luggage after use and not worry about it damaging any of your clothes!

So good

Bought this for my partner and she loves it, easy to use and reliable

Best Straightening Iron Ever!!!

OMG! This thing is a machine. Cannot believe how quickly it straightens my hair. It has now cut my hair straightening time in half. My sister purchased a different straightener for similar price. Once she tried mine, she bought a Cloud Nine as well. The wide plate makes it quicker to straighten your hair as it covers more ground. Definitely one of my best buys by far!

BEST

I have had GHDs, MUK straighteners and since buying my cloud nine I'm obsessed! Will never go back to any other straightener

Amazing

My hairdresser used this on me and I was amazed by the results. My hair is naturally straight but very fluffy and this tamed all my fly-aways and fluff without pulling my volume down. My hair also felt silky smooth after!

Awesome

great straightener, for near straight hair, doesn't frizzy my hair


best straightener on the market.

Finally found a straightening that makes my hair sleek. de-frizzed and a lasting straightened finish.

Quality iron

I bought this iron to replace my GHD since I wanted a wider iron. I have fine hair but have always found straightening a chore. This iron cuts down my straightening time in half! I use the second highest heat setting and have found that compared to my GHD, there is no "smoke" that comes off my hair upon contact, which makes me think that it could be less damaging. Also the ceramic plates are so smooth that they glide through the hair so easily without tugging.

Best straightener

I got this straightener back at Christmas as an upgrade from my GHD V and it's so much better. The larger wide plate is so good on my thick hair and makes straightening a lot easier and time efficient.

Great for thick hair

I have very thick, fine hair and this wide straightener is amazing! Just with one smooth touch, my hair is looking great. No need to work hair over and over! Definitely worth the money.

excellent results

this straighteners straightens my thick hair in minutes and does not damage them too much like the other straighteners. i am very happy with mine and i hope it will last a few more years before i would have to replace it.

Absolute Favourite styling tool!!

I have use heaps of different heat styling tool from so many companies, but Cloud Nine is my all time Favourite!!!
It's one of the only iron products that no matter how old it get my hair still feels silky smooth and is still super shiny!!

had it for years and still leaves me in awe

i have had this for about 5 years, and it still shocks me how smooth and shiny it leaves my hair. it keeps it straight for a few day, definitely recommend

Keeps my hair straight for days

Brought this product a couple of months ago due to a recommendation and WOW. Straightens my hair so quickly and stays syraight for days. Love it 10/10

Naturally thick, long hair. Sleek and shiny until next wash

Love this straightner. My hair feels so much smoother and shinier compared to when using my old GHD. Love the adjustable heat setting. Takes less that 10 to straighten my long hair

Awesome

Best out there ive tried a lot and its my favourite

Daily essential

My husband bought me this for my birthday after my 8 yr old GHD finally started going in the fritz and I ADORE this iron!

The wider tong is perfect for wizzing through my extremely thick, long hair and I love the the heat is adjustable so I can turn it right down on those days i just need a quick smooth over rather than intense styling so I can avoid unnecessary heat damage.

I would 100% recommend to thick haired girls, this has made my mornings so much easier!

Best ever!

I had a cloud 9 when they first came out and after it died tried GHD again. I went back to cloud 9 after 19/20 people recommended them over GHD. I like that you can adjust the heat and went with the wide plates as I have hair extensions. You can curl with the wide plate

Amazing straightener!

I have had my cloud 9 since they came out in 2013! It's been going for 6 years and still works amazing. I think I'll cry when it eventually dies lol.
Expensive but you just can't beat it. Does a great job every time!

LOVE LOVE LOVE

Bye GHD hello Cloud nine! My sister bought this a month ago and I have completely ditched my old god! It is a god send, I have quite thick hair and this makes straightening a dream! could not recommend more, I love it!

Cannot fault!!

I have been using this hair straightener for well over a year now and I cannot fault it. It leaves hair very shiny and has several heat settings that can be adjusted to suit my hairs natural waves etc. It comes with a plastic heat protectant for the straightener head, heat resistant bag and clips to make application easier. Highly recommend after using the ghd several times, worth the extra cost.

recommended by hairdresser

My hairdresser uses this straightening iron and recommended me to get it as I was looking for one. Must I say, this does an amazing job and leaves flawless results

PERFECT FOR THICK HAIR!

I have had this straightener for about 3 years now and cannot fault It!
I find myself taking it everywhere with me as no other straightener works as well as this one for my thick, long & wavy hair!
It straightens my hair quickly and with ease and leaves a beautiful finish!
Well worth the higher price tag!

Best straightner ever

I borrowed my sister in laws Cloud nine one day and fell in love so i had to buy one for myself.

It makes my hair soo shiny and feels like silk. I love it.

Very impressed

I have long, thick wavy hair and this straightener works like a dream on my hair! This was recommended by my hairdresser recently as I was interested in upgrading and I am so happy that I made the purchase... it straightens my hair perfectly and effortlessly.

Better than ghd!

I've been a loyal user of ghd since they came onto the market. I was less than impressed with the quality of my last ghd so I bit the bullet and bought the cloud 9.

I haven't regretted that decision for a second.
The quality and feel of the cloud 9 is amazing. Having control over the heat settings means I can use less heat to go over my hair on the second day.

Total convert.

Better that GHD

Love this, I have had mine for over 3 years and have not had one problem with it. I have quite thick hair and the thicker plate gets the job done quicker. I also think its better than GHD! 10/10

Better than GHD

The wider iron makes straightening my thick long hair so much easier!

Best hairstraightener out there!

Leaves your hair soft, non frizzy and doesn't damage your hair like most straighteners do! Worth every cent!

Best present ever

I was gifted this for my birthday and holy moly it's just amazing.
It get hot almost instantly and allows you to change the temperature of the iron depending on how course your hair is.
I know you can buy cheaper ones but cloud 9 is a reputable brand and it has really great reviews.
I would suggest this iron to others

Cloud nine wide iron... best straightener for thick coarse hair.

The wide iron cloud nine straightener is absolutely amazing...I have thick black, coarse, wavy long hair. Always struggled with my ordinary Remington as my hair would not stay poker straight for long....had been very skeptical to spend $300 on a straightener but I had to take that chance...and it was worth it... this is the best I have used to far, hair is smooth and straight for days or till I wash next. Australian brand and great timely delivery..loved adorebeauty's reliability.

Am yet to find anything better

Beautiful iron - super quick and gets the job done in minimal time. I have bleached hair with oily roots and dry ends. I love that you can also control the heat settings on it as well.

Best straightener!

My ghd of nearly 10 years broke and I needed to upgrade and I heard cloud nine was the new go to hair straightener and I was not disappointed. It makes my hair looks so smooth and shiny! Does a great curl too!!

Best Gift ever!

I got the wide iron last year fro Christmas and its a life saver!! Ive got confused thick curly, frizzy hair that is not easy to tame. But the wide iron works so smoothly and even makes my hair shinny and not frizzy at all! I recommend this to every wavy or curly haired person! it's amazing.

GHD has nothing on Cloud 9

I used to swear by my GHD, however, since my trusty 2007 GHD fell apart I decided to do some research before jumping right into the GHD bandwagon again, and thank goodness I did! I trusted those amazing reviews on the Cloud 9 and I am so happy I did, my Cloud 9 is honestly 100× better than my GHD ever was. I never have fly aways, my hair is always so sleek, smooth and shiny after I straighten it and my hair stays straighter for soo much longer!

Amazing hair straightener

I loved the product, very stylish, reduced damage after use, arrived quickly and gives awesome results.

Ride or DIE

So much better than my old GHD straightener!
I have super frizzy, curly hair and this works like a dream!!!

makes my hair nice

feels very nice on the hair

Best iron ever

Really the most amazing iron. The effect lasts longer whether I straighten or do waves, and my hair feels and looks amazing after using. I put the temp at 150 degrees, and my hair is super healthy. Great investment!

Best Straightener - Will never use another brand!

I have crazy unruly curls that always seemed to defy the best of straighteners but with the cloud nine my hair is silky smooth in 20mins (used to take an hour!)
My hair feels smoother and stay straighter for longer with this wonder iron - definitely buy this product if you have crazy frizzy hair - you won't regret it!

Best Iron i have used!

Best Iron i have ever used! Adjustable temperature which is great for my fine wispy hair around my forehead and ears that doesn't need a high temp to straighten minimising breakage. Plates are smooth and don't snag or get stuck so you get an even finish without pulling out strands of hair (which is what my GHD used to do) Highly recommend!

Awesome

my favourite straightener in the literal world highly recommend. fast at straightening even curly hair

Love love

Love my cloud nine, quick to straighten. Has the option to change the temperature which is great because my hair is thin so it doesn't dry out as much and the plates are amazing

Yes yes yes!

I love my cloud nine straightener.
Quick to straighten my hair, can set the temp to what I want, and it leaves my hair silky and smooth. It doesn't frizz up- and my hair is naturally very very very curly.
It's quick to heat up, and cools down quickly once finished.

Best hair straightener!

Leaves my hair feeling silky smooth, doesn't make my hair frizz up. Sooo much better than a GHD. Probably the best straightener out there!


Amazing

So great for thick frizzy hair, saves a lot of time too

CLOUD10/10

Prior to purchasing the cloud9 wide iron , I was using a ghd. The reason for my change was due to my ghd literally stopping on me after only 2 years of use. When you spend hundreds of dollars on a item I don't believe this should happen. Towards the end of my ghds life it would catch with my hair under the plates causing a lot of damage to my hair. I purchased the cloud9 as I was reading amazing reviews and hearing great feedback for everyone I spoke to. I was reluctant to get the wide iron as I was worried it would make it hard for me to curl my hair but that wasn't the case at all. AMAZING CURLS!!!! No ripping or catching of hair at all. The iron glides straight through the hair. Causing no fuzz to the curls. After straightening, my hair is so soft and shiny and bouncy. I love the heat settings as I find that even though my hair is medium-thick I only need to set the heat to 150 degrees. This produces fantastic results and is much better for my hair. Reducing the effects of damage from straightening. The cloud9 itself is light weight and fits perfectly in hand. The price is high but I feel as though the product will last me many years. I love this purchase and so glad adore beauty sell for such a great price, compared to other stockists.



Opinion Piece

I have super curly, frizzy and thick hair. I've straightened my hair fairly regularly (more so now because of this!) since I was about 13 and this is honestly the only hair straightener that can do a decent job on my hair. 100% recommend to my curly haired friends.

Life saver

I converted over to "cloud nine" after years of using a "ghd" and I can honestly say I will never use anything else. I love that I can control the temperature settings and how quickly I can style my hair (I have long and thick hair). I definitely would say this is my holy grail hair styler.

Holy grail hair straightener

I will never purchase a different hair straightener! I have had cloud nines for years ow and this iron with the wide plates is a game changer. It straightens my hair ten times faster than the slim iron and smooths over the hair with ease. I love my cloud nine & will never turn to a different iron!

i wish i got one sooner

so, after 10 years with my loyal GHD i accidentally stood on it and it broke, i was devastated but my friend suggested i try this one, and i wish i got one sooner cause it makes my hair feel so silky and smooth, it can be a little tricky to get the little bits on the side of my face but otherwise its amazing. i used it on my mums hair thats really thick and curly and it did the job faster than what my ghd did used too. hands down a great straightener

Great for thick hair

Makes styling my long and thick hair so much easier

Love my cloud 9

The Cloud nine is the best purchase I've ever made. I recently was GHD girl but I highly recommend the cloud 9

Best Purchase

Absolutely love this hair straightener. I previously had a 10 year old GHD which was on it's way out, my hair dresser used this and I loved the way it left my hair. Fell in love straight away so I had purchase one for myself. So easy to use.

Best Purchase Ever.

I am in awe of my cloud nine wide iron. It is possibly one of the best purchases I have made. My dry, frizzy hair is always left silky smooth and straight. I honestly don't know what I did without it in my life prior.

Perfect every time

I am a Mum of 3 and purchased the wide iron for time management. I can now have my medium length hair perfectly straight in less than 15 minutes.

The one

Work amazing on thick, frizzy hair! Always smooths out my unruly hair quicker than any other iron i have owned. My hair feels soft and smooth when I use it! Highly recommend it.

BEST HAIR STRAIGHTNER EVER

I have owned this hair straightner for 3+ years and it is still in the same condition and still does my hair the same as the week I picked it up. So good for styling up down, straight or curly

Will not regret!

Straightener is great, heats up hot and has a variable heat setting. This size is fantastic for long thick hair - makes styling a breeze

Best for thick wavy hair

I have extremely thick wavy hair that is often difficult and time consuming to straighten. This straightener has been a life saver I only need to go over a section once and its straight and cuts my straightening time in half. Also leaves my hair looking healthy and shiny not burnt like other straighteners

The newer GHD

This straightener is a must for any girl ! After my GHD broke I searched for a long time and ended up with this beauty. Best hair purchase in years

What a purchase

Amazing product that doesn't catch on my hair or pull in any way. The option to change the temperature allows me to provide better protection to my hair and reduce damage. Best straightener I have ever used and would definitely recommend to others.

Best straightener ever

#best straightener ever
I had been going to purchase a cloud nine for a couple of mths and decided to order I have thick wavy frizzy hair and have trouble finding anything that does the job.its done so quickly and lasts days I've never been happy with any straightener and they all take two hours this I can do in half an hour and my hair feels great I absolutely love my cloud nine thank you ❤️

HANDS DOWN!

3 GHDs later wasn't getting the same results to when I first used them and needed a change. I have thick wavy hair and CLOUD9 is hands down the best straightener I've used in a long time. Love the heat adjustment setting, hair feels and looks healthier and stays straight longer.

Buy one! Best investment! Worth every cent!



Get it!

This hair straightener is perfect for someone with lots of thick hair to get through. I have very curly hair and paired with the right heat protection cream, this straightener works so well. I prefer the wide plate as it cuts down time. You can still use it for curling and styling as any other straightener. Good quality tool

Best hair straightener money can buy!

I decided to get the wide iron as I have very thick hair and most of the time I choose to straighten my hair rather than curl it. It used to take me 40 minutes to straighten my hair but now it only takes me around 20 minutes! Even on high heat it leaves my hair shiny and in good condition. I can also curl my hair with it however it is a little more difficult and the curls don't last as long because it creates big loose curls. If you straighten your hair most of the time I'd suggest this iron to cut down your straightening time however if you're looking to curl your hair I'd suggest getting the regular sized iron.

Great for my thick hair

Love it. Have only ever owned cheapie straighteners before but decided to spend a little extra on a decent one and am happy that I did. My hair is so thick and I could never be bothered straightening my hair because of how long it took but this makes it easy!

best i've ever used

I have lots and lots of hair that is naturally wavy. I've used a lot of straighteners and I've found that this one works the best and most importantly my hair stays straight after using this. I've found with other straighteners they might initially work but then I get kinks after a few hours. Not with this one though!

Knocks all other straighteners out of the park!

I used to go for a weekly blowdry each week as I have thick and wavy hair thats hard to manage. I can now do my own hair at home and it looks good every time because of the cloud 9. I was unsure about buying at first as I have had a few straightening irons in the past and have abandoned them pretty much straight away but the cloud 9 trumps them all.

Works a Treat!

I was in desperate need of a new Hair Straightener and After reading the reviews on the Cloud Nine decided to go out on a limb and purchase one.
Straightening my hair use to to take me over an hour and a half and would require a do over an hour later to maintain the frizz.
With the cloud nine, I am able to have my hair done within half an hour no burning and lasts without having to do it again.
Definetly worth spending money on!!


❤️❤️

The cloud nine is bloody amazing! Nothing keeps my curly thick long hair as tame as this straightener does! I can get away with straightening my hair once a week! I highly recommend this straightener! If you do have shorter hair I think the thinner plate though!

Quick and easy

This thick plate is amazing for thick hair, cuts my straightening time in half! Would recommend over a GHD any day!

Love love love

Stop contemplating and just buy !! You won't regret

Repeat customer

I bought a cloud 9 straightener about 4 years ago and got sick of fighting over it with my daughter, so just bought another one, so we both have one, and I'm hooked, will never buy a different brand. Love the wide paddle, because, with long thick hair, it can do the job in minutes. It is the only straightener that seems to hold its heat well without burning my hair.
I love cloud 9s so much, I just bought the curling wand to match. Love them. Highly recommend.

I just love

After my old faithful ghd needed replacing I took my friends recommendations and went with the Cloud Nine and I just love it.

Leaves hair silky and shiny and straight until I next wash it. Adjustable heat levels are great (although annoying you can't set a default heat) and so glad it shuts off automatically if left on for over 30mins.

My hair doesn't feel damaged... It's just perfect.

Amazing on long thick curly frizzy hair

This is an amazing product I have always used GHD's as a hairdresser from when they were first released but found after 12months they would start to not heat well so gave the cloud nine a go and it is fantastic I have tight curls and it is so easy to straighten. My hair even stays straight without redoing it every day.

AMAZING!

The best hair straightener! Hands down for thick hair, cuts styling hair down to minutes! Want the the styler for curls next as I'm so impressed!

Great product!

Huge fan of these straighteners! It smooths out my hair beautifully and doesn't dry it out, also wide iron is also really great for curling. Definitely worth every dollar.