Cloud Nine C9 The O Ultimate Set: The O Pod + Rollers + Clips + Case
4 instalments of $93.75
Or 4 instalments of $93.75 with
LEARN MORE
4 instalments of $93.75
Or 4 instalments of $93.75 with
LEARN MORE
Official Stockist
Is this for you?
Cloud Nine's The O is a groundbreaking innovation in professional styling, creating incredible volume in an instant. The O is unlike any heated roller system you've ever seen before.
Hair Concern:
Curl control

Dull, lacking shine

Frizzy hair
Frequently bought with
Please wait while we find a match
Questions & Answers
(2 Questions)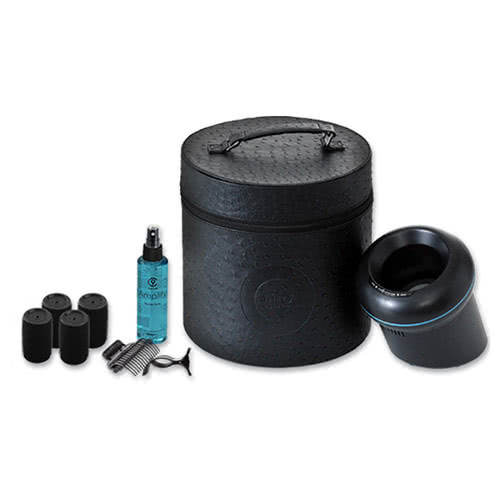 Cloud Nine C9 The O Ultimate Set: The O Pod + Rollers + Clips + Case
Get an expert to answer your question about this product!
91% recommend this product
Most Helpful Positive
Worth it
This product is easy to use and looks luxurious. Absolutely love it.
Most Helpful Criticism
Great concept, but..
I absolutely love the concept of this product. It's SO easy to use. Saying that, it may be that my hair is quite long, but the results that I get from this is not worth the effort. I get minimal volume at best and definitely no curls or waves from using these rollers. I really wanted to love this, but it's just not for me.
Awesome

Great tool for bounce that holds. It is a bit time consuming, but my hair lasts for a few days so it is worth the time.

Great concept, but..

I absolutely love the concept of this product. It's SO easy to use. Saying that, it may be that my hair is quite long, but the results that I get from this is not worth the effort. I get minimal volume at best and definitely no curls or waves from using these rollers. I really wanted to love this, but it's just not for me.

Worth it

This product is easy to use and looks luxurious. Absolutely love it.

great volume but too time-consuming

The Pod & the rollers is really great if you have lots of time and medium-length hair. My hair is mermaid-length, and although it did give me amazing volume, it just takes too long to do. To make the most of your time I'd recommend putting the rollers in, and then doing your makeup while the rollers are setting. If you're thinking of getting this, the set is good value.

Volume!

There's only one reason I can't give the o five stars - it only really delivers one hairstyle - volume bombshell. And that's great, but I have lots of long, thick hair and I really wish i could make this work for better curls. Tip: I find that particularly for my hair the longer I leave these in the better, and I need a really good spray before rolling up.
Also, I find the whole process qui...

Read More

Great for bouncy hair

This set is quite pricey but you do get your moneys worth! Great heat styling without damaging as much as a hair curler would. Gives your hair a nice volumised look

Worthy of the investment

Great product. It doesn't give me curls but volume and waves. The case is a lot bigger then I expected but overall I love this product.


If you can justify the price, do it!

Getting volume into my hair is a real challenge. I love heat styling with wands, etc. but with fine, coloured hair, it can be damaging. A good set of hot rollers is the perfect solution, as they don't reach anywhere near the temp of a curling wand, but I found choosing a set to be tricky.
As I have long hair, the problem with a lot of the sets is that you end up not using half of the roller...

Read More

Great Looking Hair with Minimal Effort!

I have NO talent or skill when it comes to styling hair, let alone my own. I can't even blow-dry it well. The 'O' saves me every time I have a big occasion or event on, because my hair looks blowdried perfectly and curled (depending on the size of the rollers used). It is SO easy to use and I have piece of mind that I am not damaging my hair beyond repair to get the results I want at home. Sure th...

Read More

Looking fab within a budget

When I was single my hair blow wave just because I want to. Now that I am a mother of two with bills to pay the budget just doesn't allow frivolous luxury. But I still want to look like I've stepped out of a salon. And I've been searching for a product that can help me. Well I found it. Cloud Nine C9 The O gives the luscious volume and curl. I know the price tag put people off but if your get abou...

Read More

A great alternative to a blow wave.

I love the bounce & body I get from a Salon blow wave, but not only do I not like using a blow wave to excess at home, my hair is long & I have a lot of it so its also a long & muscle taxing exercise.

The O Pod gives me a Salon blowout in a shorter time, no bicep training required.

Its easy, safe & I love how my hair looks afterwards.

It also allows me to put...

Read More

Great product

Great product. It doesn't give me curls but volume and waves. The case is a lot bigger then I expected but overall I love this product.

Cloud Nine for VS style volume

For those of you who remember the old velcro rollers - this fantastic package combines heated rollers with velcro rollers but in about 1/8 time. Pop them in, do your face and they are ready to come out. I have really long thick hair so I just get fantastic body and flicks on the end. I got more of a set curl look when my hair was shoulder length and I didn't really like that. Twas a wee bit re...

Read More