CLOUD NINE The Original Iron
4 instalments of $85.00
Or 4 instalments of $85.00 with
LEARN MORE
4 instalments of $85.00
Or 4 instalments of $85.00 with
LEARN MORE
Official Stockist
Is this for you?
The CLOUD NINE Hair Straightening Iron has the beauty industry buzzing – and rightly so! Suitable for all hair types, the CLOUD NINE Hair Straightener uses state-of-the-art temperature control technology, allowing you to create a multitude of exciting looks, without having to use searing heat.
Frequently bought with
Please wait while we find a match
Questions & Answers
(20 Questions)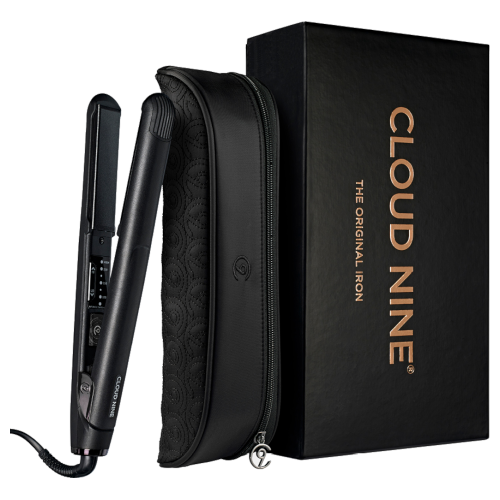 CLOUD NINE The Original Iron
Get an expert to answer your question about this product!
CLOUD NINE The Original Iron Reviews
97% recommend this product
Most Helpful Positive
Top Iron
This is a top level iron! Worth the price. Leaves the hair smooth and shiny and lasting style!
Most Helpful Criticism
Alright
It is easy to use and affordable - does the job and tame my wavy hair!
Top Iron

This is a top level iron! Worth the price. Leaves the hair smooth and shiny and lasting style!

Alright

It is easy to use and affordable - does the job and tame my wavy hair!

Temp control

I love that you can control the heat settings which is great for damaged hair! Every person who has used my straightener loves it and there hair after wards! Just be careful with them as they are very fragile I have already gone though one and on to my second (in saying that my first one was brought else where)

The best!

One of the best straightening tools I've used in a while, definitely worth the money.

I think GHD is better when you're creating waves

I bought this to replace my GHD I'd had for around 5 years. I thought given the higher price point of + $115 it would be far superior. Unfortunately as I use it as a straightener and to make curls/waves, it's too 'grippy' for the latter. My GHD was much better to curl and slides through my hair far easier.

It's great but it was a little overhyped

I do really love this hair straightener but I think it was overhyped, I bought this over the ghd, since ghd quality dropped, I still don't regret the purchase, it's a great iron. However I was expecting a little more ease and flow from it's performance for the price. The case it comes with us super cute and good quality also.

Cloud Nine or GHD

I love both products, and they are similar, so it comes down to personal preference of shape and the iron blade itself. My cloud nine is great as the I find it glides easier through the hair. If you do have the option to look in store before purchasing on adore, I would reccommend!

Every Girl's New Best Friend

I have dead straight hair. Why use a straightening iron? My hair is so thick that it flicks out on the end of my short bob and I hate it. This thick iron is a dream for all of us girls and guys with thick hair. Don't let people fool you into thinking it's wide just for curly hair. It's a straight hair dream. I personally find the thicker the iron, the less time it takes to straighten and I am in ...

Read More

My New Best Friend

I had my GDH for over 10 years and it finally broke, so when I asked around everyone was telling me the cloud nine was the new GDH, and they weren't wrong. I love how this hair straightener effortlessly glides along my hair, especially because my hair is so long, and I find with this straightener that its much quicker to do my hair in the morning. I also love that its temperature controlled so I u...

Read More

Better than my GHD

This iron works so well to straighten and wave my hair. I love the fact that I can adjust the temperature. Most days I use it on 150c or less to protect my hair and keep it looking and feeling healthy. I would recommend this iron over the GHDs, they are made really well!! Love the travel case and heat matt it comes with too

Best Iron ever!

This flat iron really is the best on the market. The temperature control makes it ideal for any hair type and the style and swivel cord make it oh so easy to use. Makes beautiful waves and curls as well as straightens.

Pricey but worthy

This is my first high end straightener I've owned and it lives up to its reputation. I've found it to glide smoothly through my hair and also not fry it with harsh heat. Works really well for styling curls as well as waves and straightening. The cord length is a massive plus for more room to move, and the auto off is great feature!

Great Straightener

This straightener is great, I had an old original GHD that I couldn't part with but needed to and am so glad I chose this to replace it, it leaves my hair so shiny and feels amazing, its so smooth. The travel case it comes with is super cute as well, very handy!

Hairs best friend

I have used GHD iron before and I prefer cloud nine, to be honest. Product packaging is lovely and the feel of the iron is great. Makes your hair feel smooth and shiny. Love the 2 heat settings so I'm not damaging my hair as much. Slides great down your hair and the 30 sec turn off safety setting is perfect for my constant anxiety, thinking I left it on. haha

Long lasting straightener

I have had this straightener for over 6 years after purchasing when my GHD broke. Best decision to change to cloud nine. Love the quick heat up and variable heat settings.

Another GHD user converted to Cloud Nine

I have been a VERY loyal GHD user for 15 years. However, as with many people, I have found that in recent years their products don't last as long.
I am so happy that I have made the jump to Cloud Nine. Having the option of different temperatures is great and my hair is so soft and smooth, even when using the 150 degree option. And most importantly, stays smooth all day!

My hai...

Read More

investment

I purchased this one a few years ago to replace an old GHD. I love that I can adjust the heat settings - I have super fine hair, and I found the GHD too hot but this is perfect for my fine hair.
Love the travel case it comes with too!

Converted from GHD

As someone who has been using GHD for 10-15 years I was soooo impressed with this straightener. A girl from work comes in with beautiful healthy hair every day and she was the one who converted me. I love that you can control the temperature and it goes over 180 degrees unlike GHD. It transforms my thick wavy hair to dead straight with one go. I havent found it to be anymore damaging than the GHD ...

Read More

LOVE this straightener!

This straightener is a godsend. I purchased this to replace my old GHD, and I cannot believe I didn't do it sooner!! I love that I can control the temperature of the straightener, minimising damage to my hair. There will always be some damage when heat styling; there's just no getting around that, but the difference with the Cloud 9 is noticeable. It also seems to produce less static than my old s...

Read More

Converted!

Ohhhmmyygod. I was not expecting it to be as good as the reviews. I purchased this back in August, and waited to review to make sure I was really happy with it.

I'd been using GHD for years, and honestly, after the switch, my hair has never felt better. I have fine hair, so the GHD temp is too much for me. The temp control of the Cloud 9 has been a godsend. No more frizzies! I love it

Works pretty well

From the reviews I have seen I expected this to be some sort of magical straightener, and while it is good, it's not as amazing as I thought it would be. It's def better than my 5 year old Muk straightener but still have to go over hair a few times.

LOVE (Converted from CHI & GHD...)

I have been a CHI user and GHD for years alternating between countries and power settings... but Cloud 9 hair straightener and iron has really been a huge improvement to past products. i find that the heat settings fast to control and maintain and there are no warm spots in the plates (i.e. sections that arent as super straightened). This makes straightening my hair super quick and feel relatively...

Read More

The best

This is a great straightener for all hair types. It is thorough and heats very quickly. Best straightener of all time!

Cloud 9

After using my friends cloud 9 I decided to purchase the cloud 9 over the GHD as I have read reviews the GHD aren't made the way they used to be. I owned my GHD for about 10 years. I noticed after several uses I noticed my hair getting slightly damaged at the ends of my hair although I can say it does a great job of straightening your hair. I have been using hair straighteners since high school an...

Read More

ghd Convert!

I needed to upgrade my 10+ year old ghd straightening iron that was burning and snapping my hair - after a recommendation from my hairdresser I settled on Cloud Nine and am so glad I did! The temperature control means I can limit heat damage, and my hair stays straight for so much longer. Much less snagging than with my ghd, and a smoother finish. Would absolutely recommend! I have mid-length wavy...

Read More

great but an investment

this is a really good hair straightener and straightens my super curly thick hair, it is expensive though!

Does the job

I previously owned a GHD gold straightner but it didnt straighten my hair as the older versions used to. I purchased a cloud 9 in the hope that it would work better. However the results are quite similar, while it straightens well, the straightness only holds for an hour or 2 max.

Love my Cloudnine!

I borrowed a friends cloud nine and instantly knew I needed to upgrade. Love it and will never look back.

Love my Cloudnine!

I borrowed a friends cloud nine and instantly knew I needed to upgrade. Love it and will never look back.

Cloud Nine has changed my life!

This high straightener has changed my world, I never received so many compliments on my hair and the soft curls that I have never been able to achieve before and random people asking where did I get my hair done

Converted me from GHD's

My hair is long blonde and has suffered from severe heat damage from my old GHD's. After many trips to my hairdresser for Olapex treatments, she told me to look into the Cloud Nine as its heat settings mean you are able to customize the amount of heat you need for each type of style you want to do on your hair.
This is something I wish I had purchased sooner, I have used this for four month...

Read More

The best investment you will make

After using Halo for a few years which damaged my hair severely might I add, I decided to purchase both GHD platinum and Cloud 9 to compare. This hair straightener is amazing!!! Leaves hair smooth, silky and straight with minimal effort which is difficult to achieve with my curly and frizzy hair. Leaves hair feeling healthy and ends looking hydrated which you don't see often with many straighte...

Read More

Sleeker finish than a GHD!

I recently purchased this as I lost my GHD platinum. I must say that the Cloud9 produces a much sleeker and healthy looking shine to freshly straightened hair. The option to alter the heat wasn't something I would usually care about BUT I really do appreciate it. I use a lower heat to neaten up my hair after sleeping on it and it does the trick with less heat damage. Definitely a brand I will reco...

Read More

Excellent straightening - replaced our GHD

Excellent straightener. Never had any issues with it. Does the job well. Appreciate how quickly it heats up and auto off function.

GHD convert

loving this as an alternative to my GHD straighteners. Had so many GHD's over the last few years, and they never last. I love that the cloud 9 has temperature variance, so I can be gentle on my baby hairs, but then increase the temperature for fast styling on the bulk of my hair.

Cloud nine

I brought cloud nine , I only used it when needed , wasn't often at all .... it's a great straightener but it didn't last long ..
Paid big dollars for it to die just after warranty... very disappointed with this product..

Happy!

I purchased this several months ago and am happy with it.
Prior to this I had a GHD and I'm much happier with the Cloud 9.
- Heats up quickly
- Choose temperature
- Nice and light
- Glides easily through hair
-Hair feels silky and smooth
Would definitely recommend

Love it!

This straightener is one of the best I've owned! It warms up very quickly and has easy to use temperature control buttons. It leaves my hair super silky, sleek and is very easy to use. I've had mine for over 3 years now and it's always been super reliable. Easily curls hair as well and doesn't leave product build up on the irons. I always highly recommend mine.

The best there is..

This straightener is the best straightener I have ever used. I have used other high end brands and none come even close to cloud nine. It is so effortless to achieve a perfectly straight style and I find the style lasts so much longer than any other brand I've used. Leaves hair looking so sleek and shiny, my hair has never looked healthier. It is expensive, but well worth it in my opinion.

Well worth the price

I have always cheaped out on my hair straightners, as I feel I could not justify the price, however, the cloud 9 has definitely changed my opinion. Straightens/curls your hair so quick and effortlessly.

I could never get another brand!

sleek

I was recommended Cloud 9 by my hairdresser and am so far quite impressed. It really defrizzes while straightening. I'm yet to perfect curling though ;)

The perfect straightener

From the technology behind the straightener right through to the quality of the plates this is by far the best straightener I've ever used in my career. I by far rate this better over ghd and my straightener has never missed a beat. It's quick, easy to use, smooths the hair straight with minimal damage and curls the hair really well.

Worth it!

My hairdresser has recommended this straightener to me and mentioned it doesn't damage her hair even when used almost daily. I don't use hair straighteners nowhere near that often, but still care for my hair a lot and would like to prevent damage as much as possible, so I bought it. Still mastering curling my hair with it, but very happy with the quality, design and how gentle it is on my hair (as...

Read More

Good hair straightener

The best hair straightener I have used. Glides over hair really well. Good for both straightening and curling.

Love my Cloud9

Since GHD sold their brand a couple of years ago, they really loss their quality of straighteners and you can totally tell the difference in the original to the 'new' !! I absolutely love my Cloud9, purchased 5 years ago and still going strong. The different temperatures is life changing for blonde thin hair too.

Good quality

Since I heard GHD had sold their company and their quality aren't as good I decided to purchase this product instead and i'm definitely going to stick with this brand from now on. Their temperature is great for my thick hair and gives it a smooth finish.

Shiny hair

My hair always looks super healthy and shiny after using this straightener. It does the job and looks after my hair at the same time!

Best

Definitely the best hair straightener I have tried. Give me the perfect look.

Great versatility

I had my old ghd for well over ten years and decided it was time to upgrade. Went with cloud nine to see if there was a difference in quality. I have been happy with the quality of the plates, they glide nicely. Lots of variety with temperature setting and I really liked that it came with the silicone cover and heat bag.

Love love love!

Best money I've spent on straightener!
I only have to set it to 150degrees to straighten my fine hair so easily! Compared to what I was using before I had to set my old silver bullet straightener past 200degrees to get the same results.
It makes curling hair super easy too.
Also, I accidentally left this straightener on while I went to work for a whole day and amazingly it switc...

Read More

Nothing gives me better curls!

Where do I start with this magical hair tool?! Out of all the curling and heating devices I've used to date, this by far gives me the nicest, bounciest and smoothest curls.
Nothing has beaten it so far!

Perfect straightener

I love this straightener! Works great for curling aswell and glides through so easily. Heats really quickly and comes with a cooling protecter to place over it when finished but still hot, so it wont burn your tabletop and can be put straight away.
Cant complain about anything

#1

No other hair straightener compares. #1

Great straightener

I use this every day and love it. The ability to adjust temperature is great too

Swear by it

I absolutely swear by this product. It will last you forever and straightens my long and thick hair quickly without damaging it.

Best by far

I have thick long hair prone to damage. My hair dresser recommended I try cloud nine. It is quick to heat, easy to use and leaves my hair looking sleek and shiny in just a few minutes.

The Best

The best one you'll buy, an investment piece.

Game-Changer

I splurged on this straightener after being an avid GHD user.

The Cloud 9 is so smooth on my hair, and I find that when I style my hair it lasts a lot longer.

Great styling tool, and I use it everyday because it doesn't fry my hair and leaves it looking healthy and glossy.


Incredible!

I got this as a birthday gift recently from my best friend and it is incredible.
The plates seem to distribute heat evenly, the start up time is legitimately 15-20 seconds as well. I love that you can adjust the heat depending on your hair type or what you require, something that I don't believe GHD has.
It's also super simple to use - one swipe and you're done, which is perfect if y...

Read More

LOVE!!!

I love my cloud nine. it is beautiful to use, easy, great temperature controls, auto turn off after 30 mins, long and swivel cord. Leaves my hair so soft and sleek and natural lookings (not over the top dead flat weird look) and it does not damage it. :) :) :)
I have owned 3 different ghd's in the past (including gold and platinum), and this gives me a better result than those did and is a l...

Read More

Love my Cloud 9!

the cloud 9 come in nice packaging and the straightener is a sleek black. my hair is fine and curly, the straightener is perfect as the heat settings are adjustable to what ever you require. 100% worth the money as the product quality is unbeatable.



AMAZING

I bought the Cloud Nine after my old school GHD finally died and given that my hair is bleached blonde and has so much damage to it, the adjustable temperature settings are amazing! I honestly couldn't live without this! It straightens my hair and curls it so amazingly that I don't know what I would do without it. The travel bag also has loads of space so I keep my clips, glove and comb in there t...

Read More

Great

A great hair-straighter with adjustable temperature.

Awesome straighter

I have never used a GHD, so I cannot compare the two. I do however have a steampod at home so my hair doesn't get too fried. I got the cloud9 as it is travel friendly as well as being able to curl my hair. After blow drying, 10 minutes with the cloud9 and I am done! This thing is so fast and my hair is so manageable afterwards. Definitely worth the investment.

All time fav

Best hair straightener ever! Leaves hair smooth and frizz free

Love it

After my cheap straightener died earlier this year I decided to get a better quality one. I was tossing up between this one and a GHD and I'm really glad I decided to go with the cloud nine. I have fine (but a lot of it), mid length, frizzy hair and this straightener does the job really well. I like that I can adjust the heat so as not to damage the more delicate hair around my face and I love tha...

Read More

was ok

I have a love hate relationship with every straightener I buy, this one I was on the fence with, I don't mind it but it's definately not the best straightener I've tried

Great straightener

I've been using this for almost a year now and it is definitely worth it. I use it for both straightening and curling my hair and it is so good. I like that I can control the temperature as my thicker hair tends to need a higher temperature but still be able to have it at a lower temperature on my friend's thin hair.

Great product! One slight inconvenience..

I decided to buy Cloud 9 after my GHD broke (for the second time) and give another brand a shot. This straightener has been great and I love that it's dual voltage so I can use it overseas.

One thing that you gotta kind of look out for is that when you have the straightener clamped down there is a gap that opens up on the bottom of the iron, and if you have your wrist resting against...

Read More

Worth the money

Decided to finally give this a try after so many friends have raved about it and it did not disappoint

Had mine for 7+ years

I've had my cloud nine for 7+ years now and have never had any issues, it gives great results and is very easy to use. I use mine for giving my hair a bit of wave. I like that I can control the heat. You get what you pay for!

Better than GHD

I've gone through many irons in my time and I finally decided to bite the bullet and purchase the Cloud 9.
My hairdresser uses it and compared it to the GHD, raving on about the Cloud 9.
Yes it is expensive, but it is worth the cost.
It makes my hair look like I just stepped out of the salon every time.
Curling with it is incredibly easy too, especially with the curved s...

Read More

Converted to Cloud 9 from GHD

I researched and trawled through many reviews for both GHD and Cloud 9 straightening irons as I was looking to purchase a new iron as my GHD had served me well for a few years, but had lost its straightening strength and was starting to get very ineffective with my hair. Cloud 9 came out on top and it certainly did not disappoint.

I have long and thick asian hair, the Cloud 9 glides...

Read More

Favourite

Love this product! Definitely one of my favourite brand for hair straighteners. A little bit more expensive but very worth the price for how good it is

Love this hair straightener

I'm so glad I purchased this straightener after my trusty GHD died. It heats up really quickly and you can choose the heat setting. Easy to use.

Glad I made the change!

After my 12 year old GHD died, I made the switch. After just a week my hair feels much smoother after using and my straighten lasts a couple of days without needing to be run over. Not sure what the use of temp gauge is as only really styles at 185 or higher, but really impressed otherwise!

Can't fault it

This was my first expensive hair tool. I used it to only straighten my hair rather than style it but it perfectly straighten my hair every time. You can choose the heat setting on this which is super helpful. I can't fault it.

Worlds best straightener

Just bought this after getting sick of my recent GHD. I have used GHD's all my life and I will never go back after using the Cloud 9. So easy to straighten and curl, I love that it automatically turns off and the little case it comes in. Never straying from this product.

Love Love Love

Been using GHD's for over 15yrs until they finally broke down on me & my hair dresser has been using Cloud Nine on my hair so I decided I would purchase them for myself & I thought I would never hear these words come out of my mouth but they are better then GHD's & I would never go back. They are also a great price & have different heat settings & I also find they are a lot easier to use for curli...

Read More

Easy to use perfect every time

Easy to use I love that you can change the temperature setting, great durability incase you drop it. Super smooth straight hair each time or even good for curls I love my cloud nine I have the wide one though

Cloud Nine Hair Straightener

I recently purchased this Cloud Nine Hair Straightener after my GHD broke (owned 10 years). I adore everything about this product. I have fine but lots of hair and it works wonders leaving my hair silky. I thank my hair dresser for suggesting this product.

Amazing

I absolutely love this straightener! My hair dresser uses it on me and I also recently borrowed my sisters and fell in love! My ghd has just died so think it's time to try a new one! Makes hair silky and perfectly straight in seconds and super easy to use!

Broken on delivery, now I have to wait for manufacturer to replace

I received my Cloud 9, only to find it has electrical issues! Crackles and constantly resets itself, very dangerous. Adore beauty say it will take up to a month to exchange for a not broken one, so I should go to the manufacturer. Not happy after buying an expensive item. What do I use for the next month?

Straightens hair faster than other straighteners

Straights strand of hair first time without me having to go over with it with the straightener numerous times

amazing

This Straightener is amazing. Works much better the cheaper alternatives. straightens my hair super quickly and leaves my hair feeling soft and hydrated after using, Love this hair straightener

Love!

I tried cloud nine stylers for the first time this year and I dont think ill be trying any other brand any time soon! They are so easy to use with the swivel cord and doesnt take that much work to get my hair straight.

Love!

I love the cloud nine straightener! Personally I think it leaves my hair feeling softer and straighter for longer than any other straightener

Super smooth

I bought my Cloud 9 after my old GHD of 9 years finally died, and I'm so glad I made the switch.
The hot plates just glide over my (frizzy/wavy) hair and style perfectly without having to go over again.
I love that you can adjust the temp too, so no unnecessary frying of your hair, and it doesn't compromise the end result.
Curling and straightening are both a breeze, I'm very ...

Read More

Great straightener

I bought this for my mother-in-law's birthday after her last one died and she loves it. She has curly, dry hair and with some hair damage and was recommended this brand by her hairdresser. She loves that she can set it at different temperatures and it does quick work of straightening her curls.

Worth the money

I switched from a GHD to cloud nine. I have thick wavy hair and this straightener can get it super straight and sleek. I love that there is the option to change the heat setting for those finer hairs around my face.

Amazing!

I bought the cloud 9 to replace my old hair straightener and it was the best decision ever!

The cloud 9 is effortless to use, it styled my fine hair quickly, on mid range heat and I didn't have to re do sections like I would with another straightener.

Hair Straightener and Styling Iron

Love it, easy to use and makes my hair feel lovely and soft.

Cloud Nine FTW

I was recommended this brand from my hairdresser. I have frizzy, dry and wavy hair, and this straightener does the job well. I had a GHD previously, although I prefer Cloud Nine as my hair stays straighter for longer. I would recommend this to others, particularly if you have problems with frizzy hair.


My hair loves it

Recently upgraded after my GHD (10 years old) finally broke.
I wish I had upgraded earlier, my hair straightens in minutes, is smooth, the finish lasts longer.


Cloud nine - all the way!

I absolutely love cloud nine. I changed to this brand after my GHD stopped working and I haven't looked back. It's super smoothing, easy to use and great quality. A definite styling must have!

Amazing straightener, even better service

I LOVE this product. My GHD kicked it after 11 years and id heard cloud 9 was the new best straightener to have. Even with my thick, curly, frizzy hair it was super easy to use and curl with and left my hair shiny and soft feeling not burnt and crunchy like my ghd had been doing. I ordered on thursday arvo and had my product plus heaps of bonus freebies by Friday. I will 1000% be using adore beaut...

Read More

Smooth

I recently bought a Cloud nine after my GHD broke, and I love the results. My GHD was pretty old, so I don't know what the new ones are like, but the Cloud Nine seems like a definite improvement. It heats up quickly, and maintains temperate. I love it.

Love.

Yep, this straightener is the bomb. I've had my GHD for over 10 years and felt like it just wasn't cutting the mustard anymore - one session within my new Cloud 9 and I am hooked. It's like the first time I had a straightener, my hair is soft and silky and smooth and glorious. Great accessories too.

So good!

I recently upgraded to this from like an 8 year old other brand and I cannot believe the difference. I should've listened to my hairdresser and bought this tool years ago!

Amazing

This is he best hair straightener I had. It is quite gentle and the result is fast. I use it on a daily basis and my hair is still shinny and healthy. Definitely worth it.