Clarisonic Replacement Brush Head - Sensitive Skin 1 brush head
Skin Type:
Dry
Normal to dry
Normal to oily
Oily
Questions & Answers
(No Questions Yet)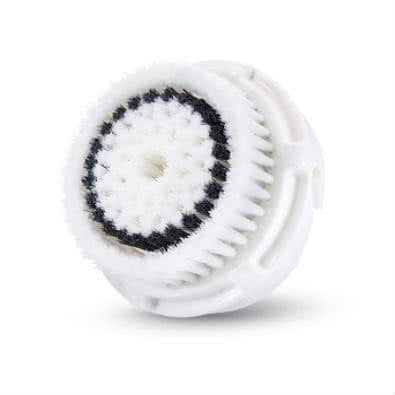 Clarisonic Replacement Brush Head - Sensitive Skin
Get an expert to answer your question about this product!
Ask a Question
97% recommend this product
Most Helpful Positive
Daily use
I love the sensitive head for daily use
Not as intense as others

Good for daily exfoliation, but can still leave my skin a bit sensitive at times.

Daily use

I love the sensitive head for daily use

Holy Grail For Skin

This device and brush head have worked wonders for my skin. I have been using them for over two years now and honestly feel lost without it. It has helped smooth my skins texture but isnt too rough or overly drying and also removes all my make up a lot more throughly then just wipes and cleanser. At one point, I went six months without using it at and I could see and feel the difference. My skin was more bumpy even after light exfoliation and I could tell not all my make up was off even after using wipes, cleanser and toner. Since then, (after remembering to buy a new brush), within a week I noticed that my skin was already looking and feeling smoother and i felt that my moisturiser was able to absorb better into my skin.
Overall, I believe that for the price, the outcome is well worth it

Expensive

Expensive? Yep, Worth it? YES! This changed my skin so much and I love it! I have really oily pro acne skin and I started using it every night (with my cleanser) and the texture on my skin really clear up.

Not bad

I have dry skin and get very dry cheeks. Found it harsh on my skin. So prefer the softer brush heads. However still like to use this one once a month for a good clean :)

Want clean skin?

My favourite Clarisonic head. It is beyond clean after using. The sensitive skin head makes sure it's calming on your skin whilst giving a deep clean. Highly recommend

soft yet deep cleansing

i love my clarisonic keeps my skin smooth and prevents congestion

I like

I have normal to dry sensitive skin and i really enjoy this brush head. my skin always feels so soft and amazing afterwards.

A bit harsh for dry skin

I used this on my dry skin to help exfoliate away flakey bits, which this definitely did accomplish. However, I felt like my skin was a bit drier/ tighter afterwards, and had to use lots of moisturiser to restore my skin's moisture.

Very nice and gentle for cleansing

I use this brush head with a foam cleanser and I love how clean and refreshed my skin looks afterwards. It doesn't strip away my natural oils and makes my pores and skin look very smooth. Gentle and soft brush that I would definitely recommend for people with acne/ breakouts.

Soft, tight and bright skin

You haven't had clean skin unless you've used this brush head! My skin feels softer, pores feel tighter and overall looks brighter after using this brush head.

Great

This is like the tenth million time I've purchased this product and of course, love it. It's gentle enough to use on my skin but also tough enough to get it squeaky clean.

So fresh and so clean!

I have had my Clarisonic Mia 2 for a few years now and liked it when I first purchased it but didn't really think anything of it.

I recently purchased a new brush head for sensitive skin and now truly appreciate this device! It cleans all the make up off your face and exfoliates in a minute! I use this in the shower with a volcanic clay cleanser from The Face Shop and it's brilliant.

My skin type super dry (but gets oily during the day), super sensitive and is prone to eczema. The only con is my face gets tingly/sensitive if I use it everyday so I use it every 2-3 days. It feels like my skin just drinks up serums/moisturisers/oils afterwards!



All rounder

This is the first brush head I ever tried from Clarisonic many years ago, it felt pretty intense and rough from memory (may be because I just started using clarissonic). After recently re-trying this, this brush is a great all rounder. I normally use a combination of a gentle brush (delicate or luxe or radiance) with the deep pore brush. This sensitive brushead however is great for daily use and can effectively clean out enlarged pores. Very convenient for me as no need to change brush heads to suit my oily combo skin.

Super cleanse

I have quarterly micro dermabrasion sessions and was looking for something to use that would maintain my skin in between sessions without aggravating my skin.

This brush is perfect for that. I use it in place of exfoliating with a regular cleanser or after wearing heavy make up.


My skin can be sensitive and I do have an oily t-zone. It's gentle on my skin but super effective.

Soft and cleanses well

Wonderful brush head for my Clarisonic! It cleanses well and feels super soft and lovely. It makes my cleaners foam which I really like. It is suitable for use everyday and sometimes I use it twice a day.

Would definitely recommend and I will repurchase this brush head once it needs replacing.

Gentle yet effective

I adore my Clarasonic, I have had it for years. I found the regular head to harsh on my sensitive skin so I opted for this version. It cleans out my pores and removes dead skin cells perfectly without irritating my skin. Gentle enough for everyday use. i use this on my second cleanse at night as it makes me confident that all of my make up has been removed as well.

Great brush

This is a great everyday brush head for the Clarisonic. Works well for my combination skin

soft and gentle

Clarisonic products are so good! This is a wonderful brush head, I would definitely recommend

Great quality

This is a great brush head for the Clarisonic. It makes my skin feel so cleansed and fresh. I've had my clarisonic for like 5 years now and haven't had any issues with it. I use it morning and night to cleanse and take makeup off. I know it might seem expensive but it's such good product and completely transforms the way you can cleanse your face!

Great quality

This is a great brush head for the Clarisonic. It makes my skin feel so cleansed and fresh. I've had my clarisonic for like 5 years now and haven't had any issues with it. I use it morning and night to cleanse and take makeup off. I know it might seem expensive but it's such good product and completely transforms the way you can cleanse your face!

Soft and gentle

This is a really nice head for the clarisonic. It makes my skin feel so clean and fresh and is really soft on my skin

Love it!

Love this brush head! So good and easy to use

Best for sensitive!

I have dry/sensitive skin, and although I ultimately did not have much luck or pleasure with the clarisonic, I did prefer this brush head to all others - very soft and gentle with all things considered. Just make sure you do not press down too hard!

Have not looked back

I couldn't imagine not using my Clarisonic every night, and this is my favourite brush head for my sensitive skin. It makes my skin feel super clean after use, and has helped a lot with the texture of my skin. However, if you are someone who has a problem with acne I would be careful with this as I have found it to be excellent at preventing future breakout but can aggravate existing pimples at times.

Perfect for combination skin

As someone with combination skin (oily t-zone, dry cheeks and forehead) - this is the perfect Clarisonic brush head for me. If you are starting out using a Clarisonic, this is the one I would suggest.

I've known people who fall in love with skin brushing and go over-the-top with twice-daily use, using a hard-core brush head (and even an exfoliating cleanser on top of that!). Not surprising, they just end up irritating and even damaging their skin. The sensitive brush head is suitable for just about everyone and gives an effective, gentle cleanse without ripping your skin off!

Highly recommended for all skin types.

Good for sensitive skin

Gentle but skill effective at cleaning makeup off completely.

Holy Grail

Love this product and so does my skin! I've been using my Clarisonic since 2015. No regrets and will keep repurchasing this brush head.

Love Clarisonic

I love my Clarisonic Aria and have noticed a real difference since using it. I haven't noticed that this Sensitive Skin brush is any different to the regular one though

Love!

My skin has been so much better since using the Clarisonic! This brush head is super gentle, but also super cleansing.