Clarisonic Alpha Fit Cleansing System For Men
Questions & Answers
(No Questions Yet)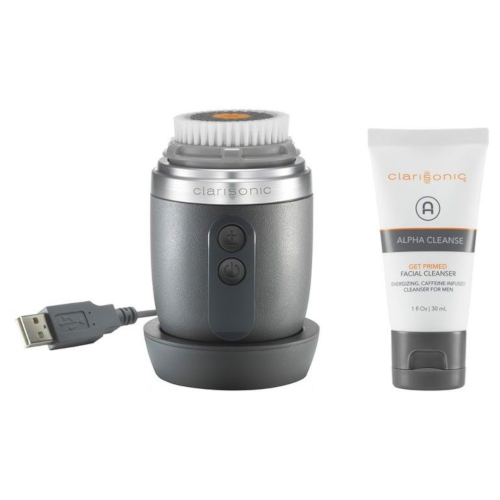 Clarisonic Alpha Fit Cleansing System For Men
Get an expert to answer your question about this product!
Ask a Question
80% recommend this product
Most Helpful Positive
husband loved it
husband has oily skin and was hesitant to use it but loves it!
husband loved it

husband has oily skin and was hesitant to use it but loves it!

Possibly faulty, not sure

Great idea, love the colour but unfortunately I had purchased this for my partner as he wanted to get more into skincare, for the first 3 months it worked like a dream, then it did not hold charge at all. It would pulse for about 10 seconds then die. Not sure if it was a faulty one we got, but since then I have returned it and was given another one in replacement for this and have had 0 issues. But from research I heard that this particular model of the Alpha Fit have had a few issues holding charge - just something to keep in mind!

Magical

I started my Clarisonic journey & within 5 days my skin was dramatically clearer.
Using twice a day, morning & night, it is such an easy & exciting product to use.
A bit expensive however i had acne skin concerns which this is really helping with.
You can buy different brush heads to find one that suits you too. Would definitely recommend.

Very effective

This is the perfect powered daily cleansing tool for men. Have previously used 2 Clarisonic devices in the past, I find the Alpha Fit to be more gentle than both the Mia and the Smart, but equally as effective. My face looks fantastic! I am able to use the Alpha Fit twice daily with no problems and am definitely glad I decided to purchase.

I really liked it!

I will start by saying I really liked the Clarisonic Alpha Fit. The first time I used it my skin felt cleaner and smoother, and after 5 days of using it I feel like my skin is looking clearer. It is small so fits in the shower neatly, and only take a minute to use of a morning.

I started off using it every day but found my skin was a bit sensitive on day 4. After that I dropped back to every second day and I think that is the right frequency for me. I used it with a simple soap cleanser I have and that worked well. Definitely a keeper!