Clarins Toning Lotion (Dry/Normal) 200ml
4 instalments of $10.50
Or 4 instalments of $10.50 with
LEARN MORE
4 instalments of $10.50
Or 4 instalments of $10.50 with
LEARN MORE
Official Stockist
Is this for you?
Alcohol-free plant based lotion to refresh dry or normal skin and gently complete the perfect cleansing program.
Frequently bought with
Please wait while we find a match
Questions & Answers
(1 Question)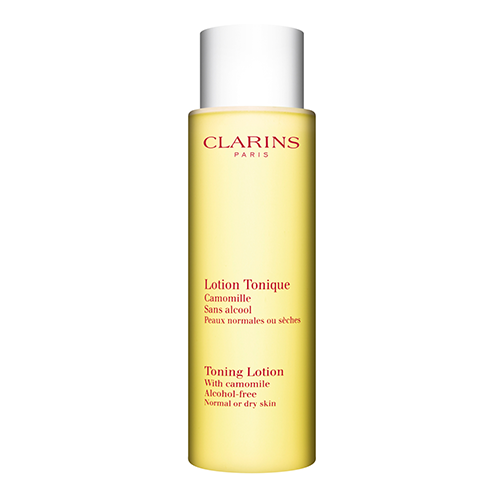 Clarins Toning Lotion (Dry/Normal)
Get an expert to answer your question about this product!
Clarins Toning Lotion (Dry/Normal) Reviews
94% recommend this product
Most Helpful Positive
Good toner!
Loving how this feels. Really happy with this product and this brand is great. Loving it!
Most Helpful Criticism
For non-acid toner lovers
This is the perfect toner for those that want a toner without intense exfoliating acids. Very gentle and works like a traditional toner; cleaning residue from the face and prepping the skin for serums and moisturisers. I have dry/sensitive skin and this toner is lovely, though I don't use it as much as I should because of the packaging; I prefer spray hydrating toners now for their light formulas and convenience.
Good toner!

Loving how this feels. Really happy with this product and this brand is great. Loving it!

I got into Toners simply because of this toner - so so good

My friend recommend this toner. And I love it. I use this toner every morning and night after cleansing my face. I love the calming scent and its great to start with something so fresh on your skin before putting on my moisturiser and makeup.

nice toner

nice toner, I used everyday, one of my essential now

smoothes out my make up

doesn't smell like alcohol like most other toners, feels soft on my skin and makes my make up go on a lot smoother once I've used this in the morning

smoothes out my make up

doesn't smell like alcohol like most other toners, feels soft on my skin and makes my make up go on a lot smoother once I've used this in the morning

Completely fresh face

So easily and so brilliantly removes every last trace of sunscreen, makeup, eyeliner etc. even when I've double cleansed this still picks up residue that's been missed. I am convinced this makes for clearer skin and allows night products to work more efficiently.

Good for sensitive skin

This toner is amazing! It doesn't break me out and is gentle on my sensitive skin. It never makes my skin feel overly dry or tight like other toners - would definitely recommend.

Just so so...

The scent is too strong to me and its texture likes water, which is not helpful for keeping moisture.

Gentle Toner

This is my third bottle of the Clarins Toning Lotion I have purchased. Love everything about it, particularly that it Is calming and gentle on my skin Definitely gets rid of excess makeup residue Will keep buying forever . Highly recommended..

Lovely and soothing

A lovely toner, I use this after cleansing and then follow with my skincare, my serum absorbs so much better. It is soothing, comfortable on the skin and has a very pleasant scent. A great way to complete your cleansing.

Fantastic toner

This is a really excellent toner. It's gentle, effective and very little fragrance. I love that it doesn't pour out of the bottle, but rather shakes out easily but controlled so you don't end up wasting a bunch of product. I have zero complaints about this outstanding toner.

Great

This makes my skin feel refreshed and smooth.

Good for a deep clean

Good for a deep clean, I like to use this to wipe the day off my face!

Great lotion

Perfect toning lotion to use after just washed my face, or as first step of your skincare routine, love the calming scent as well

love this

Completely transformed my skin to less dry and flaky, I'm in love!

Smells amazing

This toner is really nice and hydrating, applied either with the hands or swept over the cotton face with a pad. Removes any traces of cleanser or make-up that have been missed really well and does a good job of hydrating. Smells incredibly soothing as well.

Gives you radiance

it gives you radiance with regular use..made my dull and dry skin soft and subtle..i use it with my clinique cream and this combination as solved all my problem..very good for sensitive skin.

It does what it says

Best for senstive skin..cleans and support supple skin afterwards..very nice n light toner..i'll definitely re purchase it..find my skin radiant after few uses.

my favourite toner

Normally I hate the smell of chamomile but this product smells amazing. It always leaves my skin feeling so soft. I have dry skin which often feels quite tight after cleansing but this makes it feel instantly better. Probably the best toner I've ever used.

Great cleanser toner

I love the bioderma sensibility micelles water but my husband said he feels more clean using this toner. The cotton pads literally collects more dirt (apparently) when he's using it.

Great cleanser toner

I love the bioderma sensibility micelles water but my husband said he feels more clean using this toner. The cotton pads literally collects more dirt (apparently) when he's using it.

Gentle

Gentle for dry skin. Doesn't irritate flakes, and gives a little boost of hydration

alcohol free

I bought this on a whim at the airport and wow! This product is great! It smells great and calms my skin down .
itssuper basic and gentle toner! the fact that this toner is alcohol free is SO important because they are truly so hard to find especially ones that are for dry or sensitive skin. Highly recommend this product even if you're dealing with acne!

Good lotion

This is a nice calming lotion which deosn't dry the skin.

Great Quality

Love this toner! It feels so good on the skin. Has a pleasant scent that isn't overpowering. Product applies and absorbs well after using this toner. I recommend using this along with it's recommended cleanser. My skin texture has improved dramatically with the use of both the cleanser and toner.

LOVE this toner

I LOVE it! I have combo skin (oily t-zone and either normal or dry every where else). This toner balances my skin out PERFECTLY. It doesn't leave my skin oily. My skin is softer than it was. I use it morning and night after I wash my face. The days that I skip the toner step, I notice a big difference. Definitely recommend.

Winter only

It's very hydrating and definitely feels heavier than most toners. I think it's great for the winter but really unsuitable for summer. This makes it a bit annoying since the bottle is so big and it should be used within 12 months.

Great for winter!

I keep coming back to buy this toner again and again. It smells refreshing and gets the job done. A little goes a long way. I wish it was a spray bottle but hey we can't win them all. I don't plan on switching toners

Refreshing toner not bad

Although I'm sure you can find better toners at a lower price, it wasn't bad! I have dry skin and it did not make it dryer or irritate my acne prone skin. Cooling when I use it and I enjoyed it!

Great non-drying toner for winter months

I have been using this as an alternative to my usual toner for combination skin and finding that it leaves my skin soft and clean rather than having a drying effect. Smells nice too!

Alcohol Free!

Finally an alcohol free toner that calmed my dry skin and didn't leave me feeling tight. I even found it slightly hydrating. This is really handy to swipe over the face to remove residue or oil before applying makeup.

For non-acid toner lovers

This is the perfect toner for those that want a toner without intense exfoliating acids. Very gentle and works like a traditional toner; cleaning residue from the face and prepping the skin for serums and moisturisers. I have dry/sensitive skin and this toner is lovely, though I don't use it as much as I should because of the packaging; I prefer spray hydrating toners now for their light formulas ...

Read More

Good for drier skin.

If you're after a toner for dry skin that isn't designed to deal with oil this one is worth a shot. But if you have more dry/ sensitive use the one for sensitive skin because this won't help with sensitivity.



amazing at moisturising dry/flaky skin

When my skin is moreso on the drier side with many dry patches I like to use this on a cotton pad before applying makeup so that it doesn't cling to any flaky skin. I also love that it is alcohol free and the scent is very gentle. I don't find any other benefits from this toner other than moisturising the skin and getting rid of flaky skin. Now that it is summer and I am on the combo/oily side I s...

Read More

Refreshing and cooling.

I love the Clarins Toning Lotion and I have been using it for quite a long time I have tried a couple of others but this one is my favorite. I have dehydrated skin and my skin can still get a little oily in the T Zone and this toner works well. It has a nice soft refreshing sent. I would highly recommend. A+

Very cooling and soothing toner

I've been looking for a good alcohol free toner for awhile and this one is defintely the best I've tried. It only arrived today so I can't say that it improves skin condition with prolonged use but my first impressions are great. It is super cooling on my sensitive skin.

The smell is amaing, so relaxing but that may be because I drink chamomile at night so I associate the smell with ...

Read More

Great

I can't remember the last time I re-purchased a toner. By the time I finish a bottle, I'm usually pretty unsatisfied and eager to try something new.

I've just repurchased this though. I'd say it's the best toner I've ever used. It doesn't dry out my skin, it smells nice, it lasts a long time and there's no alcohol. Not to mention I haven't had any problems with my skin while using thi...

Read More

Lovely toner that feels cool and refreshing on the skin, not irritating at all, also helps the skin to feels clean and moisturised and not greasy. Would buy this product.

What a beautiful toner!I love the chamomile scent and how it leaves my skin feeling clean and calmed.

I adore this toner!!! Leaves my skin incredibly refreshed without feeling tight and uncomfortable. Being alcohol-free, it is non irritating and perfect for even the most sensitive skin type. Will definitely repurchase this again!!

left my skin quite refreshed, i love the pleasant scent, overall am very pleased with it