Clarins Cleansing Milk with Gentian 200ml
4 instalments of $11.25
Or 4 instalments of $11.25 with
LEARN MORE
4 instalments of $11.25
Or 4 instalments of $11.25 with
LEARN MORE
Official Stockist
Is this for you?
A cleansing treatment for combination/oily skin that gently "wakes up" skin radiance.
Frequently bought with
Please wait while we find a match
Questions & Answers
(1 Question)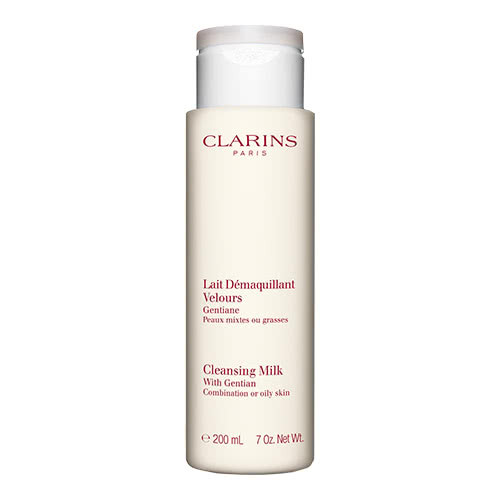 Clarins Cleansing Milk with Gentian
Get an expert to answer your question about this product!
Clarins Cleansing Milk with Gentian Reviews
100% recommend this product
Most Helpful Positive
i recommend
super nice will buy again
i recommend

super nice will buy again

Beautiful

A beautiful cleansing milk, so creamy and light, it smells so divine, and works so well. Very gentle to massage in and wont irritate your eyes.

love it

gentle one with milk-like liquid. my skin likes it.


Light and soothing

This is a beautiful cleanser for those who like light lotions to remove makeup or cleanse the skin. I usually use it as a second cleanser after removing my makeup, and it hydrates and cleanses beautifully at the same time. I don't bother using the method recommended by Clarins of 'suctioning', but instead use it with my Foreo Luna 3 or just massage for a minute or so before removing with a warm fl...

Read More

Beautiful

This is such a beautiful cleanser. I have very sensitive skin, but this left my skin feel soft, fresh and calm. So glad I discovered it.

A cult classic...

I've been revisiting some classic brands lately and I just adore this Clarins cleanser.

I have 52 year old hormonal, combination, sensitive skin. It's a nightmare!!! My skin has been playing up so much lately, especially with the heatwaves we've been having. So - I was looking for thorough, yet gentle cleansing.

I gently massage a generous amount all over my face and ne...

Read More

My favourite morning cleanser

Love the smell, feels great, leaves no residue (I remove it with a face washer), skin feels nice afterwards. Wish the larger 400ml size was available all year round. Am keeping my eyes peeled for when these are are as they're excellent value.

Nanna smell

Nice cleanser, lasts for ages, but hate the old floral granny smell. That said, this is much better suited to my skin type than the "alpine herbs" milk cleanser. You definitely need to remove it with a flannel or face wash, though, as it leaves a bit of a residue behind. I've used this in the past as a makeup remover, following up with a more hard-core cleanser to get rid of the excess film that s...

Read More

Excellent gentle cleanser

I bought this on Caroline Hiirons recommendation. It is such a nice smelling gentle cleanser that is effective and cleansing but does not strip the skin at all.
My skin feels clean and soft after.

Lush

I love this milk cleanser for my morning cleanse.
This is labeled as for oily skin And I have normal dehydrated skin and yet it's not stripping or drying.
It's lovely and gentle.
AND it smells heavenly.

Cleanses very well without drying at all

I've recently repurchased this after a couple of years without it and I am so glad it's in my bathroom again!

I use this as my morning cleanser (I use a cleansing oil followed by a gel cleanser at night). I like it in the morning because I massage a few pumps in (using the major rule of milk cleansers - dry hands/dry face) and then I hop into the shower and rinse it off. It rinses s...

Read More

Nice cleanser

First clarins product I've tried. I have sensitive skin that manages to be dry and oily so am wary of cleansers. This one has been great. Smells great, feels great and is pretty good at removing makeup though not perfect. Wasn't sure at first how effective it would be as it is so thick and creamy but it doesn't make your face feel like you've sucked all the moisture out just to remove makeup like ...

Read More

Very Happy

I have been buying Clarins products for years, and I was very happy to purchase this cleanser through Adore Beauty. The cleanser turned up within a couple of days, in complete packaging, and the product was exactly as it is when bought in a store. Very happy with Adore Beauty and I would order from them again.

I really don't like the smell of this. Most Clarins products smell similar - that floral/herbal Clarins signature but this smells like Areoguard to me? It does a fine job as a milk cleanser.

This a nice treat before you go to bed and when you wake up. Its so luxurious from the packaging to the scent to the consistency. Better in the winter for combination skin. It is not greasy and not too drying and is a pleasure to use. Make sure you complete the cleansing with the matching toner your skin will feel supple and refreshed.

i have used a couple of bottles of this one . it feels like it may be too rich for a combo skin , but it isn't , i have used it in the shower as my morning cleanser & also at night over the basin . It works well either way . It is gentle yet effective [once you get used to the texture] . It helped balance out my combo skin & i would happily repurchase it .

Love this and have repurchased many times over the years. Once you get used to using this it does wonders for lifting oil, grime and really cleaning the skin yet leaving it soft and not at all tight or dry. Long-term use seemed to lessen congestion and breakouts. Smells amazing too.

A great, light cleanser that won't dry you out. Have re-purchased a number of times, though you only need a little bit so the bottle will last a while. Do go by the instructions, you can almost feel the dirt lifting off!