Bioderma Sensibio H2O Micelle Solution 500ml 500ml
Frequently bought with
Please wait while we find a match
Questions & Answers
(No Questions Yet)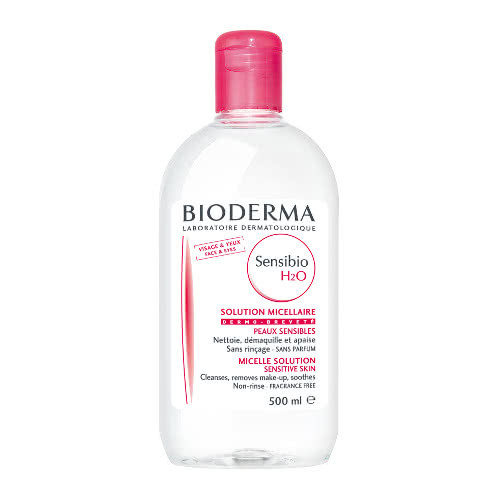 Bioderma Sensibio H2O Micelle Solution 500ml
Get an expert to answer your question about this product!
Ask a Question
95% recommend this product
Most Helpful Positive
great
This product makes taking makeup off easy
Most Helpful Criticism
amazing
this product is great for some skin types but may not work for others
Great Miscellaire water

This is the best Miscellaire water that I have ever come across. Being a Miscellaire water type cleanser, it is not the most hydrating cleanser you can get. However, it is a pretty quick and gentle when it comes to removing makeup.

great

This product makes taking makeup off easy

The Best Miscellaire water

This is the best that I've tried.I have sensitive, acne prone skin and this does not irritate or break me out. It's gentle on my skin but powerful enough to remove all the makeup/excess dirt. Highly recommended!

Gentle and effective

I use this as first cleanse - it is gentle, non-drying and effective. Works fine with my oily but dehydrated skin.

Quick makeup remover

this is great for removing light makeup and does not irritate my skin. I definitely recommend washing your face immediately after using this if not it will dry out your skin.

Really good

It's a good product for gently removing makeup. Not too expensive either and lasts forever!


A great alternative to make-up wipes

This is the only micellar water that doesn't irritate my eyes. I use this to remove make-up and then use a cleanser to get rid of any residual make-up or oil. The 500ml bottle lasts me at least 6 months. 100% recommend this.

great

really like this
removes all my makeup and my skin feels nice afterwards
doesnt need much and squeeze a little bit onto the cotton pad

There is no better!!!

Really wish I had discovered this product sooner as I was always struggling trying to get rid of makeup after a night out. This solves everything!! It is so gentle and light on my skin and it always feels so refreshed afterwards. I highly highly recommend this product!

Great for sensitive skin

It's gentle on the eyes and doesnt leave any residue. I stopped using bi-phase eye makeup remover because it usually leaves greasy film on my eyes (I wear contact lenses). I use this instead to remove eye make up that's left after using cleansing balm/oil. I also use this to remove makeup on my hairline so it doesn't make my hair greasy. It's a staple!

Good

I love this product. Removes my makeup really well. My face feels clean and hydrated after using it

The best micellar water on the market!

I've tried a lot of micellar waters and this is by far the best one I've come across. Only requires 1-2 squeezes onto a cotton pad and it's takes off my full face of makeup including mascara. Best part is it doesn't give you that drying/tightening effect on the skin that others can. Love it!

Love it!!

Having sensitive skin I'm always nervous about trying new cleansers, but I'm so glad I purchased this as it leaves my skin feeling cleansed without the tight and stripped feeling. Such a beautiful cleanser for removing my makeup.

Love this product

This was my first product in the Bioderma range that I tried and I absolutely love it- it does everything it says it will, and it does it easily. It removes all make up traces and I dont find it need to wash my face afterwards at all, I just use a bit of this in a cotton pad and wipe over my face and then apply my other skin care products and go to bed. No hassle and is really time saving. Also the product last forever!
Great for oily, sensitive, red and acne prone skin

The best one out there

I love this micellar water, I've been using this for several months now and I can not go back to another micellar water. I've used other brands for years and no other can compare to this one. It removes most of my makeup with ease. Most nights I use this when I'm feeling to lazy to cleanse my face and so far my skin hasn't broken out (whereas previously it did with other micellar water). This one is hard to beat, it's a little pricier than others but well worth it!

Good Product

It's a good product for gently removing makeup. Not too expensive either and lasts forever!

Gentle and effective makeup remover

I love this makeup remover. I used to use the Garnier micellar water, but after I tried this, I can never go back. This makeup remover is so gentle on the skin but effective. Sometimes if I am feeling lazy, I just sleep after removing makeup with this as it sort of works as a cleanser too.

amazing

this product is great for some skin types but may not work for others

Best make up remover ever

I use this product everyday - it is the best make up remover, it doesn't dry out skin, but yet removes all traces of make up, including heavy eye make up. There's a reason it is a cult product!

Really nice product

This is a really nice product. I use it to remove any leftover makeup from around my hairline that's left behind, if you're like me and prefer to use a foaming cleanser in the shower. Using a lightly moistened cotton ball it quickly, effectively and gently removes all remaining traces of makeup. Although this product didn't convince me to change my beauty routine; it has shown me that I need to add an extra step to my routine. I will definitely purchase the full sized product.

The best of the best

I have fairly sensitive skin and this micellar water is beautiful and does the job removing makeup and cleansing my skin. I use this every day and the bottle lasts a good few months, definite value for money.

Value

Staple product, value for money size. Works well to remove makeup without irritating

love this

Such a must have for those with problematic skin! I suffer from dry skin and this product keeps my skin very hydrated! I would recommend this to anyone!

Gentle and highly effective.

This is one of those beauty products that has become a staple in my bathroom. I use Bioderma micellar water almost every night to remove my makeup, including eye makeup and I often give my face a wipe over with it in the morning before applying makeup for the day. It is gentle, effective and kind of refreshing.

I love that it removes mascara with almost no effort. I love that it is unscented and great on sensitive skin. A large bottle lasts for ages as you don't need to use a lot of product.

I have slightly sensitive skin and have never found this micellar water to be irritating and have never had it cause breakouts or redness.


great product

I suffer from dry skin and this product keeps my skin very hydrated compared to other micellar waters, I would recommend this to anyone!

Great product

I have heard about this product for years before I finally tried it and as great as it is, I don't see the difference to other Micelle water products.

Great

Removes makeup effortlessly leaves skin hydrated and plump. Great value for money considering it is a higher end French brand. A little goes a long way with it. Works much better than any other micellar water and I've tried a lot on the market!

Nice

I like this product.
I have nothing bad to say about it at all.
It does it's job - it gets everything off my face.
But can I say one thing - I'm not sure it is better than say my garnier or other brands. I am not sure if I am missing something!
This product is nice - but not sure there's much more I can say.


Good

This really takes all my makeup off however I achieve the same result with my cheaper micellar water products.

Can't live without

After using many other well known brands I can safely say this is the best! Does not sting the eyes and a little goes a long way! I have a bottle in every size, it is an absolute god send product that leaves my skin feeling so fresh, clean and hydrated. Will never use anything else to remove my make up.

A must-have

This is absolutely one of my must-haves. I always have the full size and a couple of travel sizes on the go. It completely and gently removes ALL makeup and dirt, with zero reside or irritation. I do a light cleanse after, usually, just because I like to wash with water as well, but I don't think that's really necessary. It easily removes all my (non-waterproof) eye makeup without any dragging.

Worth it

Love this! My go-to for taking off makeup. Stings my eyes a little but worth the hype.

Best micelle

Use this product to remove my makeup. does a great job of even removing waterproof makeup. use this every night

Great micelle solution, but a micelle solution does not do it all!

I think this product is very good. I use it from time to time in the morning to remove my night cream and serum products, and refresh my face. Or when I travel. I share it with my boyfriend. It is very pleasant, refreshing and good to remove light things. My boyfriend (who has normal/combination skin and wears no makeup!) likes it a lot and keeps buying it.

I think it is better to use this to remove makeup than not removing at all, or than just with water, or soap, obviously.
But I would use that in a pinch, if I had nothing else.
I am an aficionado of double cleansing in the evening, with an oily texture first, and a gentle cleanser then.
One thing to consider, you cannot really consider this as a gentle toner after your cleanising, it is too strong for the skin if your skin is already clean.

As a micelle solution, it is a very good product. All French make up artists use it backstage etc. Because it is convenient and does not do harm. However, in the comfort of your home, I recommend double cleansing techniques.

Best!

This is the best micellar water on the market. It actually removes makeup and cleans the skin, unlike other micellar solutions I have used. As it effectively works, you don't need to tug or pull at the skin to remove stubborn makeup. A great step before cleansing, or if you want to be lazy and quickly remove your makeup.

Favourite!

This is my favourite micelle solution to use everyday! It is so gentle on my super sensitive skin and it does the perfect job at removing my makeup, and toning and cleansing my skin. Cannot recommend this more highly!

Best cleanser I've used

I've been using the Bioderma Sensibio H2O Micelle Solution morning and night to cleanse my face, and it is wonderful. I bought the product at the end of autumn because my skin wasn't coping with my mattifying cleanser and the cold weather. I have oily skin and because the cleanser is so gentle, my skin doesn't overproduce oil throughout the day - my oil is controlled and I no longer have a greasy forehead by 4pm. I don't wear a lot of makeup and this product cleans it all away easily at the end of the day. I love this product and would absolutely recommend to others.

Cult favourite

I now understand why this is a cult favourite. It's simple, gentle and effective at removing makeup or even to use as a cleanser. Definitely worth the hype.

You will not regret this purchase!

I started using this miceller water after making the switch from makeup wipes which were drying my skin out so bad. I have extremely dry/sensitive skin and this product is perfect for combatting both of those skin concerns. It is very gentle yet very effective!

Gentle and effective

This is my go-to product to take off stubborn makeup. It is gentle on my skin, which is dry and sometimes sensitive, but is excellent at removing everything. Will continue to repurchase!

A staple in my routine!

This product is just fantastic, and is an everyday staple for me. The formula is very gentle yet super effective at removing all traces of makeup, especially stubborn remnants of mascara and eyeliner. The formula itself honestly just feels like water, it is unscented and your skin isn't left feeling "stripped" or dry afterwards. Personally I still like to rinse with water or gentle toner afterwards however this is not necessary. The formula also doesn't make me break out and I will repurchase it forever and ever!

Best Ever Eye Makeup Remover!

I love a double cleanse, and Bioderma Sensibio is superb at removing all traces of the most stubborn makeup without tugging at the skin.

At 43 I don't want to age my skin any faster than needs be, and this product makes removing makeup a far more gentle procedure than other methods.

Love the price, too.

It's a cult favourite for a reason...

This is an absolute staple in my beauty regime and a product I can't go without. I use this on a cotton pad every morning and night to remove all traces of dirt and makeup after I cleanse in the shower. It's super gentle on the skin and around the eye area. It's amazing at getting those last traces of makeup and removing waterproof mascara.

Love this for everyday

This is the only product that will remove all of my mascara without irritating my eyes (i don't even wear that much). Use it everyday and obsessed with how clean my face is after i use it.

I've used other micellar waters that are a better price point but always come back to this, not changing anymore as this consistently cleans and doesn't irritate my skin.

Bioderma Sensibio H2O Micelle Solution 500ml

Love it! I use this product every night to remove my make up. It probably takes about 2 soaked cotton pads to remove everything but it works well. Not as great to off liquid eyeliner/mascara but is still gentle so I don't mind rubbing a few times to remove. I've also tried a few of Bioderma's Micelle Solution options but this is definitely the best!

Not worth the hype

Overall I'm a big fan of micellar water and think they are excellent for removing makeup, especially eye makeup. I was expecting big things from this brand due to its cult status but I honestly prefer the Garnier one a lot better. I found this one to be really drying and don't think it does anything more than cheaper ones on the market to warrant the extra price.

Great facial make up remover

It removed facial make up well and felt great on my sensitive skin. It wasn't as great with removing eyeliner / mascara and I found myself wiping harder than I used to so I switched back to my eye makeup remover for that and use this for the rest of my face.

The only makeup remover I will use!

This is the absolute best makeup remover I have used, I've yet to find anything else that compares to it. I have quite sensitive skin and this is so gentle and doesn't upset my skin.

Lasts forever

The ultimate make-up remover

This is the ultimate make-up remover. So gentle on the skin but so effective. Have been using for years and nothing else compares. Love it! Best-seller in Europe for very good reason! I often use this prior to using a different cleanser in the shower as it is the perfect first-step to remove make-up prior to a thorough cleanse.

The best cleanser ever!

For me, this is the best cleanser invented so far! I've used this since 2009! I don't feel the guilt of putting harsh on my skin when I use this. The best part is it removes your make up gently and effectively! This is a must product for me!

the best.

this is by far the best micellar water you can buy. yes it's a little pricey but it lasts for quite a long time and is definitely worth the cost compared to others I've used that were cheaper.

No residue!

I love the feel of this product and how easily it removes grime and makeup. Does not leave a slimy or sticky layer like other micellar waters do. Would definitely recommend.

Good

Best make up remover
Without question the best make up remover on the market! Great for sensitive skin

Amazing

I discovered this product one year ago and cannot turn back. Everytime I run out of it and use something else for a few days I realise a difference in my skin. It is definitely worth the price!!

Tough on makeup - soft on skin

Amazing results on removing makeup without harming the skin.

Travel essential

Fantastic when travelling , only micellar worth using

Cult product for a reason

Certainly not the cheapest micellar on the market but a cult product for a reason. I had this in the bathroom at the same time as a drug store brand and I could definitely tell a difference between the two.

A little pricey but I find it lasts AGES. It takes all my makeup off without a worry - although I don't wear much most days.

cleans makeup very well

it removes makeup very quickly and easily. i use it everyday to remove my makeup and it has never disappointed me. i have oily skin.

The best makeup remover!

This is an iconic beauty product for a reason - it removes makeup fantastically and never irritates my skin. That being said it's pretty pricy and I probably won't repurchase because now that the bar has been set there's cheaper micellar waters that work just as well. This is the OG though and I will be forever grateful.

Amazing!

Yes yes yes! Definitely get this, cleans the makeup and pores. Super refreshing as well.

Best micellar water out

This is my favourite micellar water, it leaves the skin feeling completely fresh unlike other micellar waters I have tried, which have left a residue like feeling. I can fall asleep just using this and no other cleansing and my skin is clear in the morning

Great product

Love using this, no smell, does not irritate the skin, removes makeup really well, lasts a long time. Will always repurchase!

Great Value

I have eczematic skin which tends to breakout over the slightest things. With most of the micellar water ive used previously, my skin kind of tingles a bit however I find that this particular product does not react with my skin at all and does a very good job at removing my makeup. If you plan on purchasing this product I recommend you opt for the 500ml which is ~30$ since the 250ml bottle is already ~22$ :))

Great Product

I find this product is so great at removing make up. I use it before cleansing and find that my skin is always really clean afterwards. It is quite expensive compared to other micellar products on the market however I feel that this is nice and gentle for my sensitive combination skin.

Best Micellar Water

The best micellar water I've used. Its a definitely a best choice so far for me. I would recommend this to my friends.

Great cleanser

I use this after cleansing with a gentle cream cleanser to remove the rest of my make up - nice and gentle on my sensitive and rosacea prone skin, removes eye makeup like a dream. Highly recommend.

Love this!

Had used this a while ago but started using ago and forgot how great it is. I have really sensitive skin and I find this removes all my makeup at the end of the day which reduces breakouts, would recommend!

HG Micellar Water

I received a mini size Micellar water as a gift with purchase and loved it! I have tried so many different brands, whichever was on special when I needed to buy some, but now I won't use any other. It cleans all makeup off gently and thoroughly and leaves me skin feeling soft. Also amazing at removing eye makeup. Love this!

#1 Micellar Water!

Love this Micellar water! It gently removes my makeup and leaves my skin feeling clean and fresh! Highly recommend :)

Good

This cleans my face well, without irritating my eczema prone skin!

OG and Holy Grail Micelle Water

THE best micelle water!
I use this twice daily as a refresher in the morning and a make up remover at night. It never irritates and is perfect for sensitive skin as it is so gentle.
My absolute favourite!

My favourite

This is by far the best micellar water I've used. Very gentle on my sensitive combination skin, and is great for make up removal or just cleansing for that fresh feeling.

Great for sensitive skin

Removes makeup wonderfully and skin doesn't feel irritated. Received this as a sample and will purchase in future.

The best

Removes all make up - great on the eyes too as it is gentle and doesn't sting. I have been using this morning & night and use a mild foaming cleanser afterwards and my skin looks so much clearer and any breakouts have vanished! Highly recommend this product

Good to remove dirt and makeup

This is a great formula to remove makeup, however prefer the pump bottle.

My daily go-to!

This product is heaven in a bottle! I always used to remove my make up with those Kmart make up remover wipes and would constantly just put up with the painful stinging sensation around my eyes when removing mascara etc. Someone then suggested for me to try this product and I am now eternally grateful! This product is so wonderful for sensitive skin and I use it everyday, if not twice a day, as it just makes me feel so clean and clear. Highly recommend!!

Best cleanser i've ever used

I have extra sensitive skin, and this cleanser does an absolute WONDERFUL job at cleansing! It feels like actual water. Can't recommend this one enough.

Good makeup remover, I still use oil to remove mascara though

I use this as a makeup remover before I wash my face with my regular cleanser. It's nice and gentle, effectively removes makeup, no fragrance and non-irritating. It doesn't take off my mascara and eye makeup completely though so I use a cleansing oil to remove those, especially if I'm using waterproof mascara.

The perfect make up remover (especially for sensitive skin)

My skin is particularly sensitive and I find Bioderma Sensibio H2O Micelle Solution to be the best make up remover for my skin. It's super light, removing makeup in a single wipe without drying out the skin, it's truly the perfect formula.

Beautiful on the skin

I originally received this product through Adore Beauty when I won a competition. I had used some Bioderma products previously and they were really lovely to use on my skin. The micelle solution was the same experience! This has no perfume added, which is a big plus for me as I can never understand why you need to add anything with perfume to product you put on your face. Even though I have mature skin and Bioderma do make another micelle solution that would be suitable, I decided to stick with this one for sensitive skin. I was using another brand of micellar water in-between purchases of the Bioderma but they left a residue and I couldn't wait for my Bioderma to arrive. It takes off the make-up so effortlessly. This is another product I use every day. You won't be disappointed with this.

Such a good cleanser Highly Recommend!

It's very gentle, very effective, doesn't dry your skin, removes makeup really well and doesn't irritate the skin, also great for my clients who has sensitive skin. It's definitely my go to cleanser and it's so quick and easy especially when i need to remove eye shadow fall outs under the eye area when I'm doing my client's makeup.

Best makeup remover for my skin

This is so good and evens out the pH of my skin and it wipes off all the makeup and dirt. It easily takes off my heavy eye makeup which I previously used two to three products to take off. There is no burning sensation. This product makes me excited to take my makeup off at the end of the night and I totally recommend it.

One of the originals & best

There's a good reason why I always go back to Bioderma's Micelle Solution - it really is one of the best. Does what it promises, keeps skin soft and healthy looking and doesn't dry out my skin after use as some others do. It's a bit more expensive than others I have used but at the end of the day, this is my favourite and worth it.

Lives up to the hype

You have no doubt heard about this as the HG of cleansing waters. It does live up to the hype. It's gentle, effective and doesn't dry out my skin or make me break out. I find that it is not too great on some of my more water resistant mascaras, however, remember to leave it soaking on the lashes for a bit longer than you think to allow it time to break the bonds there.

Best makeup remover

I held off on purchasing this for a while as I thought I didn't need it but I finally caved and I'm sooo glad I did. I feel like this truly ensures your face is throroughly cleaned so there's no remnants of makeup or sunscreen left over. I use it after using the pink gel and this is a great second step. I've noticed my skin has been clearer since I started using it. I have normal / combo skin.

Fantastic

If you want to remove even the most stubborn make up this is the one .It just works even on waterproof mascara a real pain to remove .


The best make up remover

I love this product, I put a bit in a travel size spray bottle and douse cotton buds and apply to face.

Gets all my eye make up off and doesn't leave my face feeling striped and dry.

#1

I've used countless micellar waters in the past for removing eye make up and every single one burned my eyes - except this one. The formula is so gentle and the product lasts a very long time even with daily use. Will definitely buy again.

The original and best micellar water

Gentle and effective, this product removes everything without irritating the skin. Even good for stubborn waterproof mascara. I also use it in place of a cleanser in the mornings

The original and best

I was a religious user of the Garnier Micellar water, but i thought I would give this one a try. I love the Garnier one, but it does leave a bit of a soapy residue on my skin.

The bioderma formula is exceptionally gentle and does not leave a residue or scent on my skin. Even with a freshly washed face, I still manage to pick up dirt and leftover makeup when I use this.

Best micellar on the market!

Seriously I know garnier is cheaper and you can buy cheaper brands, but don't waste your time! My skin cleared up immensely after using this before my cleanser! I now can't live without it! It's so gentle on my skin! Take the plunge, you won't be disappointed!

Very gentle

I was first introduced to bioderma through their sebium range. And till I went to a Bioderma event I never even thought of trying the rest of the range cause i figured I have oily skin so I should just stick to the one range. However after speaking to the people there and have them take the time to talk to us about it, I realised a lot of the consultants mix and match between the pink, green and blue range. I also found out that the Sebium H20 isn't suitable for the eyes so it's good to use either the Sensibio or Hydrabio H20 for the eyes. I use mine in the evening when I have a heavier face of makeup after cleansing just to make sure I have all the gunk off. It's very gentle and does not sting one bit.

Best Makeup Remover - no sting!

I bought this bottle a few months ago and after using it religiously, my skin has been great! It doesn't sting and it actually removes all my mascara and makeup with ease. It's been a real game changer and can't wait for you all to try this. No more makeup wipes!!

Very low irritation, gets the job done

I don't wear makeup, but my T-zone gets a little oily sometimes, so I use this to freshen up. I also use it to remove sunscreen before cleansing.

What I like is that it does what I expect well, but I do suspect there is very, very mild irritation still. I have read that people with sensitive skin should rinse off micellar water, but honestly, who has the time for that?

I've also tried cleansing with just this micellar water, but my blackheads decided to rear up their little black heads after a while.

Pricey

Good, but overpriced compared to other micellar waters when it basically works the same way.

This product is the best

I just recover from psoriasis and rash , reaction from using product from Aspect brand (from facial place). After stopping using this product, I use this Bioderma micellar solution, and then the outcome is very great. It clean my skin really well.. Now, I just use this cleanser and put on QV moisturiser right afterwards. Amazing, Bioderma!

Lovely

I use this as my cleanser and it's so lovely and gentle. I've found other micellar waters can make me feel a bit tight, but this is really sooothing.

Quick, hydrating and gentle

I use this in the morning instead of cleansing, by soaking a cotton pad and wiping it over my face. Its quick and easy, and visibly removes any residual build up on the skin. I have quite dry skin and my face does not feel tight after using it (like it does with most cleansers), so it is also surprisingly hydrating. I use a generous amount each time and the bottle is lasting a long time!

A fixture in my routine!

Bioderma micellar waters can do no wrong... this one has a nice smell to it, but can get everything off my face. I recommend using two cleanses with it, just to get off the extra makeup/dirt that may linger!