Nothing transforms your look better than a touch of highlight to accentuate your best features. Benefit Cosmetics has all your skin-illuminating needs sorted with its extensive collection of gorgeous highlighters designed to wow all of your fans.
Start creating a radiant complexion at the beginning of your makeup routine with That Gal Brightening Face Primer. Use on the high points of the face, under makeup or by itself, to add a natural glow to your complexion. The light-reflecting pigments in this cream formula give the skin subtle luminosity whilst smoothing the texture of your skin for a flawless makeup base.
Dandelion Twinkle is a new take on the brand's much-loved Dandelion Blush. Dandelion Twinkle uses special baked technology to deliver a sheer and lightweight highlight that catches the light to let your complexion shine. It can be used on its own or as a blush topper, working particularly well over the original Dandelion Blush.
Watt's Up! Soft Focus Highlight is a cream-to-powder highlighter that guarantees instant smoothing and a luminous sheen. The Champagne shade is perfect for all complexions, leaving a gorgeous, dewy finish.
If liquid highlighter is your thing, you cannot go wrong with Benefit's selection of liquid highlighters. These formulas can be blended into moisturisers and foundations or used on top of makeup. Sun Beam is a beautiful golden highlight that perfectly complements bronzed and tanned skin. Alternatively, High Beam is a pearlescent pink highlighter that freshens up dull and tired complexions with a soft-focus sheen. Shy Beam is a baby-pink highlight with a matte-radiance finish for the ultimate natural highlight.
Girl Meets Pearl is a longstanding illuminator from Benefit, loved for its easy-to-use applicator and brightening properties. The pearl illuminator can be patted on top of makeup or worn alone to add radiance and a 'lit-from-within' glow.
Showing 10 products of 10.
---
Recent reviews on Highlighters products

Benefit Cosmetics
Benefit Dandelion Twinkle Highlighter Mini
$29.00
Terrible pigment
I normally like Benefit products but this particular product has no pigment in it. I tried using so many different brushes, sponges even my fingers but the product would not budge at all. I am not sure if it was the particular product that I received or it was something that I was doing wrong but I hated this.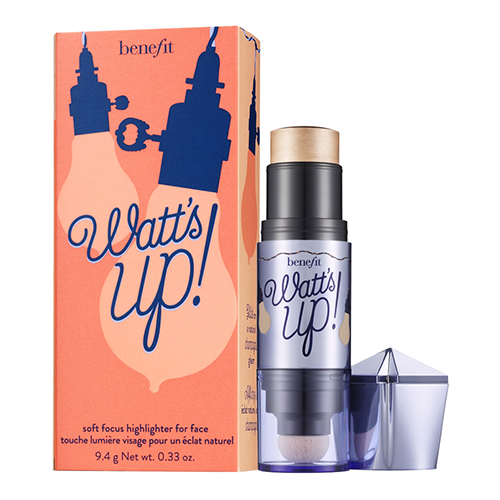 Benefit Cosmetics
Benefit Watt's Up! Soft Focus Highlighter
$53.00
quick and easy to use with minimal makeup
love this highlighter, its perfect for everyday wear, it goes well with minimal foundation/bronzer etc.
its not the best for glamour makeup and just the perfect amount of shine for everyday wear. the blender isnt that great and i usually just use my finger but its a staple with my everyday wear.
What people are looking for the most