Benefit Dandelion Blush Mini
Frequently bought with
Please wait while we find a match
Questions & Answers
(No Questions Yet)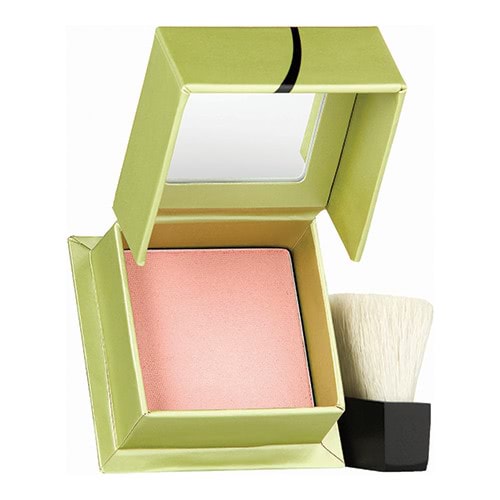 Benefit Dandelion Blush Mini
Get an expert to answer your question about this product!
Ask a Question
84% recommend this product
Most Helpful Positive
Soft lovely pink
Great little blush which I bought to sample first. Lovely subtle pink and easy to apply.
Most Helpful Criticism
Baby pink!
this is a soft baby pink color! great for a light blush during the day!
Baby pink!

this is a soft baby pink color! great for a light blush during the day!

Soft lovely pink

Great little blush which I bought to sample first. Lovely subtle pink and easy to apply.

Great for pale skins!

I have very pale skin and find it hard to find a colour to suit - this one does a great job! Good size too!!

Soft and glowy

This is a great blush for people with pale skin, who are looking for something that's not to overpowering on their face.
The pink is so soft and subtle and really brightens the face up and ads a very natural amount of colour. and the subtle shimmer helped to add dimension to my face.
It works very nicely as an eye shadow too

Lovely colour

Beautiful blush colour. The mini size is good for someone with a large collection of blushes

Natural

Cute subtle natural looking blush great for days when I want to look fresh faced, blush lasts a long time so great value

Great

This blush is currently my favourite. The colour suits me very well. it gives me a natural glow. It also didn't make my makeup looks cakey. Highly recommend.

very pigmented

Very cute little product, great price and good value.
The mini blush is all you need, I don't use a lot of blush so I find the mini one suits me better because by the time I've finished it I usually swap to something different or whatever colour is on trend next,
It is quite pigmented as well so you don't have to brush over the product 27 times until you get some actual colour.

Perfect for Pale Skin

I have very pale white skin and this is the perfect shade for me. I use it high on my cheeks. It is easy to apply with the brush provided. The colour can be built up to create the look you want.

Cute blush colour!

This is a cute blusher that I use when I'm after something subtle but pretty. The colour really suits my skin tone and doesn't make my makeup look cakey :)

Perfect for my fair complexion

I love Benefit blushes and this is my current favorite. It adds a subtle glow and is easily blendable. A big round of applause to Benefit for giving us the option to try mini versions of their amazing products!!

I love this!

Great powder blush. The colour is just perfect for me! I use it all the time.

Great for pale skin

I love this blush. No clowns here, just a gorgeous natural flush. Fantastic on pale skin.

too light

i feel it is too light for a blush. it is however long-wear and formula is nice too but it didn't look pretty on me. i have light- medium skin tone. you can always build up the product and thats what i do with this blush.

Not worth the hype

I dont reach for this as often as my other blushes. Colours nice but not great

Mini size is a must

I love that the blush comes in a mini size. The colour suits my light olive skin, the packaging is cute and it fits in my makeup bag in case I need a top up. A little product goes a long way so use a light hand.

Fair

I would only really recommend for fair skin tones. Doesn't show up on medium-deep skin

Perfect blushy cheeks!

I love benefit blushes!!! This is my go-to blushing look if I want to use a powder blush. very natural looking and just really girly which I love if I'm going for a more feminine and natural look. Its very easy to blend and comes with a brush inside. I love to use this especially during summer or the Coralista. just makes a perfect pink flushed look!

Waste of a product

I understand the idea of a buildable product, but this product you honestly have to allow 10 minutes to build up and I'm not about that. The colour payoff was poor and I had to redip my brush into the pan several times to notice any impact on my face. There are much better products out there on the market, save yourself the time and money.

Perfect light pink flush or layered over cream shadow

If you have pale skin Dandelion can add a super-pretty pink flush to the cheeks, I also use it over cream blushes for a little glow and brightness or to tone down the dewyness.

The HG of all blushes!

I love love love this product! It is the loveliest natural blush you will ever find and it lasts forever! It's build-able and swipe on and go-able! Super easy and super natural! HG of all time! You won't regret it if you want that natural flushed look!!

Long lasting, natural colour

This blush is a beautiful natural flush colour. The powder is long lasting on my oily skin and is easy to apply. The box is great to protect the pan if you drop it and is easy to travel with.

Anonymous (Adore Beauty Staff)

How could I resist a pink powder? Dandelion was one of the first Benefit products I ever purchased. It gives a subtle sheer pink flush and is ideal for applying over the top of cream blush.The packaging is gorgeous as we have come to expect from Benefit. Dandelion will last for ages so is well worth the investment.

Anonymous (Adore Beauty Staff)

I hate saying this but Dandelion just did not do it for me. I understand that this is a pressed powder designed to dust all over the face for a brightening effect but it just did not seem to work for me. My expectations might be too high but I was expecting a subtle powder that gives skin light, glimmer and a healthy glow, not one which struggles to be seen. At first I applied to cheekbones and down the bridge of my nose but after struggling to find results, I would dust it all over my face. The powder left traces so subtle on my skin that I have to squint to find it and is not how I expected. Unfortunately I would not use again and would recommend other skin brighteners to those seeking recommendations but I do love the travel-size brush which is stiff and very versatile. I also love the packaging which is very 'Benefit' and so unique from other products on the market, so it gets an extra star for this reason.

Anonymous (Adore Beauty Staff)

Lovely pink flush! I love to use this layered over creme blushes to set them! I just love the sheen and colour it gives!

Anonymous (Adore Beauty Staff)

This is the perfect blush for me as I have very pink/red skin undertones and most other blushers look a little too "clownish". Because this is so subtle, I can easily build it up to the colour that I need. This product also does double duty as a highlighter - a gentle sweep over the face makes me look fresher instantly. I love this product and can't wait to try more Benefit!

Anonymous (Adore Beauty Staff)

You can't beat this pretty little package for the sheerest pink flush going around. Pale girls can use it as a blush (great for a minimal make up look with a pop on the cheeks), and those with medium-toned skin can use it all over the face as a brightener. I've been through a couple of these in the past year or two and they last ages! So I must be using most days, he he!

Anonymous (Adore Beauty Staff)

This product really does what it said it would! It's impossible to tell you're wearing it, it just makes my skin look really healthy. It can be used really sparingly so it's great value for money and I tend to use mine as a finishing powder, or chuck it on at work to give my makeup a freshen up. Not the most convenient packaging though.

Anonymous (Adore Beauty Staff)

This is by far my favorite daytime blush ever. It gives you that little something, something with out making you look too made up. It is such a delicate and beautiful shade of pink. I love the packaging but wish that a more " handbag safe " version would be available.

Pretty subtle blush for day

This blush gives a lovely healthy glow to my pale skin. Perfect for a "no make up" makeup look for day. Very pretty.

Everyday blush

I love this blush and I use it everyday. Perfect colour, cute little box and easy to apply.

Such a pretty blush!

I love love love this product. I was looking for a subtle "every day" blush that I could wear to work, or on casual days without looking too made up. I have very fair skin, so I can only use this as a blush, not as an all-over brightener like some others are able to. It is quite pigmented, so a little goes a long way. The colour is buildable so if you want to go a bit heavier you definitely can. I love the smell of this product as well, it's delicate but lovely. I wish that it came in a more travel friendly style of packaging though, while the box looks super cute on my vanity it is not ideal for travelling or keeping in your handbag.

Lovely and Light

Beautiful subtle pink shade that blends easy. I have very fair skin and this is perfect. I blend it with a little bit of hoola bronzer in summer for a really nice glow!
I love that the boxes are cardboard and don't shatter in my bag or if it gets accidentally dropped.
Fabulous benefit thankyou!

Amazing

Love this product so natural and gives a healthy glow on your cheeks my go to blush

Love it!

I really love this blush! I have very fair skin and find it hard to find a blush that looks natural on me. A little bit of this goes a long way as it's quite pigmented and builds a natural glow. The powder looks great and feels great on the skin. This is now my go-to blush for nearly every makeup look!

Beautiful

This is a lovely blush which works really well with my fair skin, but I can imagine would also work well as a highlighter on darker skin tones. I often use this in conjunction with the Dallas blush for a bit more definition on my cheekbones.

thumbs up

love this blush, it has a really nice pigment that looks natural unlike a lot of blushes and is super buildable and blendable. my everyday go-to blush.

Great for fairer skin

I like the shade but have to really really build it up to see a new flush on my medium asian complexion. Usually I can get away with a little amount with my coralista or rockateur blushes but this one is not as pigmented and the shade is very light. It's a very nice blush nonetheless.

so cute

great light weight powder and gives you a cute light pink cheek. loves this blush

Glowy and soft!

A beautiful blush which gives my skin the most healthy glow. I receive many compliments when I wear it. The smell is divine too! The powder is very soft and has subtle flecks of glitter which are undetectable on the skin, but give a natural radiance.

Fabulous

Great lush powder, natural colour and gorgeous smell.
I use it more as a blush but looks great too as a powder- with a light pink flush.
Easy to use, apply and wash off.

Good colour for pale skin

Very nice everyday colour, beautiful on cool toned light skin. You only need to buy the mini because the pan size is generous!

lovely

I love the packaging on this product! I have the mini size and I carry it everywhere I go as it fits in my purse if I ever need a quick touch up! Only problem is that it's quite light and not super pigmented,but it does mean it's great for a natural look

Subtle and Natural

I purchased this product a few weeks ago in the mini size. I dont usually wear blush very often and when I do I prefer it to be very natural and subtle thats why I purchased this product in the mini to try. Its definitely a lovely blush its very natural and subtle looking but can be built. The product its self is great and would recommend. Only issue I would have is that its a very tiny portion even for a 'mini' and I probably wouldn't pay $26 for a mini again, I would rather pay the extra and get a larger size.

Good

I brush the Dandelion Finishing Powder onto the apples of my cheeks and it gives just the perfect amount of natural flush that lasted me my entire working day. The mini is perfect for carrying around in one's purse.

Very flattering colour

This colour works very well on my very fair, cool/neutral skin. It mimics the natural blush of my skin, and works well to provide a natural flush of colour, like I've had a bit of sun. Blends in well and works very nicely if you first apply a wash of highlighter to your cheek/cheek bone and apply this over the top. I wouldn't bother with the free brush. I'd purchase again.

Perfect shade!

Benefit are genius for producing mini versions of their products. I cannot tell you how many times I have been disappointed when purchasing a full size product and not liking it. Minis allow you to sample to product at a great price.

This colour is amazing. I am light-medium (depending on season) and have been loving this subtle hint of colour. Definitely not cakey, it stays in place all day.The mini will last a fair while but I am sure I will be purchasing the full size eventually.

pretty!

This is a beautiful baby pink blush that gives you a subtle pink glow for a healthy and glowing look! Packaging is cute and I love how it comes with a brush

Natural and subtle

This blush is matte and quite subtle, it is however buildable. I'm not a big fan of matte baby pink blushes as they do not tend to show up on my skin (I have fair/light skin with warm undertones). The blush is very silky and smooth. I sometimes use this as a base shade for eyeshadow too.

Natural look blush that brightens up your face

This is my favorite blush. It really brightens up your face and gives a natural look. I find most blushes can be tricky to apply but this one is very easy to use. The brush that comes with it works well but it does get messy as its stored dirrectly on top of the blush which means the handle and brush is covered in blush when you take it out but its not a deal breaker for me. The mini size has plenty of product and lasts ages, will definitely repurchase if I run out

I love this blush. It is my go to color.

I love this blush and buy it regularly. It is the best color for a natural pink, rosy cheek.

So beautiful!

I cannot live without this powder! It is the absolute one item I continuously and religiously stock-pile! It is the perfect pink tone on my fair skin, and even in the summer months when I have a little bit of color, it compliments my shade. I love the light, porcelain effect, and it is instantly brightening.

Love the natural look!

I thought the color would be too light and pink. But it's a perfect, natural flush. It's definitely buildable if I want a little more color. Natural, but not invisible!

Natural everyday flush

Very light and looks quite natural. Was alright since I have a lot of freckles and acne scars on my cheeks, but is pretty.

I love it

Good item for all skin types.

Pale pink

This blush is very light so better for pale skin tones. It reminds me too much of a blush you would use in your early teens. Ok if you want a natural and innocent look.

Love the colour

The colour is to die for - a really light, pretty pink that you don't often see in blushes - and it's very buildable and it even smells good. Despite it's light colour, it's not powdery or chalky, easily apply and wallah ready to go for normal day ever.

Must have blush

I have pale dull skin. I hate when blush looks over the top or clown like. This blush makes my skin glow and look naturally flushed and pretty.

Fave

This is my favourite benefit blush in mini size! Who doesn't love a mini for travel. This is a move subtle pink that suits even the palest skin tones. If you don't have it - you must try!

Great for my pale skin!

I love this blush! It's perfect on my pale skin and doesn't make me look unnatural. Is perfect on glam days but also on toned down, minimal make up days!

Love!

This is the cutest blush because its actually natural looking colours and intensity so those who don't want giant red apple cheeks can enjoy this one! The only thing I don't like is although the box is cute its kind of hard to get the product out of it.

Beautiful, soft colour

I don't wear much makeup so this is perfect for me. I pop it over a tinted moisturiser for a soft, healthy glow. I'm blonde and have very fair skin with freckles and this colours suits perfectly.

Subtle & Natural

Really nice subtle colour and very natural.

Subtle & nice

Really liked this blush - was very natural and subtle which I love. Packaging is the only let down - its a really fidgety thing to open which is a pain.

Lovely blush!

I really like the pink colour and how natural it is. It is long lasting as well which is good.

Nice

Has a really subtle blush colour which I love. Packaging is a little hard to get into and makes it inconvenient trying to open each time I use it.

Pretty colour

Love this blush, I'm a medium skin tone and it looks really natural. Ended up getting the mini version so I could throw it in a clutch when needed on a night out.

Healthy Peachy Pink Glow

Definitely recommend this to fair-medium skin tones. It gives the cheeks a healthy pink glow like you've just had your very first kiss. Its great that it comes in a mini size to try rather than investing in a full product. Or to gift to your loved ones. The only draw back is the packaging and toss away that awful brush!

Classic

There is a reason why this blush is a classic - the pale pink shade is SO flattering on almost all skin tones because it looks so natural and unassuming. It may not show up on dark skin tones however as it does have some translucency to it.

Amazing

The perfect pale pink for those super fair in complexion.

Natural looking

I have fair skin and dont usually wear too much blush and this one is perfect its really natural looking.

Excellent size

Beautiful colour and I love the size. I don't have a problem with the brush or packaging, I think its quite easy to use. It's a fantastic natural colour and looks refreshing and not over the top.

Great size

Fantastic size before purchasing larger size. I'm super happy with this blush, it's a beautiful natural colour for those with fairer skin tones. I don't have a problem with packaging or the brush and think both are quite easy to use. The blush is great for every day wear for a refreshing natural look.

Nice

I purchased the mini version of this blush and it is really sweet. The packaging is lovely and the blush itself smells lovely too.
I have a fairer complexion but I found this blush to require a lot of product to get any effect. I might be more used to more pigmented blushes, but I just found this required more effort to see it. Once built up it is a nice shade, a really soft pink and looks silky on the skin.
The brush it came with I wouldn't use but most people have a blush brush they prefer anyway.
I am still going to keep trying this product because it does look nice on the skin.

Not what I was expecting

I've wanted to try this for so long but found it to be a lot lighter (sheer) than I thought it was going to be, so I have to use a fair amount to get coverage or to see any colour.