I tell this story a lot, but about 2 months after I first started using Visionnaire, someone asked one of my colleagues if I'd had
"work" done! I've been a convert ever since, so I'd be stoked if I got this pack. The big bottle of Visionnaire serum would give
me about 6 months of awesome skin, plus the other minis are great for travel (and I'm dying to try the Visionnaire Yeux for eyes).
Red Velvet Cake, Fluffy Cupcakes, Spiced Gingerbread Cookie... need I go on? I absolutely adore philosophy shower gels
and always get super excited for the limited edition scents every Christmas. This Christmas boasts my favourite pack to date,
the philosophy cookbook set which is the cutest pack containing 4 festive shower gels. Now this is my idea of cooking!
It's no secret that I'm literally obsessed with the L'Occitane Almond collection products. In fact, I'm sure the girls in the office are actually
fed up hearing me talk about it. So you can image my excitement when I saw the entire collection in one pack. Argh! The Delicious Hands
is the perfect size to have in my handbag, the Shower Oil is the one thing that makes me feel great about getting up in the mornings on a
weekday, and the Milk Concentrate will be soaked up by my dry skin and leave me smelling divine. I'm hoping that all my hinting will mean
this Almond Collection is wrapped and placed under the tree for me. This would really make my Christmas morning special. Thanks Santa!
I've been wearing the signature Chloé Eau de Parfum for years, it's my favourite fragrance. When I saw the My Little Chloé's
arrive I knew exactly what I wanted for Christmas! This adorable trio of Chloé 20ml fragrances come complete with the most
beautiful box (I have a weakness for beautiful packaging). What's included? Love 20ml, Chloé 20ml and L'eau de Chloé 20ml, each in
a miniature bottle. In my opinion this is the perfect gift for any fan of Chloe fragrance. So...here's hoping Santa reads this too!
L'Occitane have put together the ultimate best of the best pack. This gift set includes all of my favourite L'Occitane products, and more!
The Almond Shower Oil leaves you feeling like you've visited a Day Spa, it is beautifully scented and moisturises as well as cleanses
your skin. The Shea Butter Hand Cream is a favourite of all of us here at Adore Beauty, it's rich and smells amazing, a great pick-me-up
for dehydrated hands. I could go on and on... this set is a great gift for any girl!
This is one that would make an equally good present for myself as someone else... But what can I say, I'm greedy and I love
love love Jurlique's Hand Creams and their Love Balm (fitting!). I find that nothing makes my misbehaving cuticles so happy
as a combination of Love Balm and Jurlique's Hand cream - plus they both smell divine. And I mean really, is there anyone out
there who doesn't like lavender? I've even bought this hand cream for my Gran before, and for someone who used to have 10
different hand creams floating about her house, she swears by it now! Jurlique's Love Balm is one of those rare multi-purpose
cult products that I keep around me at all times; I love it for heels, elbows, cuticles, and it adds a very slight natural sheen to
the lips. Plus the smell is really refreshing. The tube it comes in is also really quite beautiful, so I think this would make an
awesome gift... Maybe after I've bought one for myself!
As if my makeup collection isn't big enough! I love that this palette contains a fantastic choice of lipstick, lip gloss, eye shadow
AND a lip brush.
I do love a cleansing oil to remove all my makeup and sunscreen at the end of the day, and this one from SK-II is the ultimate.
It dissolves everything but rinses away clean, so my skin always feels well hydrated (not tight) but not at all oily or greasy
afterwards. It's a bit spendy, yes, but it's also a huge bottle and you only need one pump, so it lasts me a good six months.
Worth the splurge!
Wow-wee. As a medium to full coverage foundation lover, I usually steer clear of tinted moisturiser, but this little beauty has
made me a changed woman. The consistency is a little thicker than your standard tinted moisturiser and the coverage is just
exceptional. I mix a little in with my Laura Mercier Primer – Radiance for an all over sunkissed glow with coverage. Nothing has
made my skin look as radiant and luminous before whilst covering my imperfections. An absolute must have for anyone lusting
for a luminous glow.
Moisturising is an absolute daily ritual of mine, which is why I am a big fan of Clarins Extra-Firming Body Cream. Its thick body
butter like texture nourishes deep into the skin. I use this as a night treatment when my skin is feeling extra-dry after a warm shower.
I honestly don't think you could wake up with softer skin! The scent is divine; fresh and subtle. This tub lasts me quite a while,
so I think it's worth every cent. If you want incredibly soft, smooth skin - Clarins Extra-Firming Body Cream is your saviour.
Benefit They're Real Mascara is the perfect product for long-lasting wear and volume. The wand is great for separating lashes
to provide a perfect finish, as it effortlessly lengthens and curls them for an amazing look. The only drawback is that it can be
tough to remove, so a good eye makeup remover is necessary to prevent the need to rub the eyes. It will make a perfect gift
with the festive season (and lots of parties) just around the corner!
A perfect balance between coverage and natural finish, the Benefit Hello Flawless Oxygen WOW Foundation has exceeded my
expectations. Don't be fooled by the long name!, it really does perform. It's lovely light texture makes it easy to blend, the
coverage layers nicely without being too heavy and the finish leaves the skin with a healthy, not too dewy finish. I found this
great to use during the change from Winter to Spring when my skin needed an extra boost of hydration. Perfect as a fuss free
everyday foundation.
CND Vinylux Nail Polish has converted me from a person who never bothers doing her nails (while envying other people for their
flawless polish), to someone who sports some gorgeous colours herself. And CND is just wow, really, wow. This formula is amazing.
I can't even pick a single colour to call my favourite… but I will say the CND VInylux Weekly Top Coat is a must. Using both the
polish and the top coat, I had perfect nails for one week! The "weekly" aspect of the title had me thinking it was too good to be true
but guys they're not kidding! Even doing hands-on tasks all day this polish held up for the full week as it promised. Amazing right?
My top picks for the nail polish colours - though they're all gorgeous, you don't often see such a thoughtful collection of colours -
would have to be Tinted Love, Cake Pop, Midnight Swim and Bloodline. Love love love, I want to buy the whole collection!
Inika Certified Organic Liquid Foundation is my new best friend, containing Rosemary it invigorates me and I love the ease of
application and flawless finish it obtains. It is also organic so love that I am only placing natural ingredients on my skin.
Definitely recommend for sensitive skin such as my own. The shade is a perfect match to my fair yellow-based skin. It comes
in a pump so it is easy dispense and there is no waste. The packaging is recyclable therefore it is eco-friendly and the products
are not tested on animals therefore cruelty-free which is a bonus for an animal lover like me!
A new addition to my routine, I use Lancôme DreamTone (in Pigmentation Profile 1 for fair skins) every day under moisturizer and
sunscreen. It's the latest in my freckle-fighting arsenal, and while 2 weeks isn't really long enough to see results, I've been getting
tons of compliments on my skin just lately. Coincidence? I think not!
Ooh how I love when a product meets and exceeds my expectations! I was itching to the Clarins Total Cleansing Oil as soon as
it came out and it doesn't disappoint. It quickly broke down and lifted all my makeup (including my stubborn eye makeup) and
is water soluble so was easily removed with water and didn't leave my skin feeling oily, just clean and fresh. With continued use,
I'm finding my combination skin feeling a lot more comfortable and supple.
The sun is dancing its way back into the sky (well, occasionally if you're a Melburnian). And when sun arrives, my face transforms
into a shiny-old-mess. I've tried quite a few oil-free mattifying foundations and nothing compares to Becca's Matte Skin Shine Proof
Foundation. I love this foundation for a few reasons; it requires little to no touch-ups during the day, comes in 18 different shades
(so you're sure to find your perfect match), and most of all, it stays put! I highly recommend this to anyone who has overly-oily skin
and the medium-to-full buildable coverage makes it perfect for skin with imperfections.
This tanning product has completely changed my opinion of 'fake tan', previously put off by the orange hands and the overpowering
smell. Available in three shades and best applied with a mitt, the Vita Liberata pHenomenal 2-3 Week Self Tan Mousse provides
an even and natural looking tone soon after application. The second layer intensifies this tone and makes the product long-lasting
(over a week before it starts to fade evenly, although still visible after 2 weeks). You can then top this up with an additional layer
if needed. This is definitely my product of the month, I LOVE it!
I love to use ASAP Super B Complex when my skin is playing up and is in need of a boost. The texture is very unassuming,
it's thin and very light but once applied to the skin is a joy to use. My skin drinks it up leaving it feeling hydrated, smooth and
never oily. I have noticed a reduction of dark marks on my skin which make me very, very happy. On my way to foundation
free skin for summer!
Nuxe Huile Prodigieuse OR Multi-Purpose Dry Golden Oil is easy and fast to apply and dries quickly. Has a nice feel and my skin
feels smooth and supple after each use. I use it after I have a nice long bath and it leaves me feeling completely luxe! The smell
is amazing and it has golden particles to make the skin look more "alive". With my recent diagnosis of diabetes this has been a
god-send for my skin as it is easily bruised and damaged and can take time to heal. I would recommend this to anyone with
sensitive damage-prone skin who wants to be treated like a princess!
I am notoriously lazy when it comes to my hair, much preferring to spend my mornings painting my face. The downside of this
is the bizarre gravity defying cow-licks. It's not all bad though... I have found the cheat's product for fabulous hair! I use
evo casual act moulding paste to make my hair look like someone owns it. It takes literally 5 seconds for beautifully textured hair,
smells deliciously tropical. Using it my hair manages to remain frizz-free in this 4-seasons-in-one-day Melbourne weather! If that
isn't a miracle I don't know what is. I made the mistake of raving about it to my mum, and since then my tub has disappeared…
I'll be buying more for sure.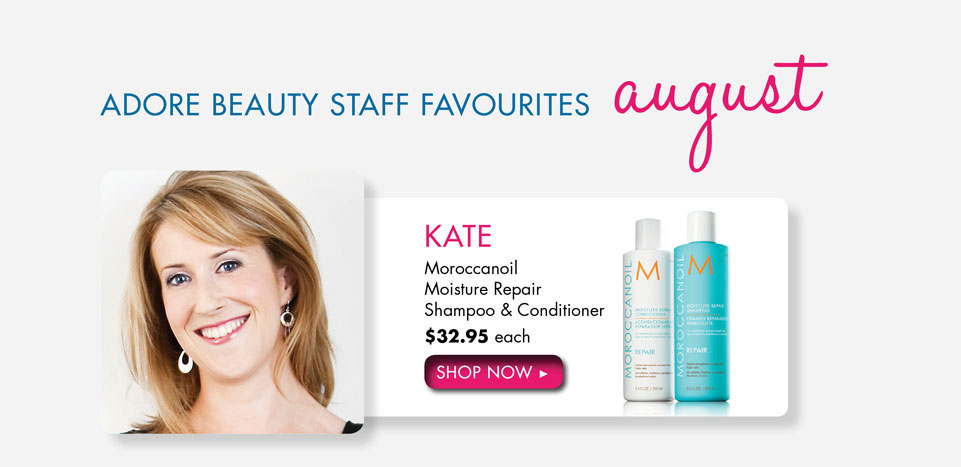 I've not yet found anything that my hair loves quite as much as this shampoo/conditioner duo. I have thick, coloured,
heat-styled hair; this stuff makes it feel silky and soft, but without weighing my hair down. I also think it's helped over
time with split ends as I don't get nearly so many these days.
I happened on the Dermalogica AGE Smart SkinPerfect Primer SPF30 completely by chance as a sample, and boy am I
glad I did! After trying it out for the last month, I can safely say it's a keeper. The texture is quite thick and contains a
slight tint along with a fine shimmer. For an oily girl like me, this initially freaked me out, the shimmer does show up - but
is pretty subtle. What's also great is that it keeps my face nice and matte and really adheres my makeup to my skin without
looking overly matte (thanks to the shimmer). As well as keeping my makeup in place, I really love that the primer also
contains SPF30 - it's like Dermalogica read my mind! A fantastic all rounder primer that cuts out the need for multiple products.

I started using the Alpha-H Triple Action Cleanser when I was at the point of giving up... For my sensitive skin, the only
thing that
didn't seem to block my pores was water! Well, I've finally found what I've been looking for and it is GREAT.
Not only does it remove
all of my makeup (including mascara), it leaves my skin feeling soft, clean and glowing.
The best thing is, I use it morning and
evening and it doesn't dry it out either. I certainly will be sticking with this one,
what a gem! (Also available in a 500ml value pump!)

I'm nearing 30 and I've noticed my skin has changed dramatically in the past 3 years. Yes, I probably don't drink enough water
and I definitely don't get enough sleep - but it's quite evident that my skin simply doesn't bounce back from these kinds of things
anymore. I started using the Clarins Double Serum around a week ago, assuming I wouldn't notice a difference in my skin for at
least a few weeks. Boy, was I wrong! Honestly, I could feel the difference the next morning! My skin was softer, smoother and
looked a lot more hydrated.The Clarins Double Serum is two parts water and one part oil, you only need a pump or two, then
warm it up in your hands and pat it gently into your skin. I use it at night as I feel it works best on clear, makeup free skin. It's my
new favourite treatment. If your skin is looking tired or stressed, this bottle is a god send. (Now available in 50ml too!)
I first tried Clarins Beauty Flash Balm when I was 19, and couldn't understand why it was so popular – I didn't notice any difference.
Fast forward to being in my (ahem) mid-30s, and whooooaaaaahhh,*now* I get it! Basically the way it works is to create a film over
the face; as the film dries, it tightens a little bit, which means that everything gets a bit of a mini facelift. A facial "zhuzh", if you will.
(Which of course you don't need when you're 19!) You can apply it as a mask, or as a primer (over moisturiser and under foundation);
my favourite way to use it is to mix a pea size in with my foundation (currently Lancôme Teint Idole Ultra 24H).

I was attracted to this product instantly as it could double up as a mask. And because it was pore minimizing.
And because it had matte in the title. And purifying. Aw heck I was completely sold on the thing from the second
I laid eyes on it! A generous sized tube, the philosophy total matteness pore-minimizing purifying cleanser & mask
contains glacial clay and is pleasantly cool on the skin. It's a beautiful cleanser and I love the way it doesn't dry
out my skin, just mattifies. I leave it on when I'm in the shower to do its work as a mask and voila! If you have any
of the following: oil, shine, enlarged pores, give this cleanser/mask a crack, you won't be sorry!



As Spring slowly approaches, I find myself using tan constantly to give myself a glow and I guess make myself feel better
about the horrible weather that Melbourne has had recently. My absolute favourite since I started working at Adore Beauty
would have to be Fake Bake Flawless. The colour is tanning perfection (the perfect golden glow, like I've been sunbaking
on a beach in Greece for a month) and it is so easy and quick to apply! It comes with a tan application mitt and a pump.
It dries almost instantly, so no smudges on your clothes. I promise you, I have applied this and then 2 minutes later put on a
white skirt and it did not stain! It also fades without leaving scales on your skin. I have all my friends addicted to this as well.
I cannot and will not ever live without it!
Eyebrows! If they aren't taken care of, they can dramatically change your entire look - instantly. I love, love, love the
Clarins Eyebrow Kit Pro Palette. I like my brows full with a defined arch so I use it everyday to fill in any patchy areas and
keep my brows in tip-top shape inbetween waxes. The palette comes with three different shades: light (ashy brown),
medium (dark brown) and dark (charcoal). I use the medium to fill in my brows, then use the dark to create a subtle
smokey eye when I head out. The kit also includes a mini-double applicator brush, mini eyebrow brush, a cute little pair of
tweezers and the all essential eyebrow wax, to tame any strays. I love this palette even more because it doubles as a handy
neutral eyeshadow palette when I'm out and I'm a big fan of multi-purpose products!

Clarisonic Mia 2 is a fabulous product. I have only been using the product for a week and my skin feels squeaky clean and soft.
When I remove my makeup my skin looks the same so I may end up saving money as I won't need my BB cream anymore!
It only takes a minute to remove my makeup and as a single mum that's important as time is very limited with work, studies and
a child. I'd highly recommend the Clarisonic Mia 2 to anyone looking for great looking skin with limited time.