As well as cleansing, toning, moisturising and applying masks, serums should be used regularly to boost and add an extra glow to your complexion. With asap's range of supercharged serums, you'll be spoilt for choice!


Famous for their high-performance formulas, asap serums are packed full of essential minerals and vitamins to help fight visible signs of ageing, boost collagen production and improve general skin health.


It is becoming increasingly more popular to take vitamins to improve our internal health, so it's not surprising that applying vitamin based formulas on our skin is as equally important. Serums are no longer considered optional products, in fact, they are becoming more crucial to our skincare regimes to ensure we address skincare concerns and actually start seeing results.


To achieve the best results asap has created serums with the highest percentage of vitamins possible, with the correct pH levels, to ensure the ultimate benefit to the skin.


The asap serums can be combined and applied together if desired. For example, mixing the asap super b complex with the asap super c serum and applying the combination of formulas will produce incredible results.


Purchasing an asap pack could be a great way to get started using these powerful serums. The asap rejuvenate pack is a great choice to start your asap journey and will allow you to see the amazing impact that the vitamin serums could have on your skin.


asap Serums are packed with vitamins including :
Vitamin B, also known as niacinamide, d-panthenol and folic acid, which will all work to dramatically boost hydration and plumpness, whilst also going some way to combat rosacea, acne, sun damage and pigmentation.
Vitamin A, also known as retinol, is famed for its anti-ageing properties, aiding with elasticity, wrinkles and cell turnover.
Vitamin C, also known as L-ascorbic acid, assists in brightening, firming and clarifying the skin and is best used in conjunction with Vitamin A.
Vitamin E, also known as tocopherol, is great for healing, moisturising and protecting, particularly for sensitive or damaged skin.
Unfortunately, asap is not available for shipping outside of Australia.
Buy now, pay later, with Afterpay.
valued at $404.00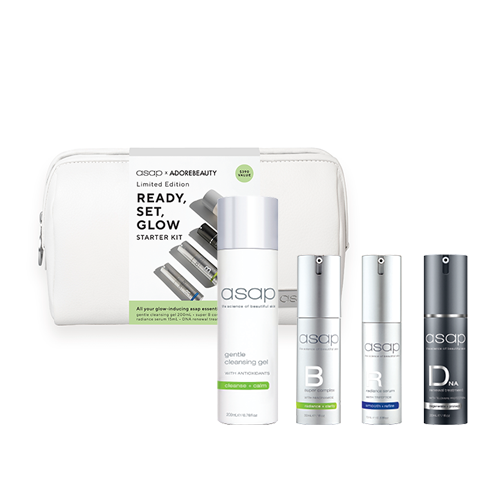 Showing 13 products of 13.
---
Recent reviews on Serums & Treatments products

asap
asap platinum collection
$249.00
$194.22
Good products terrible packaging
Serums are all working really nicely and making a difference to my skin. The ultimate hydration and anti-ageing night cream I was only able to use a few times before I was unable to pump any more of the product from the packaging. Product is too thick and doesn't come out. There has been a great deal of product wastage as I can't get it out of either container. Containers for the other products a...
What people are looking for the most