asap moisturising daily defence SPF 50 - 50ml 50ml
4 instalments of $7.61
Or 4 instalments of $7.61 with
LEARN MORE
4 instalments of $7.61
Or 4 instalments of $7.61 with
LEARN MORE
Official Stockist
Is this for you?
Replenishes essential moisture while providing broad spectrum protection from harmful UVA/UVB rays and ageing free radicals.
Australian Made
Cruelty Free
Artificial Fragrance Free
Has SPF
Sulphate Free
Vegan
Cosmeceuticals
Eye Concern:
Age Prevention

Deep Lines
Skin Concern:
Dull, dry or dehydrated skin

First signs of ageing

Pigmentation, uneven skin tone
Skin Type:
Dry

Normal to dry

Normal to oily

Oily
Frequently bought with
Please wait while we find a match
Questions & Answers
(2 Questions)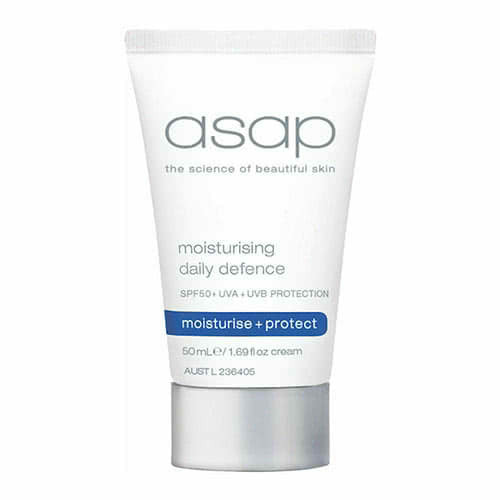 asap moisturising daily defence SPF 50 - 50ml
Get an expert to answer your question about this product!
asap moisturising daily defence SPF 50 - 50ml Reviews
74% recommend this product
Most Helpful Positive
Lovely
Great product at a great pricepoint. Non-greasy, easy to apply, sits well under other products and makeup.
Most Helpful Criticism
sunscreen shine
Not the biggest fan of this product, thick and creamy in texture. Has a very much sunscreen smell and leaves a shiny finish after application.
Nice

Does exactly what it says. Fast absorbing, dewy finish.

Lovely

Great product at a great pricepoint. Non-greasy, easy to apply, sits well under other products and makeup.

Good for every day use

I like the fact this moisturizer offers great protection , i prefer to use face creams containing high SPF. It is a great base for every day makeup. I find bit rich for hot summer days , I'm sure it will be a treat for winter time.

Sunscreen protection

I find this product great. It is thick and moisturising whilst getting protection from the sun. It does however have the smell of sunscreen.

A great daily product

A great product to cut down on steps and time in your skincare routine. Feels nourishing and not overly "suncreeny". and he scent is nice. The 100 ml option is also good value.

Great product

Amongst a few sunscreens I have received from Adore Beauty this is also one of my favourites. Not making my sensitive eyes water, light and calming on the skin, non greasy. All the good things you can ask for from a sunscreen!

Good everyday sunscreen

Good hydration but not greasy or too heavy

Very Moisturising

I have dry/dehydrated skin but this was a little too hydrating for me, only because I prefer more of a matte non-shiny finish. Otherwise feels nice on and great protection.

Thick Consistency

Bought this sunscreen for my bf but he diss;t love it. The thick texture makes it hard to spread and unfortunately it does leave you looking ver shiny. But it does protect skin well in the searing Australian sun.

non greasy and settles well

I love this sunscreen its non greasy and doesnt leave a white film I use it as my everyday moisturizer. Goes well under make up

non greasy and settles well

I love this sunscreen its non greasy and doesnt leave a white film I use it as my everyday moisturizer. Goes well under make up

Very thick texture

Great that it's 50spf. However, I don't like it's thick and texture. It also has a very much sunscreen smell and then I feel it in my mouth.. I can't keep using it so def won't repurchase.

It's okay

The consistency of this is very thick which is expected with the high SPF. While is very moisturizing, I didn't particularly like that it made me look very shiny and my face felt quite sticky/greasy after application. I am a bit on the fence because I believe it is a great product, but maybe not the best for my skin type

Like this

I like this. It applies really nicely under makeup and I like that it combines a moisturiser. It is a tiny bit on the greasy side but not a huge deal as it adds a bit of shine to my dry skin.

Good but not a daily moisturiser

The moisturiser doesn't leave a white colour on your face, but it did give me break outs. I've used it a few times now and the same thing happens each time. I was hoping to use this as my daily moisturiser but I'll have to just use it as my sun cream for days at the beach instead. It's a good product but it's not an everyday moisturiser like I'd expected.

Much better out there

I found this product only made my skin oilier than it already was.

Was nice and light on my skin though.

I've heard a lot of other people love it but just wasn't for me.

great size

i really love this product and this is a great size for in the handbag. Spf 50 is fantastic!!

sunscreen shine

Not the biggest fan of this product, thick and creamy in texture. Has a very much sunscreen smell and leaves a shiny finish after application.

It's okay..

It's quite thick and creamy, I prefer a moisturiser that feels a bit lighter. Love how high it is in spf and seems to sit well under make up. Generous size to test, lasts a long time.

Smells very sunscreen-y

I'm not super fussy when it comes to sunscreen, as long as it's doing its main job of protecting my skin and doesn't feel too greasy then it's fine. This sunscreen is fine. It has a real sunscreen-y smell to it, compared to the Ultraviolette Supreme Screen or La Roche Posay Ultra-light. It's a bit greasier than I'd like but it sinks in eventually. It's been fine while I've been working from home d...

Read More

good face suncream

I use this as a suncream for my face rather than a moisteriser. It does leave a shine but also gives a nice glow. I do find it I use it frequently it causes a break out. I wear it for walks in summer then wash it off when I'm home and pop biologi on

A nice moisturiser/sunscreen

Initially it can feel a bit greasy/heavy on the skin after applying but within an hour or so it absorbs really well. The tube is really small, but surprisingly goes very far - I have had this tube for a month and use mostly twice a day and still have some left. I would likely buy this again as it hasn't flared up or made a difference to my acne.

Good! But not the best

I did enjoy this sunscreen it absorbs well but I just didn't love it? Like most people, i am very fussy when it comes to sunscreen and i felt this was a little greasy so I will search for something else, sorry ASAP.

Just wait - it's great

I'd read mixed reviews of this product but I love the CC cream so I gave it a try. At first I though oh no, the bad reviews were true, my face is a shiny moon - but I carried on with my day and maybe half an hour later found it had absorbed well and my face looked fresh and glowing. A few hours later my skin was matte with a beautiful texture - this is an awesome product and my new daily moisturis...

Read More

Best SPF I own.

Currently this is my favourite SPF. It is SPF 50 so it offers great sun protection but it feels amazing on the skin and gives the skin a really nice glow. I break out a lot from SPF and it's taken me ages to find one that doesn't clog my skin.

Eek - warning very thick formula

I absolutely love ASAP. I've loved the range for a long time. however..... this SPF is so thick it honestly feels like you are applying Banana Boat to the skin. Sorry ASAP

FAVOURITE

This is a great moisturiser that I use daily. It is gorgeous under makeup and perfect at 50+ SPF. I have repurchased three times now. Low scent, non greasy and doesn't flare up any acne.

Nice sunscreen under makeup

I like this sunscreen, it's thick but absorbs easily and goes on well under make up. But I always wait at least 15 minutes before applying anything over the top of this to make sure it absorbs but also can work most effectively. I'm not sure if this is a favorite I've used, I'm still a bit undecided as I also love Sunsence which is much more affordable to use every day and reapply and this sunscre...

Read More

New fave

This is my absolute new favourite spf moisturiser. I do use another thicker moisturiser underneath on most days for extra hydration. But highly recommend this product.

New fave

This is my absolute new favourite spf moisturiser. I do use another thicker moisturiser underneath on most days for extra hydration. But highly recommend this product.

I really wanted to love this

I really wanted to love this as I'm really keen to have moisturiser with a built-in SPF for daily use. But unfortunately this product makes my eyes water as I have very sensitive eyes. I'm still yet to find the perfect moisturiser that includes an SPF that does not irritate my eyes. I also find this formulation fairly greasy but I'm not sure if that is just another downside of SPF formulations as ...

Read More

Does the job

The smell reminds me of a Jaffa cake - think orange-y and sunscreen-y. It spreads nicely on the face and is more lightweight than many sunscreens but it did tend to leave a tiny bit of greasiness on my face. Perhaps this is just unavoidable with SPF moisturisers. All in all: it does the job but I'm not in love.

Great day SPF

I absolutely LOVE that it has the spf of 50 but I only use it on the days that my skin feels dry. Otherwise it gets a bit too oily. Nevertheless, it's a great product. Very nourishing and great sun protection.

I found it lightweight

I found the product lightweight compared to some SPF moisturizers. I have been wearing everyday over a Vitamin C serum. I don't feel the product is super hydrating for me though great product with SPF to keep me protected day to day.

Best sunscreen for dryness

I have very patchy dry skin and I love this moisturising sunscreen! It doesn't irritate my sensitive skin and isn't too "dewy" just a nice moisturised looking face and didn't cause me any breakouts!

Great for maximum hydration

Ive been looking for a SPF and moisturiser in one and this is it! I use vitamin C and HA underneath followed by primer and makeup and my skin stays hydrated all day, and makeup intact. My skin is normal to dry with occasional breakouts, so not sure how it would go on oily skin as it feels very moisturising. I found it hard to find one that didn't make my foundation slide off, but this is great! I'...

Read More

Good moisturiser

Really great price and overall, a good moisturiser! It's spf 50 which is great and it doesn't feel to heavy under makeup. It does smell slightly like sunscreen but only at first so it's not too much of an issue

moisturising and glowy

I've been using this for the passed month and I don't feel it is heavy and it doesn't make my skin oily.
My skin has a dewy glow after application, and I love it in combo with all the asap serums.

Good protection a little sticky

Bought this when I wanted to start wearing more SPF daily. I find you have to pop it on a while before if you want to put any makeup on top - seems to soak in and work better this way. Otherwise it's fine without makeup but leaves me a little shiny and some a bit sticky with or without makeup on top but good protection and does the job and for the price wild purchase again - yet to try many more f...

Read More

Good

I like that it both moisturises my skin and protects it from the sun, however it does feel a little too greasy for my liking.

Too Sunscreeny

Honestly I wasn't a fan. The word moisturising talked me into trying this, I thought it would be more of a moisturiser with added sunscreen but it was more of a super thick sunscreen.
I have quite dehydrated skin but this was even too much for me, my makeup didn't sit well over the top of it either.

very moisterising

this sunscreen is super moistering and has lots of protection in it. Definitely recommend!

Great size for travel

I bought this looking to get into the SPF game - I like using it when I am not wearing any makeup, but I find if I put makeup over the top, it doesn't sit as nicely. This is a bit thick for my likening, so I will try another sunscreen when I run out. Perfect size for travel though!

Best spf moisturiser I have found

I've been using this spf moisturiser for years now, I haven't found another that rivals the texture of this one. It's isn't thick or sticky on the skin and doesn't leave a residue. Melts into the skin and also makes a perfect base for my makeup. No complaints from me!

Nice

Hydrating and light weight. Doesn't make you break out or skin go oily. A nice balance for daily use with spf that helps!

Good but not the best for everyday

Very nourishing for a sunscreen but my makeup doesn't sit as well as more serum like sunscreens on the market.

50+ is a winner

Love this, not greasy or oily and it sinks in well. Love the 50+, my go to moisturiser when travelling.

Not for Oily Skin

For dry skin it will sit nicely under make-up and provide a nice glow that doesn't look like an oil slick. It goes on nicely. Definitely not for oily skin. Unfortunately for me I have sensitive eyes and if it gets in by an accidental rub or sweat or by washing it off I end up with a red stinging eye.

Great for travel

Love the smaller size for travel. Not my favorite face sunscreen, but it is the most travel friendly out of all the ones I have at home.

Great

I like that this does not leave a white cast and has zinc oxide. It can make my skin look oily after a few hours though

Dry skin's best friend

I have dry skin and my skin loves nothing other than this product. It moisturises and doesn't leave me oily later in the day. The SPF 50 in it is also a bonus and doesn't leave a white cast.

Great

This moisturises my dehydrated skin well and gave me good sun protection

Great

I use this underneath my sunscreen and it gives moisture and sun protection. Amazing. Works for my dehydrated skin

For dry skin

Ladies with dry skin type will love this one. Packs a punch with hydration. I can understand other reviews about it being too heavy but my skin soaks this up and loves it. Bonus that it has such a high SPF. It's been in my daily routine for the last 3 years and has helped keep pigmentation away.

Great sunscreen with loads of added benefits

Just switched from la roche posay sunscreen to this when I couldn't get a big tube anymore. This is definitely a little heavier and smells and feels more like a sunscreen. On the other hand it makes me skin feel moisturised which I didn't expect at all. Touch on the shiny side and I wouldn't wear it without a bb cream or something to mattify.

Good SPF moisturiser

This is a really good moisturiser with a very high SPF so it is excellent for summer. Absorbs well without leaving a white cast, but I found it was a little greasy on my oily T-zone so it doesn't quite work under makeup in that area for me. Otherwise for everyday use as a sunscreen/moisturiser, it's a great product.

Good travel SPF

A good travel size SPF. The formula is super hydrating but can be too much for oily skin. Comes with a lot for a travel product.

Amazing daily moisturiser and added SPF is a major draw card

I received a sample of the daily defence in my Adore mystery bag. The moisturiser is light, hydrating and easily absorbs into the skin. My skin feels super soft after using it. The SPF is reason enough to purchase, especially coming into summer. Love that it comes in a variety of sizes for both home and on the go.



Hydrating

I purchased this product when also purchasing the asap platinum collection, so I could end my morning skincare routine with it. I've never used an SPF moisturizer before so I don't know what to compare it to. I find it leaves my skin a bit too shiny! I have normal to dry skin in fairly good condition. I think I'll try a different one next time but I will continue to use it until I finish the produ...

Read More

Awesome product

Purchased the smaller moisturiser as I wasn't sure if it was for me.
Absolutely will be purchasing the larger bottle next time.
Great;l, light, hydrating moisturising for everyday use before work.

Clogs pores and greasy

I tried this for two weeks and notices breakout and clogged pores as well ad congested skin. Horrible for oily skin makes it extra greasy and makeup wiped off

Great light moisturiser

This moisturiser is light weight and leaves the skin feeling soft, paired with the ASAP cleanser, they are a great duo. The sunscreen is a great added bonus. I have very dry skin, it helped somewhat with dry flakiness over winter, however I think for those looking for a thick hydrating moisturiser this might not be your first choice.

Best sunscreen ever

This sunscreen spreads so well and soaks in beautifully, it does not feel heavy at all.

Great sunscreen replacement

If you hate how sunscreen feels and looks on your face, this is for you! Super hydrating moisturiser with all the SPF benefits (and super cheap!)

Sunblock with zinc

I wanted use 50+ spf with zinc sunblock.
It is good moisturiser as well. Good size for your travel, too.

An easy way to combine moisturiser and sunscreen

An easy way to combine moisturiser and sunscreen. It's a go to for me.

unexpectedly great

I tend to usually have trouble with sunscreen because of its thickness owing to the zinc oxide, but not this one.First time i wore it I was pleasantly surprised at how easily it glided on to my skin. I did not feel tightness in my skin after applying it either which used to be an issue for me. This sunscreen also comes in a bigger size which I'll be purchasing soon after I'm finished with this cu...

Read More

Beautiful Moisturising Sunscreen!

Just beautiful, it feels like a moisturiser to apply, not a typical sunscreen.
Highly recommended.

Great for all year round use

Awesome sun protection plus moisturiser in one, it is super value and protects your skin from the sun all day

Great product

It spreads very easily and soaks in well. Does leave a sheen to you face but if applying make up after that is controllable. I've used quite a few zinc oxide sunscreens and sheen is fairly typical of that ingredient, but knowing this is a natural ingredient and not a chemical based gives it bonus points from me.

nice but a bit oily

This is a good sunscreen. Goes on smoothly and doesn't clump. Wears well under makeup and doesn't smell too much like sunscreen. Doesn't leave your face looking white. With my very pale skin, however, it makes me look more oily than 'dewy'. I have to wear makeup powder over the top.

Great spf

Recieved a sample of this and fell in love. It is really nice and it leaves the skin so soft after. It doesn't even feel like you are wearing sunscreen. It has a really high spf too witch is always good!

AMAZING moisturiser

I absolutely love this product. I have oily combination skin that tends to break out very easily but I have not reacted to this product at all. I was a bit worried when I first applied it as it looked (not felt) quite greasy but within 1 minute it sinks into the skin and you can then apply primer and continue with your makeup routine. I am so thrilled as I have been searching for a sunscreen to we...

Read More

Great everyday sunscreen

Excellent everyday sunscreen with a high spf. Zero reactions or breakouts to this. Left my skin super soft. Didn't even feel like sunscreen! Will continue using this

Great spf for the price

The product is great for the price, i wore it daily and never once broke out or got burnt. I use this product while use chemicals and have never had a reaction or burn. The only downside is that its quite thick. Even great underneath makeup.

The BEST face sunscreen!

I have dry dehydrated skin, and it's prone to congestion. I received a sample of this asap moisturising defence and was extremely surprised. Usually my face doesn't take sunscreen very well, finding it clogs my pores but this stuff doesn't. No shine factor either, so I definitely recommend trying it!

Good product

Good product. Value for money, feels hydrating and I like that it has sunscreen. I would buy again

Lightweight and moisturising

I haven't actually used sunscreen on my face (shock horror) but my skin has become quite acne-prone lately with some scarring, so I wanted to start protecting it much as possible. I was worried any sunscreen would be thick, gluggy and not sit well under my makeup, but I was so pleasantly surprised by this asap sunscreen. It does what is says on the tin - I find it to be super lightweight (almost ...

Read More

Better than most

Pretty good sunscreen, didn't leave my face white however it is a little shiny so I'd definitely wear a power if your putting make up on over the top. Still on the quest to find a non shiny sunscreen, so far this is the best I've found.

Gone back for more

This is the second time I have ordered this product and I love it. Whilst a fairly thick cream it is not heavy on the skin. You just don't need too much. I love the light shimmer it leaves. Will continue to buy!

Perfect for travel

I love this moisturiser/SPF when I'm travelling. It's so much easier to use a 2 in 1 and it doesn't make my oily skin any more oily which is awesome.

Great travel SPF

A really great hydrating SPF that's great for travel. If you have oily skin, it may be a bit too hydrating if you have oily skin.

Great for travel

I love using this size for travelling so I can make sure I'm still protected from the sun. Doesn't leave skin feeling oily either

Not bad at all!

I received a deluxe sample of this and have been using over the asap b serum. Keeps my face moisturised and love the high spf factor. A great option that won't break you out.

The best sunscreen i've come across!

This is my holy grail sunscreen and i recommend it to everyone who talks about needing a new face sunscreen. It doesn't aggravate my acne prone skin and gives you a nice dewy look if you like that kinda thing!

Daily glow

I actually purchased this for my husband, perfect as it is lightweight and the SPF is a bonus. one way to get him to wear moisturizer!

Did it's job :)

I received a sample of this product and decided to try it out before a mountain hike on a sunny day. It worked great and dd not sweat off and i did not get any sunburt. It didn't cause my skin to break out either. It does feel slightly heavy when you first apply it, but once you put make up on over the top you do not notice it.

Quite nice

I recieved this as a gift and have been really enjoying it. It leaves my skin smooth and not shiny like traditional sunscreen. I think the price point is really good. A little goes a long way and asap is such a great brand too

Non-oily, good protection

Not oily and good sun protection. This is a great product for people with oily skin - low shine and no breakouts.

No white cast and super moisturising!

I'm so glad to find this sunscreen moisturiser. It doesn't throw a white cast on my skin, it feels very nourishing but is also lightweight. I've worn this with both makeup and no make up, and it just works brilliantly. I use Retinol almost daily so the quality of this SPF is important.

Ok but Not Super Impressed

I got this as a freebie in one of the goodie bag promotions. I had always been wanting to try it but never keen on spending the money on it when I was already pretty happy with my current tinted suncreens by IT and paula's choice, however happy to give it a shot for free!

first-impression: loved the bottle, the scent is very sunscreen which doesnt bother me too much. Goes on very easi...

Read More

Its fine!

It is quiet thick but then again it is SPF 50. I was expecting it to be more light weight.

Excellent SPF!

I got this in a goodie bag. I loathe the feel of sunscreens. They are too thick, too white and just feel awful. However this sunscreen is amazing to use. It also leaves my skin looking dewy once I put my makeup over the top of it. Great price too, will buy when I'm due for more sunblock.

Excellent SPF!

I got this in a goodie bag. I loathe the feel of sunscreens. They are too thick, too white and just feel awful. However this sunscreen is amazing to use. It also leaves my skin looking dewy once I put my makeup over the top of it. Great price too, will buy when I'm due for more sunblock.

Love

I apply this everyday to protect my face from sun damage. It sits well under my makeup for work.

Good

This leaves behind no white cast for me which I appreciate for a zinc oxide sunscreen. I have oily skin and wear this on top of a moisturiser and it looks good during the day

Love it

Doesn't leave a residue on face. I blend this with skinstute vitamin c powder in the morning.

Great suncream but beware for those with sensitive eyes

Works well as a base under foundation and certainly works well as a suncream but found it stung my eyes when applied.

Good product but not suitable for me

I have normal to dry sensitive skin. I like this product but felt like it wasn't hydrating enough for my sensitive skin especially in winters. I won't mind using it in summer though especially with spf50. It is definitely a good value for money.

Great size

Handy size for travelling or even just to trial the product. I found my skin feels hydrated most of the day with this moisturiser alone