Alpha-H Vitamin Profiling Collection 4x 25ml
Is this for you?
4 vitamins, with 4 specific uses. Alpha-H Vitamin Profiling Collection gives you four ways to supercharge your skin.
Frequently bought with
Please wait while we find a match
Questions & Answers
(2 Questions)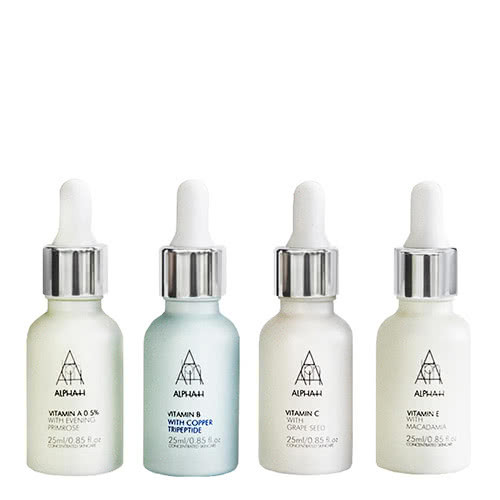 Alpha-H Vitamin Profiling Collection
Get an expert to answer your question about this product!
95% recommend this product
Most Helpful Positive
Great value
Completely hooked , a serum for everything and such great value
Most Helpful Criticism
Average serums
Can't say I've noticed the greatest difference in my skin since using this collection and it's been about 3 months. For me, I'm realising that if I'm going to put my money anywhere when it comes to good skincare, it's serums. It's good for a 4 in 1 purchase, but wouldn't say it's been fab overall. Glad I tried it though!
The collection

this is a must have collection! & it is well worth the money! especially Alpha-H Vitamin C is great to use daily on the face everyday!

Average serums

Can't say I've noticed the greatest difference in my skin since using this collection and it's been about 3 months. For me, I'm realising that if I'm going to put my money anywhere when it comes to good skincare, it's serums. It's good for a 4 in 1 purchase, but wouldn't say it's been fab overall. Glad I tried it though!

Great value

Completely hooked , a serum for everything and such great value

Love this vitamin set!

Perfect for trialling all the different types of oils by Alpha H. Generous sizes. Only wish some of them were lighter (e.g. not all oils).

Great value set

This set is great value to get all 4 serums basically for the price of 2. It's really handy to have different vitamins for the days your skin needs different support. All four smell nice and are light weight and absorb easily. I love Alpha H products and these are a must have.

Excellent value

With early sign of aging and moderately dull skin, the pack has really given my skin an overall pick me up. Entry prices for almost-high end products means it's better value to buy the pack than buy the products individually. I don't really use the E, so rub it into backs of hands. My skin is fair and slightly reactive, but no probs tolerating these products.

LOVE THESE

Love these so much! Make my skin feel amazing! Brightened my skin within a day of use

Shocked by results.

My friend purchased this pack for me for a birthday present and omg best gift. Each serum has a unique effect on the skin and added morn9n and night into my skincare routine has given me a dramatic change in skin texture and hydration. It's also taken away redness in my cheeks. Love these serums cannot live without.

Beautiful

Ahhh I love this! So incredible and my skin is glowing like crazy!!

A great way to try out what works best for you!

I purchased this set because I really wanted to delve into the world of serums and treatments but had no idea where to start. However, this set allowed me to tailor serums to my needs and find what suited my skin best for a fraction of the price than if I bought each individually. For me, the Vitamin C and A worked best for lightening pigmentation and I used the copper peptide one when I had active breakouts to clear them quickly. I would suggest trying this out for anyone who does not know where to start with serums as Alpha H is such a high quality brand as well.

Value

Great set to try out your favourites. Value for money - all items are 25ml. I personally enjoy B/E for calming and hydrating

great value

This is a great way to try the serums. Works out cheaper than buying them each individually and you can see which one your skin likes! I will definitely be repurchasing the B and C individually.

What a collection!

This set is amazing value to trial the serums! A and C were my favourite - bye bye pigmentation.


Lovely

A great selection of products here to try, to see what suits your skin and how they react. Good sizes of the bottles too. Some great ingredients and very beneficial to your skin.

Love the Alpha set

I can't go without these serums not only is it good value for money but these last me for so long a little goes a long way!
It's good for my sensitive skin which I see good results

Good

I've used a few different vitamin brands but these are my favourites. Came with a booklet with information on each one. The products I find are a little bit sticky but at night I don't care because I'm going to bed and during the day my makeup covers that.

Amazing value and product

I bought this product 1. i wanted to try alpha h products without buying full size products 2. the value was amazing.
Its a great to buy if you want to try the vitamin serums without the commitment of buying them all individually. I would 100% buy again as all the 4 serums worked great for my skin, and are now apart of my skin care routine.
I have hormonal acne dry skin, and usually i have adverse effects but all the alpha h products i have purchased have been great for my skin!

Great to trial

This set is amazing value to trial the serums! A and E are my favorites.

Love this kit to try all before you buy a normal size.

A great sample kit - generous sizes and can try before you commit to the normal sizes. I have been using for 4 months and only now running out. Some I use daily others infrequently but a great way to try and like that you can alternate based on how your skin is feeling that day.

Good value

I haven't used these for very long but I really like them! They work as they are supposed to and a lot cheaper than the original brand I was using. I alternate which ones I use every day. Only issue I've had is they feel very heavy on my skin, but my skins feels and looks so much better.

Amazing products, customisable for your skin care needs

All you need for your skin care routine, can mix and match or use more of whichever one I need most at the time. Alpha H is an amazing brand with top notch products

Being aware of your skin condition

The 4 vitamins came in good price. I have been using Vitamin B, C or E in the morning and A, B, C or E in the evening, depends how my skin feels. I wish I could mix them up but the instruction mentioned that they are not meant to be mixed. I love Vitamin B as I have very dry skin. It absorbs so quickly and plump up my face. Overall I am having really nice experience using them, and being more aware of my skin condition while choosing what to use.

holy grail

Brought this for a friend of mine and she absolutely loves it! best little pack to always have on hand and makes an amazing gift

Great value, lasts a long time

The vitamin profiling collection is excellent value for money. I have been using these vitamins for about 8 months and have used about half of each bottle, a little serum goes a long way.

Vitamin A is DEFINITELY my favourite. I use this one every night, it keeps my skin feeling so soft and rejuvenated.
Vitamin B is perfect for plumping and hydrating your skin before makeup application. Some people are deterred by the copper/metallic scent, but it is so worth it.
Vitamin C is great for your morning routine. It is fresh and makes your skin glow.
Vitamin E is what they call your 'First Aid Kit', it is great for blemish reduction and acne scarring. I love them all. Will definitely repurchase when I run out.

Great results and value for money

Love the four serums especially A and B.
Saw great results from all of them. Works out at a great price when brought in this set. Will definitely buy again.
The vitamin A is super gentle, no irritation but great results.

Can't live without!

My skin is combination(dry/oily) and recently in the past year (after getting off birth control), Ive been getting those awful cystic hormonal chin acne. Like the ones that leave marks and are really painful. I tried everything and when I say everything, I mean all kinds of products no matter the cost (Lancome, Clinique , kora organics, Civant, Chanel, Lamer, the list goes on). I started using Alpha-H vitamin profiling back in Sept and I can honestly say these beauties have become my fail safe. In conjunction with the alpha-h liquid gold every other night and La Roche-Posay moisturiser. It has kept the nasty ones away and had diminished the acne marks. It comes beautifully packaged. Nicely designed. Decently priced. They smell is not my favourite but the serums really soaks into the skin and actually rectify my issues so I can deal. The bottles lasted me for about 5 months. In saying that, I accidentally spilled half of the vitamin B so be mindful of that. Other than that you can't go wrong!!! Thanks alpha h for saving my skin!

Pretty nice

I really like the vitamin c and e serums. However the vitamin b really smells which is slightly annoying hence the less stars

The perfect regime!

I can not be without these products! My skin has that glow you read about but never think you can achieve! My face feels incredibly hydrated and looks more even toned. The Viramin C is my favourite particularly over the nasty pigment left from a pimple!
Would absolutely recommend! Did I mention affordable?
Thanks so much!


Love!

This pack is brilliant. Absolutely love these products. Very affordable. These serums are potent and leave skin looking beautiful .

Great

The serums are great but a little liquid, it is best to use them as addition to skincare under more heavy serums. I use vitamin C together with E and vitamin A + E. The kit is really worth the price, as there are 4 serums almost for the price of one.

Back again

Well I used to use these vitamin serums religiously every morning and every night. After about a year I thought do I really need them? I decided to go without and what a mistake. It's not until you stop that you realise how much they're working wonders. The vitamin a at night time is a definite winner for overall skin tone and plumping. The vitamin c aids in overall pigmentation reduction along with the vitamin b used in the morning. Never again will I make this mistake, thank you alpha h ( oh and adore beauty of course) xx

Great collection

This is my absolute fav alpha-h set. They all feel great on the skin, and it's handy that each one tells you which is for morning/evening etc. The bottles/packaging is gorgeous as well which is a nice perk.

Good

A paper wheel is provided with the kit to help you determine which serum is better for you concern and how to use it (day or night). I've started to use the vitamine A at night and the vitamine E in the morning, my skin is so glowy and soft it's incredible ! I will use the vitamine C and B during summer to treat hyper pigmentation.
When you compare to the price of a single serum from the brand, this kit is such a great value !


Pure, Quality, Vitamin Rich.

Love this box of magical medicine. Purchased 6 weeks ago... I use the Vitamin A once or twice per week at night… It's quite full-on and as I'm new to Vitamin A, found it initially caused a bit of uncharacteristic breakout. I'm taking this (and my improved skin condition) as confirmation that the serum is penetrating and inducing regeneration. Spacing it out and getting my skin acclimatized to the Vitamin A has helped avoid the breakouts whilst still reaping the benefits. I rotate Vitamins B, C and E as I feel it for day times. It's great having a choice of "skin food" based on daily skin condition / mood. The smell and effect of these serums indicate a pure, quality vitamin rich product. All kill, no fill… very happy skin.


Alpha-H Vitamin Profiling Collection

I used to get nasty blemish around my chin and cheeks, but using this, they are gone.

Great

The serums are great but a little liquid, it is best to use them as addition to skincare under more heavy serums. I use vitamin C together with E and vitamin A + E. The kit is really worth the price, as there are 4 serums almost for the price of one.

Good Trial Kit

Great way to trial out each of the serums and blend them as you skin needs through the seasons or months.

Like it

You can definitely tell that this is packed full of goodness and vitamins, it even smells like its vitamin rich and its super gentle and soft on the skin!

Amazing products, Amazing value

This is a great way to test out all of the Alpha-H vitamin serums and develop a routine for them. My skin is so much brighter, clearer and smoother after having used these since Christmas. Will be a staple of my routine, can't see myself not using these anytime soon!

Magic

I totally feel like some sort of skincare fairy when I use this! I love surveying my skin each day and giving it the vitamins that I think it needs. Particularly love the vitamin C and E and will definitely be purchasing the full size ones when I have run out of these

Complete set of serum

This package is all you need in your routine.
Choose any serum depending on your skin needs.

Amazing

I have been using these for a few months now and they have done wonders for my skin along with other Alpha H products! The vitamin B is my favourite and the perfect addition to my morning routine!

Great price for all the vitamins you need!

I was told by my beautican that I should use Vitamin A,B and C. I knew it was going to be expensive to get each product so I was happy to find this kit that had all I need at a great price! The serums are amazing on my skin and I use one in the morning and one at night with excellent results. I was using these to treat pigmentation, large pores, fine lines and acne. In combination with other Alpha H products, I have seen an 80% improvement. My pigmentation has faded, acne cleared up and severely dry skin is no longer an issue. My skin looks much healthier overall and I am so pleased with my results! These will be life long products I use.

My go-to brand

I've been using Alpha-H products for a few years now and finally decided this was worth a try. I love that you decide what to use depending on the day. The vitamin B is the one I reach for everyday, I even use this on my nails and the backs of my 50 year old hands. Well worth the investment when a bestie says your skin looks great.

The cream of the crop

I got all the serums/oils separately and LOVED them all, I think this is a great way to get a set (save a little) and interchange your skin routine depending how its going, after all, it never stays the same anyway. Would only be bad if you really hated one and had to waste it.

Customised beauty at your fingertips

I love being able to interchange between vitamins based on the day's skin concerns. Each serum absorbs quickly and there is absolutely no irritation! Highly recommended.

Value for money

I have been using these oils for about 6 months now and wouldn't use another brand. The set covers everything I need in vitamin oils and is great value for money in the set of 4.

So far so good

I have moved to Australia for 2 years and it was the first time I heard of Alpha H. As I was searching around for some Vitamin C serums that is as good as my previous serum, which cannot find in Australia, this set popped up so I decided to give it a try. All bottles are 25ml, so the price is cheaper compared to other brands (Paula Choice charged 60-70 AUD for a 15ml or 20ml booster). Plus, I got to try all the serums. Although I'm not in live with the Vitamin C bottle, the rest of them are quite good. The box is nice so it can be a great gift too.

Great

I've had this for about a month now and this has been working wonders on my skin. I have dry to combo skin and I will use this vitamins depending on how my skin is feeling because there's one vitamin for every skin type. Also believe they will last a great deal of time because they are still completely full! Overall I really see a difference and I would fully recommend them. Great product

Great set of intro serums

Good little set, value for money here!
I enjoy the variety and being able to switch them up on the daily.
I personally like the Vitamin B the most - great for hydration and that extra plump before your moisturiser.
Cutest packaging and the perfect size for travelling :)

Love these serums

I'm really loving these serums. Easy to use and I'm noticing the difference in my skin.

So far so good

I've been using these serums for a week now and they make my skin so soft. My forehead has been a lot firmer and my redness is down. I've used ASAP serums in the past which i love but buying all of them does end up quite expensive. This kit is a great price and a good way to try out all the serums. Definitely recommend!!

Can't decide on what serum to get? Get them all!

This is such a great pack! All of the vitamins you need. I've loved every single one & will be purchasing the full version of each very soon.

A MUST HAVE!

The price threw me off for a while but is SUCH value for money compared to buying individually! Super hydrating and plumping. All serums work beautifully. Great on their own or mixed for what you need to target. Sink right into the skin. Gorgeous luxe packaging.

Great little set

I love this set and the fact that you can mix up the serums depending on your skin type and how it is behaving (or not) on a particular day. Buying the serums separately is quite costly, so - while the set isn't cheap - it certainly beats the combined individual price of each. (Or at least, that's how I justified buying it to myself!)

Amazing value

Beautiful set of amazing serums for fantastic value. The vitamin b is my fav it's so hydrating

Very cost effective

I've been using this whole kit for a twice a day for a fortnight and it has had great moisturising effects, some tone correction, good plumping and line reduction and very revitalizing after all nighters.

myself I feel it's almost over effective in plumping my skin so I think i will switch to using the set of a night time only and see how I go.

A great introduction to Serums!

I toyed with buying this for quite some time mainly due to the price however after deciding to treat myself for my Birthday I have had no regrets!
I love being able to decide which to use based on how my skin is feeling that day. I have found over the past 3 weeks that I have tended to use the Vitamin A and B a lot more than the others.
They are extremely light weight and absorb into the skin quickly. I have been very happy with the results so far and would certainly look to purchase again!

Great collection, great price

I love this collection. I use all of these serums and my skin feels so balanced and hydrated! Vitamin B gives me the most moisture, but i have enjoyed the others aswell. This is great to target any skin issues you have, and I love that you get a decent size bottle of the four vitamins to really test out what works for you, without having to purchase a full size product of each seperately.
Will defiantly be repurchasing.

Good introduction to serums

I purchased this set as an introduction to serums, to determine what my skin needed and responded well to. After use over 6 months I would definitely repurchase the Vitamin B serum. Not sure that the others were vital to my routine.

Fab

I've been using the vitamin a and b for months now and am thrilled with the results.
I bought this kit to try replace my stock of A and B and try C and E.
Easily absorbed formulas. Work well with moisturisers spf and makeup.
Really happy.

LOVE

I've been using these serums for about 2 weeks now and I'm really enjoying the fact that I can change it every day depending on how my skin is feeling.
I have noticed a difference through the day when worn under my regular skin routine.
My skin soak them up within a few seconds, they don't feel heavy at all. They also spread really well with my finger tips.
Will continue to use this product!


Perfect set of serums

Love this serum set! It's great being able to adjust the serums day to day depending on what my skin is like. Love the vitamin E serum, helps fade pigmentation and scars. Not to harsh as well, the Vitamin A is very gentle, didn't get any serious flaking after starting to use it (first time using a Vitamin A serum too). The Vitamin B serum is great for hydration and just daily use, probably the most used out of the 4 for me. Great size for travel too

Perfect for sensitive skin

Fantastic collection of serums, of reasonable price & size. I love that they are individual serums (a,b,c,e) so you can use depending on your own skincare needs. My skin was sensitive throughout pregnancy & breastfeeding, I started these a week ago & my skin has improved in hydration & less reactive. Very happy & highly recommend for sensitive skins!