Alpha-H Triple Action Cleanser - 500ml Exclusive Value Pump Pack 500ml
Frequently bought with
Please wait while we find a match
Questions & Answers
(3 Questions)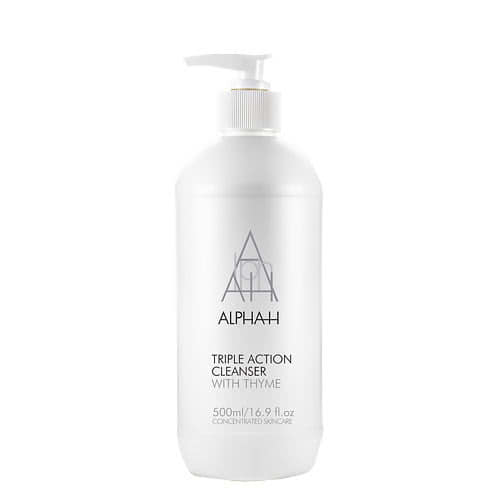 Alpha-H Triple Action Cleanser - 500ml Exclusive Value Pump Pack
Get an expert to answer your question about this product!
Ask a Product Question
96% recommend this product
Most Helpful Positive
My one and only
I've been using this cleanser for over 6 years now. It's always been a quality product.
Most Helpful Criticism
Not bad, Not amazing.
Meh. I am underwhelmed by this product. It didn't blow me away and i haven't seen much change in my skin. I suffer from hormonal breakouts and this did nothing to help. Don't love it.
My one and only

I've been using this cleanser for over 6 years now. It's always been a quality product.

Best cleanser ever!

This is the actual best multi purpose cleanser I've get used. It leaves my skin super soft, not at all dry, but feeling really clean. I use it to remove all my makeup (even eye makeup) and it's super gentle.

Love the product and this format

I love this Cleanser, very good for acne prone skin and oily and dry face. This is perfect for me. Alpha H products are fantastic and are worth the extra splurge


Still my go to cleanser

I use several different cleansers depending on my skin issues, but this one is my go to & never lets me down. Being in a value pack is just icing on the cake

My all time favourite cleanser

I've now been using this for 3 years, and never in my life have I loved a cleanser the way I love this one. It helps my redness, prevents/shrinks any breakouts, and has never made my skin feel dry or sensitive. I just love it and would recommend it to anyone.

Lovely for second cleanse

This is a beautiful silky cleanser that is great for mornings or nights without make up as it cleans nicely without stripping the skin but it struggles to get off make up alone, so I use this as my second cleanse

Good for oily skin

A very good cleanser, especially for oilier skin tones or those with acne or pimples.
I find this cleaner great in the morning, it helps with my oilier t zone and helps with hormonal pimples on m,y chin.

Awesome

really cleans my oily skin but doesnt remove makeup well, highly recommend

excellent for acne

I honestly love this product! i have ance prone combination skin and I've been looking for a good cleanser that clears my skin and I've finally found one! It is perfect it doesn't dry my skin out but also doesn't make it oily at all! I 100% recommend!

Good daily cleanser

This is a good cleanser for regular use. Feels nice on the skin, is gentle, and smells nice but not overpowering. Doesn't remove makeup very well though, but as a daily cleanser it is lovely.

Gentle cleanser

I like this cleanser a lot. It's not irritating and I have sensitive skin, it also isnt overly fragranced which I love. Doesn't lather much so if you like a lather probably not your cleanser. Doesn't dehydrate the skin like other gel type cleansers. Overall it's a great cleaner.

Great

I love this Cleanser, very good for acne prone skin and oily and dry face. This is perfect for me. Alpha H products are fantastic and are worth the extra splurge

LOVE IT

This is such a good face wash!!! it makes my skin feel so clean and soft, it definitely gets all the dirt out and even helps clear my acne I love this so much

Great for sensitive skin!

The only face wash I have found that helps my skin! I have combination, sensitive skin with occasional break outs and this face wash is amazing!
I wear a face full of make up during the day and this products removes it all perfectly! I would reccomend buying the bigger bottle for value for money as a small amount goes a long way!

Non drying

Really loving alot of the Alpha H products! This cleanser is a gel consistency and doesn't foam. Very hydrating and doesn't give my skin that stripped/tight feeling after use. Awesome value for the size. Will continue to use.

Gentle

I'm a giant Alpha-H fan - I bought a set of minis to try out some of their other products. I loved this cleanser - really gentle so it would be great for people with sensitive skin. I also love that it comes in a value bottle! However I prefer the balancing cleanser overall, so that's the one I went with for the larger size. Would definitely purchase this again though!

Not my number one

It's good but I don't use it all the time.

Love it

Absolutely love this cleanser it leaves my normal to dry skin feeling so soft, fresh and well cleaned. Very happy that I decided to try it out.
The large pump bottle is also fantastic!

LOVE! LOVE! LOVE!

You need to seriously try this product it has literally saved my skin. I highly recommend for sensitive skin, it's very soft and gentle and your skin feels so clean and refresh afterwards.

Such good value

I honestly love that Alpha-H allow you to buy a bulk size, its such good value! The cleanser is amazing too, not too harsh, and I have sensitive skin.

Great at removing makeup

I wear full coverage waterproof makeup everyday and this works like a gem in taking my makeup off! I also have super sensitive skin, sometimes it gets it my eyes as i wash my face and doesn't irritate my skin/ eyes at all!!

Best product for cleansing

I've had so many problems with my skin and spent a fortune on getting product the dermatologist recommended. One day I came across this cleanser and have used it now for approx 5 years. Love it and my skin is fantastic now.

Amazing

Leaves my skin feeling so soft and fresh after use.

Pretend it's a wash off serum

Not sure about this cleanser, if you are washing of makeup, this isn't the one to use. I've swaped this now for morning use only preferably on dry skin. Works a treat to wake up to, leaves skin fresh, plump, soft and and ready for the layers of products to be used for the day.

Great value for money

I found this to be a good basic cleanser. Loved the pump bottle and it lasted forever! Very good value for money but I didn't find it helped much with my skin breakouts/oiliness.

Absolute favourite

I had been using this cleanser for a few years now & recently changed to a different one. I instantly regretted this decision.

I have oily and dry skin all in one and my face doesn't often feel 'clean' without being oily. Triple action cleanser left my face feeling deeply cleaned and soft, not oily and dry.

I am switching back to this one again & not changing again!

great value for money

Very affordable for the amount of product given! Absolutely obsessed with this range!I have pretty oily skin that can be sensitive at times. Absolutely obsessed with this range! Would definitely recommend to anyone with a similar skin type!


Great for oily/combination skin

Love this cleanser. Switched from the balancing cleanser by alpha h to this one, have noticed it has controlled any outbreaks a lot better and my skin feels a lot clearer.

I have combination/oily/sensitive skin with the occasional breakout.

My skin LOVES this product

I honestly cannot live without this cleanser. After trying many different cleansers from mid-range to high-end brands, this has been the only cleanser that has helped reduce my breakouts without completely drying out my skin. I use this cleanser 2-3 times a day depending on how oily my skin is and seriously love it. I find that the days I don't use this product, my skin will always break out.

Love Bulk Packaging

I am a big fan of Alpha-H products and this cleanser lives up to the hype.

While I wouldn't expect miracles, this cleanser delivers fresh and clean skin.

I use it as the second step in my double cleansing routine at night and find that helps keep my skin clean.

My favourite thing about this product is the 500ml bottle. Not only is this good value, I am happy to cut down on plastic waste by purchasing products in bulk.



fresh clean feel

I have only used this product for a few weeks now. I am loving how it does not foam up too much and it leaves my skin feeling clean and fresh.

Value for money

I find this product quite a great value for money ive still got over half a bottle left and has already lasted me a few months. Whilst i dont find it removes my makeup well it is a great light cleanser that makes my skin feel nice and soft!

Great value cleanser for double cleansing

Non foaming and drying out skin after cleansing. Great to use as a second cleanser after exfoliation. Only one pump needed and lasts months

Amazing product!

This product has done wonders for my dry, dehydrated, hormonal acne. The non foaming gel gives a super clean feeling, my skin feels so soft and dewy. Have been using with the liquid gold and can't believe the difference in my skin!

Best Cleanser

This is the best cleanser I have ever used. It leaves skin feeling clean and fresh but not dry. I did get a little slack in my skin care routine recently and I noticed that having not used this product or any products for a couple of weeks my skin became dull and the texture was awful but within days of getting back into a regular routine my skin has improved significantly. Some people may balk at the price but the 500ml bottle is definitely worth it, I bought mine over 8 months ago and wash my face 2 to 3 times a day and I am just now starting to run out.

Not bad, Not amazing.

Meh. I am underwhelmed by this product. It didn't blow me away and i haven't seen much change in my skin. I suffer from hormonal breakouts and this did nothing to help. Don't love it.

Amazing!

Loving this cleanser! It is hydrating and gentle on my skin, leaving it with a healthy glow. It does a great job of removing all traces of make up. My skin seems to love it, it is very nourishing!

Amazing

Removes my stubborn waterproof makeup easily whilst leaving my skin feeling clean and smooth but not dry. I use every night and my skin is clear and smooth with next to no breakouts anymore

Gentle and kind

I have sensitive skin. So to try this product after wanting to for so long and to have great results only after a complete of days. This is a keeper!

The best cleanser I have ever used

I have been through a few bottles of this and this larger size is perfect. I use it daily and it has a lovely smell. I have combination oily skin and it works a treat along with the other alpha h products I use. I have always had clear skin but this product in conjunction with other alpha h products have also given me a healthy glow

Bathroom staple

One of the staple cleansers in my morning and evening routine. Have been using this product for several years

Amazing moisturiser, love the big pump size bottle!

Amazing moisturiser that feels super light on the skin and doesn't leave an oily residue. The 500ml size is great value too! Love this product!

Great Cleanser

I have been using this cleanser now for over a year, and definately will keep using it. It does not dry sensitive skin, and removes make up very well. It doesnt foam up as some cleansers do. Its just a clear gel type of cleanser and i love it.

Great quality cleanser

Love this cleanser! Non foaming does feel odd to use after using a foaming cleanser- BUT it removes everything really well and leaves me with a soft and clean face. Gentle yet hardworking! Removes all my waterproof makeup no problems.


Great Cleanser!

one of the best cleansers I've used! It doesn't foam, which takes some getting used to, but doesn't really bother me. Leaves my skin clean and fresh looking. The bigger bottle is great value too.

Great Cleanser

Have been using this cleanser for a few years now and still love it! I find it takes me close to a year to use the 500ml pump pack so really good value for money too!

Great!

I use this cleanser as the second cleanse after using Dermalogica Precleanse. This combination has done wonders for my skin. The cleanser doesn't dry my skin out but removes all dirt, oil, and makeup. The bottle also lasts a very long time which is a plus!

Great!

Coming from foaming cleansers, this has taken some getting used to but my skin feels so beautifully clean and not stripped of moisture.
I initially felt like I was using a lot as I pump 3-4 times per wash but the bottle is lasting a long time so I think less comes out than I thought.

Alpha-H Triple Action Cleanser

I started using alpha after trialing the hydration cream, i usually react to almost anything with super sensitive skin, however this cleanser has been gentle on my skin and refreshing. Not overly fragranced and good for daily use.


Wonderful cleanser, great value

I love this cleanser. I use it on it's own in the mornings and as the second step of my double cleanse in the evenings.
It's gentle but very effective and doesn't leave my skin feeling stripped or tight.
Value sized pump pack lasts me for ages and I can decant into smaller containers when I'm travelling. Another excellent Alpha-H product.

Great Value, Good Cleanser

I recently ran out of my favourite cleanser (Kiehl's Ultra Facial Cleanser), and took it as an opportunity to try out something new. I have combination/oily skin, and tend to break out on my cheeks and my jaw. My Kiehl's cleanser was great at calming my skin and keeping my breakouts at bay, and worked especially well when followed by the Pixi Glow Tonic, which I recently introduced into my routine.

The Alpha-H Triple Action Cleanser is a very good cleanser; it's been keeping my breakouts at bay just as well as my Kiehl's did, and also seems to work well with the Pixi Glow Tonic. It has what I find to be a pleasant, slightly masculine fragrance. It doesn't foam up when applied, which took me a few days to get used to, but now doesn't bother me at all. While it is pricey, the bottle is huge, and I'm expecting it to last me a long time.

This is a very good, very gentle cleanser, and while I don't have any complaints about it, I would still give slight preference to the Kiehl's; I like for my face to feel fresh, tingly and clean after I cleanse, and I don't really get that with the Alpha-H.

My absolute favourite cleanser!

Love this cleanser! Non foaming does feel odd to use after using a foaming cleanser- BUT it removes everything really well and leaves me with a soft and clean face. Gentle yet hardworking! Removes all my waterproof makeup no problems.

Fabulous gentle clean cleanser

This product is exceptional. A clear gel that cleanses gently leaving skin feeling very clean and soft. Have been using for 2 weeks and noticed my skin is better absorbing the products i use at night. Amazing product, a must have.

Not sure about this one

I just can't get used to my cleanser not foaming or being milky. I wish I had read the description closer as I wouldn't have got it had I realised this. It's not horrible, just not my preference.

Alpha H Triple Action Cleanser

I have been using this cleanser for a few years now best cleanser ever for my combination skin, Adore Beauty has the best price too, will definately purchase more in the future.

Thanks for the 500ml pack

Wow > very happy with buying the 500ml pump pack from alpha-h

I must say, it has taken me a little while to get used to my face wash NOT foaming up. My face feels fresh, clean and ready to go when i use this day & night.

No aggravation on my acne/blackheads and seems to remove my makeup at the same time which is a bonus!! very happy with my purchase :)

Not for me

This product was good for me for a quick face wash. But it didn't give me the same intense clean as other Alpha H products. The gel non foaming takes a little to get used to for me.

Great

I really like that this cleanser does not foam up. Does a great job of removing all makeup including mascara etc. Doesn't strip the skin, feels lovely when you put it on your face and one pump does my whole face and neck. A fantastic size and great value for money

Soft and supple!

My whole family uses this. It doesn't dry your face out like other cleansers and face washes do. I have a teenage daughter who uses this and it has helped her with her pesky breakouts. My partner who works in a hot dirty environment who is forever having problem skin is amazed himself at how well Alpha h products work. Highly recommend.

Great jumbo sized cleanser

I love this cleanser, its gentle and is great at removing makeup. At first it feels like it is not working as it doesn't foam up but a little goes a long way. I double cleanse at night to remove makeup. As it is so gentle it doesn't irritate my skin or breakouts and this combined with a scrub is great at assisting with my acne prone skin. The jumbo sized is such good value for money.

Happy customer

I would usually use a foaming cleanser but this does the trick just as well.

As a 40 something someone who wears long wear make up almost every day I am impressed by this.

I use with my clarisonic in the shower. Not only does it remove my make up but it does not have a drying feeling that your skin is being stripped of oils as I have experienced with other cleansers

light pleasant fragrance. Great value size and convenient pump



Purifying and gentle

I had been on the hunt for a cleanser that didn't dry my skin or make it oilier. I'm prone to oily skin and cleansers in the past have either clogged my pores or dried my skin to the point it tries to make excess oil! The Alpha-H Triple Action Cleanser is gentle and refreshing, and removes make up so well (especially when paired with a Face Halo). So glad it comes in a handy 500ml bottle.

Gentle cleanser for oily skin!

This cleanser is amazing and so gentle on oily skin!
It had a very light consistency and a fresh smell. I pair this up with my clarisonic & use it as a makeup remover. Works a treat

Best cleaners

Have used a lot of different cleanser before though this one is the best by far. Leaves skin smooth, clean and Shiny. Absolutely love this product.

Best Everyday Cleanser

I have acne prone yet dryish skin & found this cleanser amazing. Gives your face a proper clean without leaving you feeling dry etc, this helped clear up my break ups. I will definitely be re ordering.

Great product

Amazing cleanser gentle yet so powerful absolutely in love

Gentle but thorough cleanse

I'm a long time user of the triple action cleanser so I was pretty chuffed when I found it was selling in the 500ml pump bottles. As someone who has combination skin and wears makeup everyday - the thing I love most about the triple action cleanser is that it gently removes all my makeup while leaving my skin feeling fresh and balanced. For a deeper clean I recommend double cleansing

Cleans skin

This product is really good at cleaning my very dry skin and didn't seem to dry it out more like others. I liked the pump pack.

Very good cleanser, especially mascara.

I love the pump pack & the gel like cleanser which cleans my dry skin. it is also good value being in the 500 ml bottle. I recommend this cleanser for anyone to try.

Like it

This is a great cleanser and it really melts away the makeup, with other cleansers I wash my face in the morning and still have makeup on but with Alpha H cleansers (I have a fair few of them) it ALL comes off.

Found my holy grail cleanser

I have tried so many cleansers. Some were too drying, others were not cleansing enough and others left me oily but the Alpha-h triple action cleanser cleanses my skin, removes makeup and leaves my skin feeling fresh and clean without feeling dry. I have combination skin and this cleanser is amazing for me.

Squeaky Clean

This cleanser does everything it says it does! My skin always feels so fresh and deeply cleaned when I use it and I love the scent of it. I bought this back in roughly July of 2018 and it's still about 1/4 full and I've been using it night and day!

Love the pump pack

This cleanser is gentle, but effective. It removes all make up and leaves my skin feeling soft and clean. I love that a giant pump pack version is available. It lasts forever and is easy to use in the shower.

One of the Best

I love Alpha H products and this one is no difference. I am in mid 40s and have oily skin. Usually other cleansers would leave my skin very dry but not this one. I also feel that my complexion and pores are improving since using this cleanser. Definitely worth buying.

Best cleanser!

Love this cleanser. Gets rid of make up nicely and does not dry my skin out.

Great value must have product

I really recommend this product. I've been using it to wash my face everyday and its lasted for months.

Best cleanser from their range

This is my favourite cleanser from their range. Always use this to cleanse my skin after wearing heavy makeup and always takes every bit of funk off my skin!

Good value

I use it every night in the shower and still have heaps left after 3 months of use!!! Love the feeling of my skin after

My new favorite product!

Amazing cleanser. I love the way my skin feels after using this product. I have been consistently using it for about two weeks and can already notice the positive changes in my skin.

Gentle cleanser worth the price!

This cleanser is so underrated, I purchased mine MONTHS ago & I am still using it, despite using it every night in the shower. The cleanser actually works out to be a really good price if you have it for a long time like myself, it doesnt strip my skin and it leaves it feeling beautiful and clean! Scent of it is absolutely lovely and I will continue purchasing this once I have FINALLY finished this first bottle of joy!

Great value and clearer skin

I use this product twice a day with a double cleanse at night. This is a really gentle cleanser that doesn't aggravate skin. My skin always feels smooth after use. I started using this product early August and I'm still on the same bottle in December!

It's ok - good size value for money

I have normal type skin on my face and I'm prone to breakouts on my back. This wash is too strong for a daily face wash for myself, when using daily it caused dryness, which caused breakouts, so now I only use it once - twice a week as a deep cleanse and this keeps my skin feeling smooth and exfoliated. As for my bacne, I think it helped at first but it was still too drying for me so I also only use it for that twice a week after cleansing. I think if you had oily skin this would be more suited.

Didn't like

Great size but I didn't like the feel of this product and it did not clean the imperfections out of my skin or improve my skin at all

Didn't like it

I didnt get that clean skin feel when using this.

Great for mature combination skin

I recommended this to my friend a year ago and he loves it. He is 40+ with combination skin and this has helped reduce his oiliness, breakouts and pore size. He wont use anything else.

love

This is the perfect cleanser, leaving your face feel soft and clean but not dry or harsh. You can use it to clean out your skin pre mask, take off the day, or remove hard to budge makeup!

Love this cleaner

I have combination skin, heavy hormonal breakouts and dry flaky at other times. I love a gel cleanser and this is fantastic! I double cleanse every night it removes all my makeup including stubborn eyeliner and leaves my skin feeling clean, tight, and fresh. I highly recommend.

Great size bottle

Great size bottle and seemed to cleanse my skin effectively but after a year of use I didn't notice any other positive effects.

Love this product

These face wash always makes my skin feel so clean and since using this along with other alpha H products my skin has seriously improved

Great but not for me

I LOVE ALPHA-H PRODUCTS BUT...
I found this cleanser to be a bit 'meh'. For me it was drying and left my sensitive skin feeling tight, though I absolutely can not fault the results I received I prefer the other Alpha-H cleansers such as Clear Skin Daily or the Balancing Cleanser (or in my case both). If you have oily non-sensitive skin this would probably work for you!

If your best friend were a cleanser...

Amazing! I've had acne probe skin my whole life and generally have had to use medication to keep it at bay. I was recommended to use the triple action cleanser, and wow it is incredible. Since using i have maybe had 2-3 spots a MONTH!!!! which is incredible for someone who normally has clusters of acne all over their jawline. Amazing product!

Great cleanser

This cleanser is wonderful and I would recommend it to everyone regardless of their skin type. My sensitive skin feels properly cleansed and hydrated. I will repurchase this cleanser immediately to ensure that I have a back up on hand. It is of the same high standard that I have come to expect from Alpha H and it is a bonus that this is an Aussie brand.

Strangely effective

To be honest this first time I used this cleanser I didn't think much would happen because it feels so light and you aren't meant to use that much product each time.
However after a week I am sold. My skin has been so clear (I trialed this cleanser during the week of my period, so normally my skin is horrendous during that time no matter what I do!) But this kept my skin so calm and balanced. I don't feel as oily, but also not dried out like with other cleaners.

Best cleanser.

After using this product for ages, I decided to try something else. I have no idea why! After looking at photos I realised my skin just wasn't looking as good, so back to AlphaH Triple Action Cleanser I came. My skin is looking fresher already. I don't find the product to be drying or irritating at all. You only need a small amount, I use a facecloth to remove the product,

Holy Grail Cleanser!

I will continuing buying this product for ever & ever! I have finally found a cleanser that is light, not filled with nasties, does the job of cleaning my skin without feeling like it was stripping my skin of natural oils. I can officially say, I am now happy with my skin and I would put it down to this product and their Liquid Gold! I love ALPHA-H.

GET WHAT YOU PAY FOR

That's what my mother always said and that has always served me well.

Of course you'll find a cheaper product but you won't find better. Use less than half of what you'd need with a cheaper product.

Cleanses well and isn't drying.

Enjoy

Love

A great cleanser, I have the smaller one and then ordered the value pack which is great value!

clean but not dry

love this cleanser as it leaves my skin clean but not dry or tight. i go to the gym a lot so even though i have dry skin, it does get very sweaty. this is one of the only that doesn't disagree with my dry but acne prone skin

cleansing but not drying

i have dry skin but i go to the gym a lot so it gets sweaty and grimey. this leaves my skin feeling clean but not dry or tight

Great Cleanser

This cleanser is very gentle and is amazing for sensitive, mature skin. it does not irritate or dry out the skin. Removes makeup extremely well, and is really well priced as you only need a small amount.