Alpha-H Instant Facial 100ml 100ml
4 instalments of $13.18
Or 4 instalments of $13.18 with
LEARN MORE
4 instalments of $13.18
Or 4 instalments of $13.18 with
LEARN MORE
Official Stockist
Is this for you?
Alpha-H Instant Facial is recommended as a calming and soothing, yet active and results-driven daily AHA treatment to refine and clarify the skin.
Skin Concern:
First signs of ageing

Oiliness and shine
Frequently bought with
Please wait while we find a match
Questions & Answers
(2 Questions)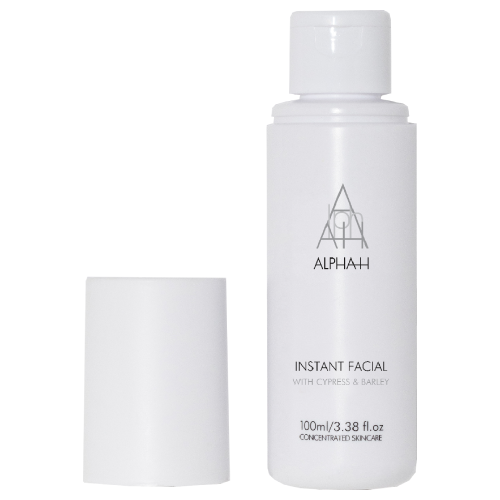 Alpha-H Instant Facial 100ml
Get an expert to answer your question about this product!
Alpha-H Instant Facial 100ml Reviews
88% recommend this product
Most Helpful Positive
luxurious
my skin feels amazing after every use. i can feel it really cleansing and hydrating my skin. love it
Most Helpful Criticism
Emm...
I have both the liquid gold and instant facial. I was told the instant facial is slightly gentler as higher PH. Personally, I don't feel it gentler (not drying but not moisturising). It has no Wow effect for me. The liquid gold is better and more effective, I wake up with clearer, brighter skin.
luxurious

my skin feels amazing after every use. i can feel it really cleansing and hydrating my skin. love it

Very good

I was a bit concerned it could be harsh for my skin but no. Combined withe the other Alpha-H products I use my skin is visibly smoother, pores are reduced and face softer in general.

Great

This has improved my skin texture and complexion. Will buy again

Amazing

Using this every night has made my skin so much clearer

Can't go without in the a.m

I'm a big fan of liquid gold, and wanted something to use in the morning. This is amazing leaves skin so fresh and clean

Wonderful morning addition

Use Instant Facial every morning, skin tone and texture is smooth and makes perfect base for moisturiser and then make up. Reduces redness and pores. Great addition to my Alpha-H skin care regime!

Wonderful addition to my morning routine

Bought on recommendation from an adore beauty expert, I am so glad I asked them.
This is fantastic as a morning toner. It helps keep my oily and easily reddened skin looking great through the day. I use with a niacinamide for all day fresh looking makeup.

Smoothing and brightening

Great for building up to the Liquid Gold. For me, the Liquid Gold has superior results, but this is a good alternative for sensitive skin - you still get some smoothing

Not as good as the Liquid Gold

I bought this as a gentler substitute to the Liquid Gold and I just found it didn't have as good of an effect and I was better off using the Liquid Gold less frequently for the best effects. Still great for those with more sensitive skin though I am sure.

Really good but not my favourite

This is okay! I don't see any incredible results after using this but it's decent! Not my number one.. I prefer the liquid gold more!

Emm...

I have both the liquid gold and instant facial. I was told the instant facial is slightly gentler as higher PH. Personally, I don't feel it gentler (not drying but not moisturising). It has no Wow effect for me. The liquid gold is better and more effective, I wake up with clearer, brighter skin.

Great for everyone

Great to use either as a toner, on its own at night for a treatment, or even over your makeup for a refreshing and lifting hold for your makeup. Spray is easy to use and lasts a long time.

Instant Results

This is pretty good, it smells great and really evens skintone leaving skin radiant and glowy. Love it just as much as liquid gold.

Love it

I have been using the instant facial now for over 3 months, I use it every day under my make up and I find it amazing, it keeps your make up on perfectly and I also use it on alternative nights that I don't use my liquid gold, it's a beautiful one to use before you don't want to wear any make up as it gives off a lovely glow to your skin. Highly recommend all the alpha H products

Great

This was my first beauty product from Alpha H and I was sold on it. This product is super easy to use which is perfect for lazy people like me. I use the product twice a week, alone before bed and I see instant results after a week. I apply it with a cotton pad and the product does give me a tingling sensation but only for a second, otherwise no other irritation.

I love it!!

It's been almost 2 months using this every morning under my makeup and other skin care.
I love it. My makeup has never stayed on so well and it is also improving my skin texture.
This will be a permanent fixture in my routine.
(I also use liquid gold every third night)

Really good!

I may even like this better than the liquid gold.. Its gentle enough to use every day but im seeing results!

Wow!

I have only been using this product for a week now but wow - it really has made a difference quickly. I use a lot of active products at night, so have decided just to use in the morning, after cleansing and before I apply my serums etc. My skin looks so much clearer and feels so amazing. Love.

Amazing

I purchased this product on recommendation from the Alpha-H team to use in my morning skincare routine as I get very oily skin through the day.
My makeup has gone from melting off my face within a couple of hours to lasting all day with only a light refresher of silica setting powder.
I find in non-irritating, it smells ok, and is a fantastic addition to my once weekly Liquid Gold ...

Read More

Great

Love the spray function. While I didn't notice a huge difference straight away, after a few weeks of using my skin is noticeably clearer and brighter and feels lovely. Will re-buy.

Alpha-H Instant Facial

My acne scars are starting to dissapear, and I can tell a difference in the texture of my skin. I love how matte this makes my face feel, giving me a break from the oiliness.

Good

It is really good for pores, pimples, oily skin and it's a great refiner and good for radiance and wrinkles too.

Its a super easy to use product, you simply spray the product onto a cotton pad and apply tour face and neck. Use it on the back of your hands too.

I like this product because it gives your skin an instant glow and makes it feel and look supple, radiant and vib...

Read More

Great

always shocks me how much dead skin cells this takes off my face when I use it even though I have just cleansed my face , love it

Doesn't suit

Bought this instant facial because I thought it would work better for me than liquid gold because it is a gentler formula. For some reason, it doesn't work as well as liquid gold and it makes me get a couple of little breakouts that I don't seem to get with liquid gold, confused about this, won't repurchase.

Like it

This is pretty good, it smells great and really evens skintone leaving a glow.

Amazing!

Does exactly what it says, leaves your skin all fresh and glowy and clean and AMAZING! Ugh this product is amazing!!!

Love

Smells exactly like a facial and does the job so well. This cleanses and moisturises at the same time and its honestly everything you need!

Love this

I use this interchangeably with the liquid gold if my skins feeling over treated. Its a bit gentler and definitely makes your skin feel like you have had an actual facial!

Like a toner but different

I purchased this as an intro to liquid gold to see if my skin could handle it (I have relatively sensitive skin). It's easy enough to use, just apply to a cotton pad and wipe onto your face morning and night. It does sting, but not for long and does not leave the face red. I've found it gives me a really fresh clean feeling but beyond that I can see no real life-changing effects. I effectively use...

Read More

Reallly wanted to like it!

I have dry combination skin and was looking for a product that could clear up the odd blemish, brighten dull skin and clear some dark spots from acne scarring. Had used it about 3 times in the first week and my skin was dry and flakey. Might try once a week and see how i go. Really hoping it can still live up to the hype!

Reallly wanted to like it!

I have dry combination skin and was looking for a product that could even out my skin tone/acne scarring , clear up the odd blemish and brighten dull skin.
It didnt sting as much as people said it would however after a week of using it only about 3 times my skin was very dry and flaky. Still hoping it will do what people praise it

like a toner

Instant Facial is used like a toner, but is a very different product. You can use it day or night, or both. During the day, you use after cleansing and then proceed with your skin care. At night, you can either use it and then use your skincare, or for a more concentrated effective, simply use the product and don't apply any other skincare.

Good!

This is really quick and easy to use and I've noticed a visible difference in the improvement of dark spots and blemishes since I started using this a few months ago :)

Great resurfacer

really makes your skin smooth and clear, very simple and easy to use with no harsh reactions or irritations, I felt like I broke out less when I used this product :)

Good alternative

The instant facial is a good alternative to liquid gold if you find it to be too harsh. Obviously results are slower, and I use with a moisteriser as my skin tends to really dry out and cause breakouts.

Great intro to AHAs

This is essentially a gentler version of Liquid Gold, with a bunch of soothing botanical extracts thrown in. It is ideal for use by people who have skin more on the sensitive side, or who are new to the whole world of exfoliating acids and are a bit nervous about the effect they may have on their face. Worry not! This is an ultra-gentle intro to glycolic acid which doesn't sting or irritate the sk...

Read More

Fabulous Product.

This product is amazing.

It's so easy to use and is the perfect all rounder.

My skin has improved dramatically since using this. It appears brighter and more even toned.

I will definitely keep using this.

For when you dont have time!

I dont mind taking time for my beauty regime at night, but in the morning I am always in a hurry. I use to think....well i spent all that time last night, surely my skin is clean.
Well its not! After applying all those active ingredients at night, the morning is important. Instant facial is just applied on a cotton pad, swipe over your face and you will see the results for yourself. It reall...

Read More

Converted sceptic

I purchased a big Alpha H haul after finding it had some of the most consistently positive reviews across its range. I'm nearly 25 & I felt like I was being plagued with more pimples than I've ever had & the unwelcome appearance of fine lines under my eyes & in my forehead (high stress job/shift worker) despite wearing daily sunscreen, good hydration, diet & exercise etc, was really starting to ma...

Read More

Excellent Product

I love this product. I had previously tried the original liquid gold and found it a bit harsh for my skin.
I decided to try this one and it is great!
I get all the results with none of the irritation.
I find it is great for evening out skin tone, getting rid of white heads and just generally improving the overall appearance of your skin.

Must have!

I have very sensitive combination skin and use this on alternating evenings after cleansing in place of my moisturiser. At first I was a little unsure as it leaves my face slightly red and tingling after application but the results the next morning proved that it is 100% worth it. My pores look smaller and my skin is smooth, hydrated and redness free.

LOVE

Because of my Rosacea my skin is prettt much Bipolar. This product leaves my skin feeling clean and completely calms down the redness. I've been using this and slathering some Egyptian Magic on afterwards and my skin is the happiest it's been in a very long time.

Great product

I have never written a review, but I'm very impressed with this product. While it hasn't faded my pigmentation, or completely reduced my pores they are smaller and with the help of duac it has helped remove old congestion under the skin. Plus like everyone else, my skin feels so soft and smooth. And for a person in her 50's, that's a nice feeling.

Smoooooth!

Love this product, I've been using it lately every night under Bioeffect serum, and my skin feels like glass in the morning. It gives a bit of a tingle but is gentle enough to use daily.

It may put me out of Business!

WOW this product really delivers it is packed with power. with just one use you will see the skin begin to clear with a few uses you will see a marked difference in pore size if you have blackheads the will simply disappear as will pimples and continued use will see you with clear skin. It just may put me out of business!! all you have to do is spray it on a cotton swab then wipe it over your face...

Read More

Fantastic product

This product is amazing!! I have been trying to find an all-in-one product, and started using some of the alpha-h range! This product nailed it for me, amazing results after 48hrs. I cannot say enough about this product.

my new favourite product

I loved the Alpha-H Liquid Gold but it was making my skin a little too dry during winter so I started using the Instant Facial instead. It hydrates my skin while keeping breakouts at bay. Would recommend for any skin type.

Loved it!!

As an AHA lover I was keen to see how this product would fit into my skin care routine. I can absolutely say get this product. I'm in my late 20's with combination skin.. Yes a few pimples once a month.... EEK! Since using this product after my cleanse I have not had a blemish at all. It's really easy to apply and I leave it to absorb before using my Alpha H serum.. First few applications I had so...

Read More

Great addition to your beauty regime

I was sceptical yet curious about Alpha-H Instant Facial, but glad I tried it! Other AHA products I find much too harsh on my skin (late 20s, normal skin) but this one was non-irritating and quite refreshing!

Application is a serious of generous squirts onto a cotton pad and then swipe after cleansing. It was not drying and though it smells faintly chemically, nothing overpowering.

Read More