Aesop has been providing luxurious hand washing options for as long as they've been operational. Combining exotic and luxurious fragrances with perfectly cleansing formulations, they are the gold standard in hand washes, and their packaging is well known and beloved across the world.


What are the most popular Aesop Hand Wash options?
Aesop Resurrection Aromatique Hand Wash 500ml is certainly the most popular Aesop Hand Wash - it's one of their most iconic products, in their most iconic packaging. The mandarin rind, rosemary, lavendar and cedar atlas scent is instantly recognisable as the classic Aesop handwash. It also comes in Aesop Resurrection Rinse-Free Hand Wash 50ml.
Which Aesop Hand Soap is best for cleaning hands on the go?
Aesop has a huge range of hand sanitisers and "rinse free washes" that can be used anywhere, anytime. Whether you're after a large size to sit by your front door (in which case Aesop Geranium Leaf Rinse-Free Hand Wash 500mL is the perfect option!), or want a mini to slip into your car or bag (check out Aesop Geranium Leaf Rinse-Free Hand Wash 50mL or Aesop Resurrection Rinse-Free Hand Mist 50mL), Aesop ensures that keeping hand cleans while on the go doesn't have to be utilitarian - in fact, it can be a small moment of luxury, just like washing your hands with Aesop handwash ordinarily is.
Are there any Aesop Handwash products in Aesop gifts?
Most certainly! Aesop Handwash products are available in plenty of gift packs! There is the instnatly iconic Aesop Resurrection Duet and Aesop Reverence Duet which match the Aesop Hand Wash to their corresponding hand creams, but there are also products like Aesop Departure Travel Kit which combine the rinse-free hand wash, with a whole array of other travel-friendly Aesop products.
Showing 13 products of 13.
---
Recent reviews on Hand Wash products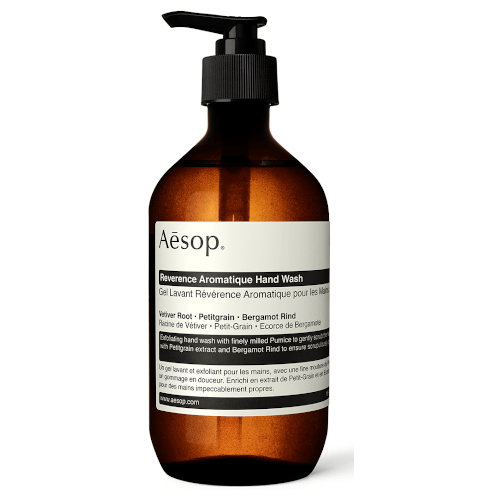 Aesop
Aesop Reverence Aromatique Hand Wash
$40.00
Love the exfoliant
I'm surprised there isn't much mention of the exfoliant in this product in the reviews below. That's what drew me to the product and I'm in love with the squeaky clean finish it leaves you with! It's a little pricey but a product that makes you feel like you're at a luxurious spa. Love it.
What people are looking for the most