Aesop Parsley Seed Anti-Oxidant Hydrator 60ml
Skin Concern:
Dull, dry or dehydrated skin
First signs of ageing
Pigmentation, uneven skin tone
Sensitivity and redness
Wrinkles and loss of firmness
Skin Type:
Dry
Normal to dry
Normal to oily
Questions & Answers
(No Questions Yet)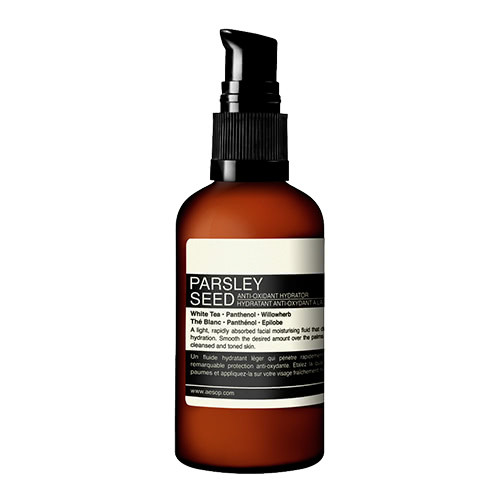 Aesop Parsley Seed Anti-Oxidant Hydrator
Get an expert to answer your question about this product!
Ask a Question
87% recommend this product
Most Helpful Positive
Best I've ever used
So glowy! Fave moisturizer
Most Helpful Criticism
Good for sensitive skin.
Doesn't irritate sensitive skin. However not the best at moisturising extremely dry skin.
Good for sensitive skin.

Doesn't irritate sensitive skin. However not the best at moisturising extremely dry skin.

makes me break out

It's very light but something in this hydrator makes me break out. I have combination skin that tends to be dry in the winter but this was not for me

Winter Skin

I use this hydrator in Winter when my skin really becomes dehydrated (thanks office heater). Helps provide a barrier of hydration and intensifies the effects of my moisturiser.


Best I've ever used

So glowy! Fave moisturizer

Hydrating moisturiser

I actually wasn't too sure whether this was a serum or moisturiser as it doesn't clearly say. But I use it as a moisturiser without using a serum underneath, as I'm not too sure what will layer well with this.
It's a cream that applies smoothly and leaves a slightly tacky residue for hours before being absorbed fully.
This has a strong herbal smell, but it dissipates quickly.
It's a nice product, and makes my skin soft.

Embed in my routine

I've been using this serum for about a year and a half now and have never looked back! Glides on smoothly, dries quick


Super hydrating

I only use this when my skin is super dry. Great for a quick fix and smells awesome

Great

If you are looking for skin that is perfectly nourished and radiant, than they is a must have for your beauty arsenal. I am thoroughly obsessed with the light parsley fragrance and the overall effectiveness of this lightweight hybrid of a serum and moisturizer. Delish for the skin!

Made me break out!

I've tried a few parsley products from the range, but this hydrator made me break out! My skin isn't usually sensitive so must be something in it that doesn't agree with my skin

Aesop Parsley Seed Anti-Oxidant Hydrator

I've been using this serum for about a year and a half now and have never looked back! Glides on smoothly, dries quick

Great!

I like this hydrator a lot, it's hydarting, moisturizing and makes my skin feel soft. A nice, lighter alternative to the parsley cream

oksy

This is indeed very hydrating but as great as the ingredient list sounds, thats all it did. I just don't find it to do anymore than what a basic moisturiser does. I find the ethos of this brand to be great, high quality but I don't find it to do much more than basic functions. I'm not sure I would recommend this since for the price you can do much better. Basic but nothing more.

Great winter product

Great hydrating product, wouldnt say its for dry skin though. It smells amazing and feels great on the skin.

Not worth it

I have acne prone, dehydrated skin and don't find this hydrating enough, but also feels like it sometimes breaks me out. While it smells lovely, I think the essential oils are too irritating for my skin.

Great for dry skin

I use this hydrator in Winter when my skin really dries up. Your skin really feels hydrated for much longer than a normal moisturiser. I tend to avoid any areas prone to breakout because it is quite rich!

My winter go to

I like to change up my moisturiser with the season (posh!) and this has become my winter go to. I have oily congested skin that dries out a bit in the cold winter wind. I've used this product in warmer months but it's been a little too hydrating and potentially maybe contributed to small break outs.Would be a good all rounder for the less oily among us, I'd imagine.

Super hydrating

Love this for a quick fix, when my skin is feeling dehydrated. Very hydrating.

Hydration both day and night!

I would 100% recommend this to anybody who has normal skin, sometimes dry cheeks with an oily t-zone! It can be a little tacky at first but once it absorbs, it's amazing! Also, has the signature herbal aesop smell so an A+ from me!

Light moisturizer

I got this in a sample with purchase so only used about three times. Wasn't bad very light weight I think it would suit sensitive skin types as it has natural ingredients. I have dry mature skin so I probs wouldn't purchase this one for myself.

Light weight easy to use moisturiser

The Aesop Parsley Seed Anti-Oxidant hydrator is a lovely light cream and I enjoy using it. For my skin which is dry, prone to breakouts, dehydrated, freckled and sensitive, I think I need something heavier that will protect the skin as well.

Beutiful light weight hydrator

During the hot months ahead , I like to use a more light weight lotion on my skin.
I found this lotion perfect. Not too heavy , but still hydrating enough so my skin doesn't dry out. Again I find the Parsley Seed anti-oxidant very beneficial on my normally dry and patchy skin and Its scent is as light as its texture. It leaves my skin feeling soft and silky smooth. I love its little pump because it gives you more control on how much you need. A little does go a long way. Perfect for hot days.

Best moisturiser ever

This is perfect for combination skin as it really calms any breakouts and redness. I normally use this in the evening as it has anti-oxidants which help prevent Ur skin oxidising and looking so dull and tanned.

Smells awesome and u wake up to baby soft and calm skin and no oily residue. I use this with the parsley seed cleansing oil, parsley seed cleanser, parsley seed toner and b&green tea toner, parsley seed anti-oxidant serum, parsley seed cleansing masque and parsley seed treatment
I luv Ur range aesop I have not needed to use any pimple/acne spot gels as Ur range has helped clear out my skin