Aesop Geranium Leaf Body Cleanser 200ml 200ml
Skin Type:
Dry
Normal to dry
Normal to oily
Oily
Frequently bought with
Please wait while we find a match
Questions & Answers
(No Questions Yet)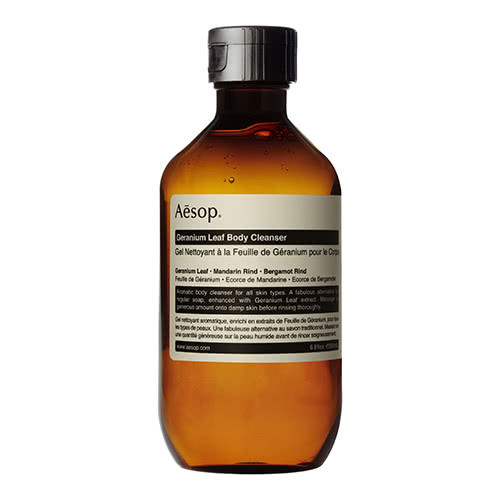 Aesop Geranium Leaf Body Cleanser 200ml
Get an expert to answer your question about this product!
Ask a Question
100% recommend this product
Most Helpful Positive
Lovely scent
Love this product, amazing natural scent. Doesn't leave your skin feeling dry afterwards. Great travel size.
Lovely scent

Love this product, amazing natural scent. Doesn't leave your skin feeling dry afterwards. Great travel size.

Love the smell

You just need a little bit as it lathers really well, the smell is beautiful and oh so relaxing, my skin feels wonderful afterwards.

Smells good

I received this product as a sample and I loooove the smell. A tiny bit of product on a loufer will actually go a long way so the big bottle would last a long time. The scent is mild and pleasant.

Luxurious!!

This body wash is divine! It's definitely one of my favorite splurges or a great go to gift for a friend. Smells incredible.

Scent is amazing

The scent is amazing, it's like being in a day spa!

Soapy bliss

This is a lux body wash, totally worth the splurge though! A little goes a long way, it leaves my skin feeling clean and refreshed with a light perfume

Gorgeous Scent

This is my favourite body wash scent! It's light, floral and refreshing. It foams well and you can use it for a bath or foot soak as well.


Lovely scent & soft to skin

This body cleanser is so lovely to use. It has such a calming smell and lathers up nicely. A splurge item, as is all Aesop products but worth it to use every other day or week and it lasts a while.

Nice

great product, leaves my skin feeling clean and refreshed and has a lovely light scent.

So nice!

This product smells divine. Its so soft on the skin, leaving it feeling smooth and fresh. Doesn't lather up as much as regular body washes but a little does go a long way. Received this as a gift and would purchase. Product is a little hard to get out once its starts to get to the last third of the bottle. Other than that, super nice body wash

Beautiful scent

I love using this body cleanser, as the scent is beautiful and it doesn't dry out or irritate my hypersensitive skin. It is a great cleanser for men or women as the scent isn't florally. I got this small bottle to try it but I will definitely repurchase the large pump bottle duet with the body moisturiser.

Skin softening

My skin feels like it's saying "THANK YOU" when I use this. So refreshing and so is the smell. I love it!

10 out of 10 for quality

This is an excellent quality body wash. Considering that the formulation is a low foaming one, I found that this lathered up quite nicely.
Fragrance is lovely, it smells clean, fresh and bright.
Did not leave my skin feeling taut or dry, and leaves no film or residue behind.
My only gripe is that this 200ml size bottle is hard to squeeze to dispense the product. I recommend that you either buy a pump to fit this size, or, just buy the bigger pump bottle - its certainly worth it.
Also, it meets my essential criteria to consider when purchasing this type of product, is that it is chemical free and cruelty free - and Aesop fits both of those.