3INA The 24H Pen Eyeliner
Frequently bought with
Please wait while we find a match
Questions & Answers
(No Questions Yet)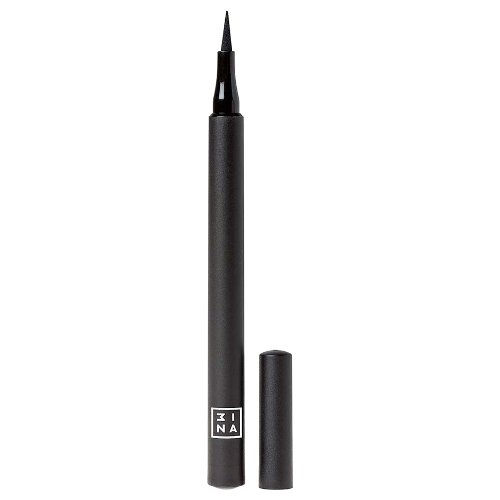 3INA The 24H Pen Eyeliner
Get an expert to answer your question about this product!
Ask a Question
100% recommend this product
Most Helpful Positive
I love this
Great quality for the price! Definitely a fantastic eyeliner and I reach for it all the time!
Most Helpful Criticism
Quality liner
A good quality liner with easy application, held well on my skin too.
good quality

A really good quality eyeliner that stays put and is easily to use!

Cat eyes

So easy to achieve sharp bold cat eye wings with this!

I love this

Great quality for the price! Definitely a fantastic eyeliner and I reach for it all the time!

long lasting

great eyeliner that's long lasting and dries quickly

Amazing

Amazing item for a winged liner, doesn't smudge and lasts all day

love this eyeliner

the formula is great, doesnt budge on oily eyelids and is dark in colour

Favourite eyeliner

I've tried a looot of eyeliners but nothing compares to this, the tip isn't too hard or soft, it's just right and shaped perfect. The formula is amazing, it doesn't bleed or smudge and it's a really beautiful intense black

SO GOOD!

Does the job, doesn't smudge, easy to apply, and all for under 30 dollars.

Easy to use

Love the control this gives me for a flick at the end. The pen doesn't dry out like other brands I've tried. Dries to a matte black

Great

Great for doing cat eye flick

Wings

So easy to get amazing wings with this!

High Quality and well priced

Such an excellent eyeliner, particularly for the price. Would definitely purchase again.

easy application

Great inky black eyeliner. Super thin tip so its easy to get a nice thin line and a good wing. Lasts well as well

Sharp line

The liner is very sharp and produces a clean line. I rarely experience any skipping on my eyelid with this product. Very easy to use.

so easy to use

This liner is so easy to use and really helps me to draw that precise winged eye

Fool Proof - for Fools Like me!

I find the shape of this liner so easy to create a flawless winged look with! Not only is it long-lasting but it's also nicely pigmented. You really can't stuff it up!

love!

I use this for nights out as the liner just lasts all night and is really easy to apply and great for drawing a winged liner

mindblowing!

im not too sure if the feature is still around but when the tip dries out you can pull it out and there is a backup tip you can use, an amazing feature because i always find that the tip can dry out before the ink is all used up. long lasting and easy to use also

Great

I loved this eyeliner! For a start it's genuinely jet-black, and it's firm but gentle tip is easier to use than a liquid liner brush if you want to draw a fine line really close to your upper lashes. It also has great staying power and doesn't fade or smudge during the course of the day. Nevertheless, it's easy to remove with a cotton pad soaked in eye-make up remover or micellar water. In short - it does exactly what I want it to do!

worth a go!

love the feeling of this eyeliner, goes on smoothly and does not leave that horrible sticky feeling most others do. For the price you need to give it a go!

PEN EYELINER

kinda so so for me. i would repurchase. but i need to build up quite few times to get bold eyeliner. otherwise all okay. easy to apply without getting mess

Good

super simple to do the cat eye, the right products really help making this design easy. im not giving 5 stars because it was the first liner that i bought, so i don't have a comparison

Excellent staying power

This eyeliner does not budge - it takes a lot to get it off at the end of the day, even more so than Stila! Good deep black matte colour. Only loses one star because the applicator isn't that great for doing very fine lines, most lines end up being a bit thick but that might also be a matter of more practice. Definitely good value

3INA THE MATTE PEN EYELINER

I am in love with this eyeliner. it is so easy to apply and super black which compliments every skin tone.

Good long lasting liner

This eyeliner is quite good at being smudge-proof and is quite pigmented, so perfect for everyday or more glam looks

Foolproof and won't budge

I love love love this eyeliner. As a daily liquid eyeliner user, I have tried them all. I keep picking this one up every morning because I know it's going to be super fine and precise, solid black and will dry in seconds. There is never any transfer to my lids and I don't have to apply second and third layers to get it nice and black. Love it.

Quality liner

A good quality liner with easy application, held well on my skin too.

Lasts all day and night

I find the tip a bit long & soft hence harder to apply starting from the inside to swipe out. So, it takes a bit of getting used to if you don't want to end up with a very thick liner. But, the ink flows very well, dries matte and lasts all day and night. And for the price, it is brilliant!


Good matte liner

I bought this as my Stila eyeliner pen had recently run out and I wasn't having much luck with the balm liquid liner I'd bought. I find this liner easy to use like the stila and a cheaper alternative, the back is very matte too

Amazing for price

This eyeliner is so easy to use! It does not budge all day. Great value for price! Highly recommend it.

High quality

I find the shape of this liner so easy to create a flawless winged look with. Not only is it long-lasting but it's also nicely pigmented.

Great value

A easy to use eyeliner that lasts all night and is such great value!

Long lasting

Really good and long lasting, stays put and is very easy to use.

Good

Very nice eyeliner. Love that it's matte. Lasts well and doesn't easily smudge.

Great budget alternative

Great price, goes on and stays on. Washes off without problem too. If you can't afford Stila, get this.

Stays put

I bought this looking for a replacement of my Stila eye-liner, and it's just as good and much cheaper