Mirenesse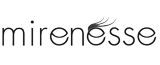 Official Stockist of Mirenesse
Mirenesse founder Irene Patsalides was just like millions of women—sick of makeup that didn't do what it said it would do. From mascara that clumped, to concealers that didn't cover a thing, there were a lot of products out there that just couldn't live up to their claims.
As a 25 year old pharmacist and cosmetics chemist, Irene decided to do something about it. So Mirenesse was born - a line of beauty products that really worked and lived up to their claims.
Mirenesse is proud to be an Australian company, creating cosmetics for Australia and the rest of the world. Bestselling products include Mirenesse Secret Weapon Mascara, Mirenesse iCurl Heated Lash Curler, Mirenesse Matte Liquid Silk Foundation and Mirenesse Velvet Lip Lift Moisture Shine. Mirenesse mascara and other products have won numerous awards, including international awards for Favourite Mascara brand as well as Reader's Choice Awards in the Australian Beauty Awards. Mirenesse is currently Australia's #1 online beauty brand.
Mirenesse products are free from parabens, mineral oil, alcohol, synthetic fragrances, and petroleum. Instead, the brand incorporates high quality organics and professional concentrations of actives. All products are clinically tested, hypoallergenic, and cruelty free. Mirenesse takes it one step further by using recyclable and/or refillable packaging for all of their products.
read more/less
Secrets

Mirenesse cosmetics have attracted a strong and loyal following since their launch in 1999, winning many makeup awards including Best Prestige Lipstick, Best Prestige Mascara (Secret Weapon Mascara), and Best Prestige foundation.

Did you know...? Each and every Mirenesse product has been pharmaceutically formulated, using a unique combination of safe, high-quality ingredients and the most advanced technology, combined with an holistic approach.

Clinically and eye-safety tested, all Mirenesse products are free from Sodium Lauryl Sulfate (SLS), Alcohol, Parabens, Sulphates, Synthetic Fragrances, Pthalates, Synthetic Dyes, Mineral Oil, Petrolatum, Talc, GMO's, Mercury, Propylene Glycol.
And, Mirenesse does not test on animals!

Process

Irene Patsalides, Mirenesse founder and formulator, was like tens of millions of women around the world who were fed up with mascara and other beauty products that didn't get the job done. Mascara that clumped, smudged and smeared. Concealers that didn't conceal very much, and so on.

Unlike most of those women, Irene could do something about it. As a 5 year pharmacist and cosmetics chemist, she set out to create a line of innovative beauty products that really worked and lived up to their claims. One of her most successful creations is the multi-award winning Mirenesse Secret Weapon 24 Hr Mascara, the winner of 10 international awards including Favourite Mascara Brand – Readers Choice Award in the Australian Beauty Awards 2010 and 2011.

Reviews