Hermès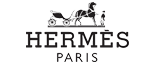 Official Stockist of Hermes
The feel of leather, the softness of silk, the harmony of colours, the warmth of essences: a magical, multi-faceted world where craftsmen fashion materials with respect and love. Hermes represents a world of quality where unique and timeless fragrances express themselves.
read more/less

Secrets

In 1837, a saddle-maker named Thierry Hermes moved to Paris. Since then, five generations of his descendants have been devoted to building his success.

In 1879, his son moved the family business to the now famous address of 24 Faubourg Saint-Honore. Although the Hermes business is worldwide, it manages to remain on a human scale. Hermes still uses traditional know how and is active in 14 crafts: leather, scarves, ties, men's clothing, women's ready -to-wear, watches, stationery, shoes, gloves, enamels, homewear, tablewear, jewellery and of course, fragrances.