First Aid Beauty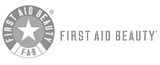 Official Stockist of First Aid Beauty
Free from harsh chemicals, allergens, phthalates, alcohols, fragrances, artificial dyes, and parabens, First Aid Beauty products have your skin's best interest in mind. Some of the brand's products, geared towards specific skin issues like eczema and acne, even have the FDA-approved seal for over-the-counter products. FAB product formulations are not only effective—they are gentle enough for the most sensitive types of skin.
The brand was founded by Lilli Gordon who was fed up with products that didn't work and ingredients that wreaked havoc on her sensitive skin. She wanted to find a way to create products that work but that are also luxurious. With Dr. Robert Buka, a certified dermatologist, on board, Lilli and First Aid Beauty set out to research and thoroughly test possible ingredients for their products. The goal was to use therapeutic ingredients to heal everyday skincare and beauty problems while at the same time avoiding greasy, bland products. First Aid Beauty continues to rigorously test ingredients to formulate innovative products. The brand also believes in keeping packaging simple so that your money is well-spent on the products themselves.
First Aid Beauty reviews prove the brand's vision and products have been well-received. Customers of the brand appreciate the effectiveness of the products and the brand's commitment to healthy, non-irritating ingredients.
In 2009, Lilli Gordon launched First Aid Beauty (AKA FAB). Lilli, a beauty industry veteran, found herself surrounded by products that worked but felt like medicine, felt great but were not effective, or smelled wonderful but made her sensitive skin red and irritated. Lilli created First Aid Beauty to provide highly effective yet luxurious products that treat everyday beauty and skincare challenges.
read more/less

Secrets

Dry skin needs lots of nourishment to restore it to good health and maintain optimum hydration levels, whatever the cause of the dryness. First Aid Beauty's cult dry skin product is the Ultra Repair Cream. A thick cream with shea butter and eucalyptus oil to provide immediate relief for thirsty, scaly skin, it is very gentle. This product is ideal for sensitive and irritated skin, particularly conditions like eczema and psoriasis.

Process

At FAB we like to keep it simple. The packaging says what the products do, and the products do what they say. And by keeping our packaging simple, you can be assured that our resources and yours are spent on what matters: what goes in the bottle. FAB products blend serious therapeutic action with luxurious textures, so individuals with tough skin conditions no longer have to sacrifice luxury nor tolerate greasy creams and bland formulas.

Trust is the cornerstone of the brand. Under the supervision of Dr. Robert Buka, a board-certified dermatologist, each and every ingredient that goes into a FAB product is rigorously researched, resulting in 21st century formulas that blend the best of science and the best of nature. Dr. Buka, FAB's Chief Science Officer, is also there to make sure that First Aid Beauty products are as safe as they are effective.

Reviews

First Aid Beauty Ultra Repair Cream - Tube 56.7g

I have sensitive skin but it can be prone to breakouts if i'm not careful,... read more >>

User rating:

First Aid Beauty Smooth Shave Cream

I was skeptical about First Aid Beauty Smooth Shave Cream, however it turned... read more >>

User rating: